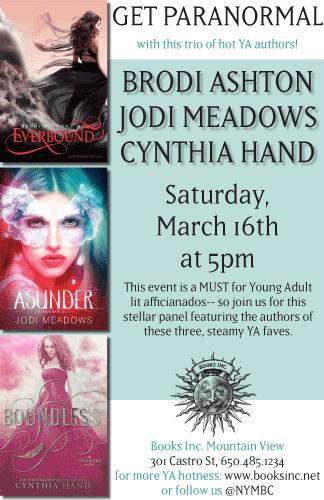 YOU GUYZZ!!! Look at this freakin amazing event!! Brodi Ashton, Cynthia Hand, and Jodi Meadows are all coming to Books Inc. in Mountain View and it is going to be AMAZING!!!! I've been dying to get Jodi Meadows out here, and the last time Brodi Ashton and Cynthia Hand came out to the Bay I was working >_< 
Event Details: - Saturday, March 16th at 5PM - Books Inc. Mountain View - RSVP to the Facebook event! https://www.facebook.com/events/163696933780745/ to see who else is coming and for more information :) 
Featured authors: Brodi Ashton (Everneath) Cynthia Hand (Unearthly) Jodi Meadows (Incarnate)
If you can't make the event but you still want to get signed copies of the author's books, all you need to do is call the store - 650.485.1234 - by at least an hour before the event, and you'll be able to order signed books, personalized to you, and have them shipped! It's that easy!!!