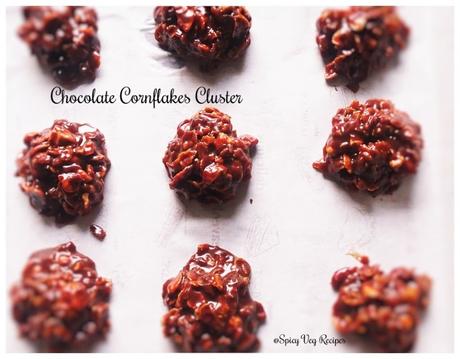 Nutty, creamy chocolate cornflakes clusters are one of my kid's favorite dessert. 
Chocolate clusters are to make a homemade dessert, which requires only three ingredients.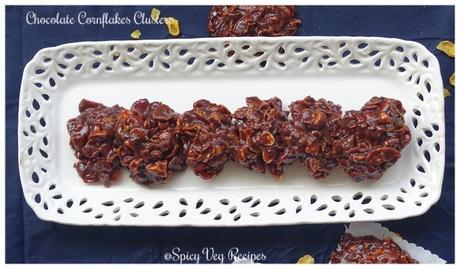 More recipes from this blog:
No bake oats peanut ball
Dry fruits chikki
Eggless whole wheat cornflakes cookies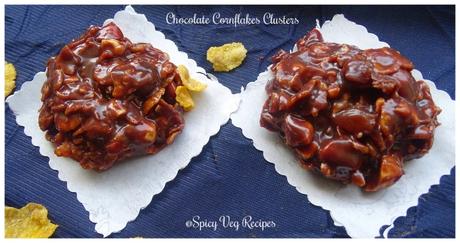 Eggless whole wheat almonds cookies
Eggless whole wheat oat cookies
Eggless whole wheat coconut cookies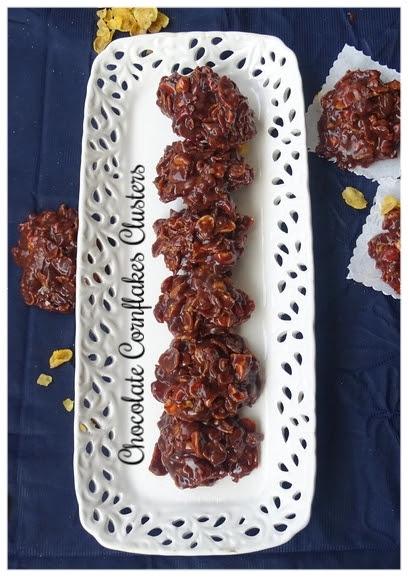 Nutty Chocolate Cornflakes cluster Recipe:
---
Prep time:10 min   cooking Time: 10 min    Serves: 10-12
---
Main-ingredients:
chocolate and 
cornflakes
Recipe Type:
Snacks
Cuisine: 
Fusion
Level of cooking:
Easy
Ingredients:
1/2 cup chopped nuts as per choice as per choice, optional
200 gm Plan Chocolate bar(dark or milk as per choice)

1 cup Cornflakes
Method:
Line a baking sheet with parchment paper and set aside.

Melt chocolate in a double boiler and stir continuously till it melts and smooth. 

Remove From Heat.

Add the cornflakes and nuts and stir until they are well coated.

Use a tablespoon to scoop up a bit of the mixture then drop onto the prepared baking sheet.

Set aside to cool (or refrigerate or freeze) until ready to use.
Note: 
This can be stored in an airtight jar up to 3 days.
Enjoy!
.
If you liked this, please share. Thanks!