No-Bake Nutty chocolate, peanut butter & oatmeal Cookies Recipe-How to make Nutty chocolate, peanut butter & oatmeal Cookies  
These yummy cookies are made with chocolate, peanut butter and oatmeal. These no-bake cookies are the perfect option for those moments when you are desperately desire something sweet and chocolatey but don't have a lot of time to bake a full batch of brown cookies.These no-bake cookies have a great chocolate and peanut butter flavour, with the chewy and nutty texture of oatmeal and nuts.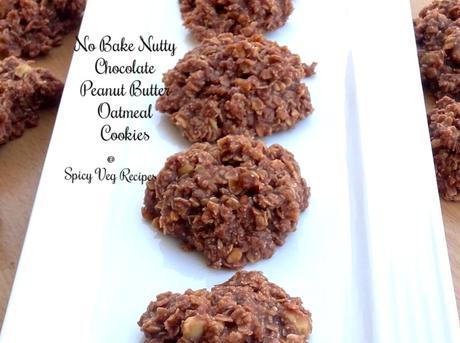 More Recipes from this blog:Eggless whole wheat oatmeal cookiesEggless whole wheat Almonds CookiesEggless whole wheat Coconut CookiesEggless whole wheat cornflakes cookies
Eggless Brookies Recipe
Nutty Chocolate Cornflakes cluster Recipe
No Bake Oats and Peanut Ball/Ladoos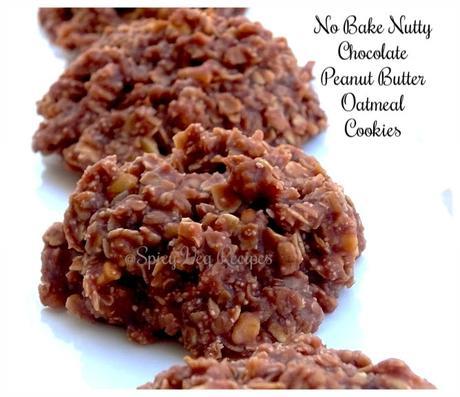 No-Bake Nutty chocolate, peanut butter & oatmeal Cookies Recipe:
---
Prep time:10  cooking Time: 20 min    Serves: 38-40 
---
Main Ingredients: 

Oats milk and sugar




Cuisine: 

Fusion




Recipe Type: 

Snacks




Level of cooking: 

Easy
Ingredients
1.5 cups granulated sugar

1/4 cup unsalted butter

1 cup low-fat milk

1/2 cup 

Unsweetened natural cocoa powder

3 cups Oats (quick or old fashioned, uncooked)

1/2 cup peanut butter

1/2 cup roughly grounded nuts(as per choice)
Preparation:
Line the baking sheets with parchment paper or silicone baking mats. 
Method:
In a large pan, combine sugar, butter, milk and cocoa powder. 
Boil this mixture over medium flame for 3 for minutes, Stir thoroughly, avoiding sticking to the bottom of the pan.
Remove from heat. 
Add peanut butter and mix well
Add oats and nuts and stir well. 
Allow it to sit for 2-3 minutes. This allows the oats to soak up some moisture.

Drop by tablespoonfuls

 of dough onto the lined baking sheets. 

If desired, flatten out and shape into a cookie. Repeat with the rest of the dough.
Let cool until set, about 30 minutes. 
Cookies can be stored in an airtight container at room temperature (or in the refrigerator) for up to 2 weeks. 
Tips:

 
If using old fashioned oats, cool mixture in saucepan 5 minutes.

Coconut oil can be used instead of butter because it solidifies.
Enjoy!
If you liked this, please share. Thanks!