Banana & strawberry Smoothie Recipe-How to make Banana & strawberry Smoothie-easy smoothie Recipe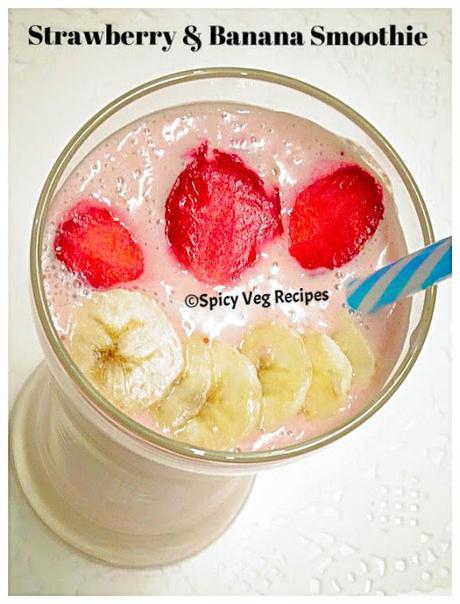 Smoothies are the easiest way of encouraging your kids to try different type's fruits. If you like strawberry then definitely you'll  like this. 
This delicious creamy smoothie is prepared by blending banana, strawberry, oat, yoghurt, milk and honey together.
More smoothie recipes from this blog:
Fig and Banana Smoothie
Pear and Pomegranate Smoothie
Carrot and Banana Smoothie
Mango and Banana Smoothie
Chocolate Banana Smoothie
Kiwi Banana Smoothie
Prep Time: 5 min                Cook time: 0 min                 Serves: 1
Main Ingredient:
Banana, strawberry and yoghurt
Recipe Type:
Beverages
Cuisine:
Fusion
Level of cooking:
Easy
Ingredients:
1-2 ripe banana peeled and cut into chunk

½ cup strawberry sliced

1/2 cup yoghurt plain or flavoured

1/2 cup milk chilled

2 tablespoon Porridge oats

Honey to taste
Method:
Combine all the ingredients in a mixer and blend until smooth.

Pour into glasses and serve immediately.