Green Peas Soup Recipe| How to make green Peas Soup| Easy Soup Recipe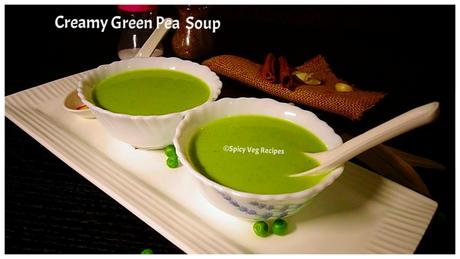 Green Peas Soup is a healthy, delicious, refreshing, vibrant green color soup with a unique flavor and creamy texture. Green peas soup is a perfect blended of fresh peas and spices epically during winters.
More recipes from this blog:
Tomato Soup
Spinach Soup
Mushroom Soup
Green Peas Soup-
---
Prep time: 15 min       cooking Time: 30 min    Serves: 3
---
Main Ingredients:

green peas




Cuisine: 

Fusion




Recipe Type: 

Soup




Level of cooking: 

Medium
Ingredients:
1 cup green peas

1/4 cup milk

1 teaspoons of butter

1 teaspoon garlic chopped

1 medium onion chopped

Salt to taste

1/4 teaspoon black pepper
1 Bay leaf
Method:
Heat 1 teaspoons of butter in a pan over medium heat. 

Add the bay leaf and sauté for a second. 

Add the garlic and sauté for about 30 seconds on a low flame.

Add the chopped onion and sauté till the onions become translucent.

Add peas and stir-fry for 2 minutes.

Add salt, pepper and 1 cup of water and cook for 8-10 minutes over medium heat, while stirring occasionally.

Switch off the heat.

Allow this mixture to cool down completely and take out the bay leaf.

Blend in the mixer until smooth.

Transfer this mixture into the deep pan.

Add a half cup of milk, salt, pepper and mix well.

  

Add a half cup of water and cook over medium heat for 5 minutes.

Turn off the flame.

Add fresh cream and stirring continuously.

Pour the steaming hot soup into soup bowls and Serve hot. 

Green peas soup is ready to serve.
Note:
Health conscious can reduce the cream quantity or skip it.