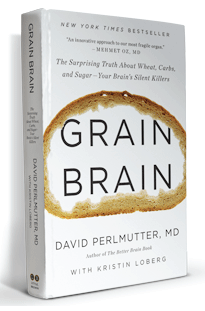 Grain Brain by Dr. David Perlmutter a leader in the emerging field of functional neurology, contends that our grain-heavy diets are a major etiologic factor in Alzheimer's disease and other forms of dementia—diseases that mainstream medicine view as an inevitable consequence of genetics and age.
At conferences across the nation, and in his soon to be published new book, Grain Brain, Perlmutter makes the case that most forms of dementia are a consequence of the hyperglycemia, insulin resistance and chronic inflammation set off by excessive consumption of grain-based foods.
It is a very intriguing read and one that asks and answers a lot of questions.
To listen to an audio excerpt from the book click here.
2ndAct Health in conjunction with Genetics Canada are proud to offer a DNA test to determine predisposition to Alzheimer's Disease. For more information on this contact us at 1-647-352-2372.