Part Two in my series of posts on how to get your skin back to it's best is still skincare focused but this time we are looking at the cheaper end of the scale. Along with the amazing Bobbi Brown serum I spoke about (see post), this new toner has helped my skin no end.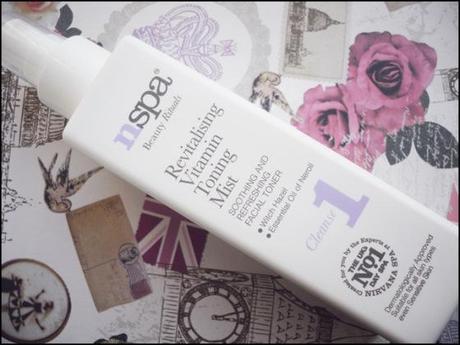 The NSpa Revitalising Vitamin Toning Mist was not something I had planned on buying. I only got into toners a few months ago and I love the Essential Water from L'Occitane but this one from Asda (of all places) sounded rather appealing.
I have used many body products from the Nirvana NSpa range before and have enjoyed all of them but I had never tried anything facial. This toning mist had all the buzzwords I desired on it from 'soothing and refreshing' to 'suitable for sensitive skin' along with other good skin ingredients (especially for oily skin) Witch Hazel, Neroli Oil and some extras like Ginseng and Vitamin E. All these lovelies help to boost, brighten and protect the skin which after a rubbish winter is just what my skin is crying out for.
After cleansing I spritz this all over my face and it's like a cooling burst on the skin which also smells amazing, very calming and very much like a spa. It doesn't irritate the skin or linger on the top layer forming a film, it sinks in quickly and is incredibly light. I have definitely felt a difference in my skin and if I forget to use it my skin doesn't feel the same. It feels tight and a little sore without this, so it must be helping in some way. I also find it means I use less moisturiser in the mornings, so my skin has definitely not felt as greasy. 
I really like this and it is so cheap you really can't go wrong. This paired with my Bobbi Brown serum is really helping to smooth and brighten my skin. This toning mist also works well over make up as a refreshing pick me up without leaving your face too wet or disrupting all your hard work. The packaging is also appealing to me, you definitely won't be ashamed to display this in your bathroom. 
Top Marks!
Available from Asda and Nirvana Spa online. Priced £3.00 for 150ml.