Hello once again everyone  :-h  The next product I'm posting up for you was offered to me from the one and only Tammerlythe author of informative Spoiltblog.  I put this serum to the ultimate test for just over a month and here are my thoughts bases on that experience.  ;)
NP Setis an affordable range of beauty products created by Australia's very own makeup guru, Napoleon Perdis.  NP Set Rewind & Replenish Serum is a paraban free, concentrated antioxidant treatment, infused with minerals and designed to hydrate and brighten the complexion, promoting suppleness of the skin, while protecting against environmental aggressors.  =D>
Presented in a 30ml white plastic tube with a screw-off lid, the serum is adorned with black lettering and the all-familiar NP Set logo and displays pure simplicity.  I must admit I feel a bit '

ripped off

'  :-O  with the small size of the tube though, because it doesn't deliver much value for money.  ^:)^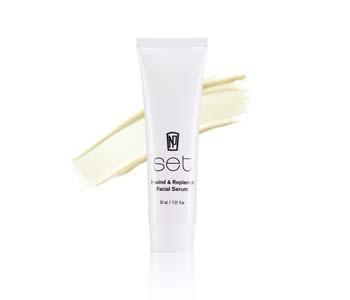 The weightless serum has a cloudy, gel-like texture and features a subtle fruity scent that disappears once it's applied.  A pea-sized amount is sufficient for my whole face and the slippery solution easily glides over my skin, providing a cool, soothing sensation to instantly transform and enliven my appearance.  ;;)  It leaves a slightly sticky finish and takes a few minutes to completely absorb, but during the drying process, I can immediately feel my skin begin to tighten and prompt a smooth, even canvas.  This makes the serum particularly ideal as a base for under makeup, allowing my foundation to grip onto the tacky surface, helping keep it in place.  :)  Unfortunately, I discovered it provided only a short-term respite, because the formula, which includes Shea Butter, is too rich for my oily skin and after a couple of hours my face starts developing the dreaded shine. 

Nooooo! 

 
~X(
  For that reason, I've mostly been applying this serum at night, so I can take advantage of the possible skin care benefits without having to worry about added greasiness.  :-<
Whilst this serum boasts some great ingredients, after utilising it daily for the past month, I can't say that it's produced any significant anti-ageing improvements to the overall condition of my skin.  #-o  Therefore, apart from the immediate radiance boosting effects and its ability to smooth and soften the texture of my skin, I was quite disappointed at the lack of visible results.  :(  I guess it could be just functioning as an antioxidant should, by shielding my skin from damaging free radicals; however, at this stage, even that is not a claim I am able to positively confirm.  :-S   Personally, I wouldn't repurchase the NP Set Rewind & Replenish Serum, as I don't consider it affordable at all, in fact, I think it's rather expensive for such a little tube that only offers a few temporary benefits that I could achieve using any basic, entry level primer.  :>  It's indicated that the serum is suitable for all skin types, yet I wouldn't recommend it to anyone with an oily complexion, as I doubt it's going to do you any favours and will more than likely exacerbate your oiliness, which we all know, can tend to trigger breakouts.  You may have more success if your skin is normal to dry, but to be honest, due to its limited performance ability and based on my own experience, I'd suggest it might to be pointless to expect too much.  :-w
TIP

For improved makeup application, (

only if you have normal to dry skin, this isn't the best for oily complexions

) try using the serum as primer, so foundation goes on smoother and adheres better to the skin. 
Have you tried this product or any other skin care products from this range?  :-/  What do you think, are they effective or….??  I personally have found better serums and primers for better value than this, how about you??   :-?  Please comment below! 
The image in this post is generic.