Today nothing really to read for now, I have to talk to Canadian tax people with regard to the fact that French taxes are incredibly high. They gave me $1200 when it should be 1500 euro which shows how damn hard it is to live in France. 
However, again I will go with Canadian taxes which are a lot less. 
But I haven't got that either. 
I'm off in 4 weeks to "El-eh"? See my cronies and hang out around Bite.
Not to mention In-N-Out burgers, best ever for $2 (or so). Last time. When I walked inside he saw me immediately and

are still friends.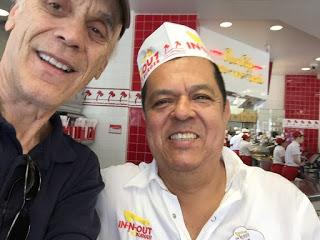 I was

around Sherman Oaks, he was still there and only 3 blocks from my place.