Hello! I thought of sharing with everyone here my notes from yesterday. I gave a talk during the Hilton Wedding Inspirations Salon, which was a bridal showcase for couples planning their wedding.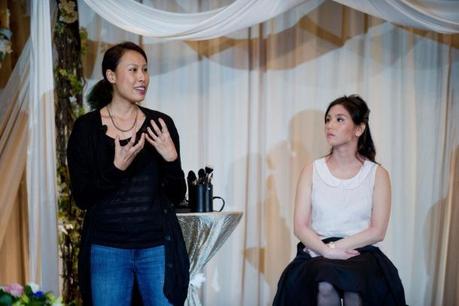 On stage during the talk and demo at Hilton Singapore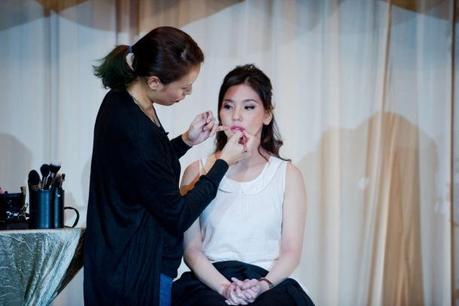 Since most of the couples were in the early stages of planning their wedding, I focused on two topics, How to choose your makeup artist, What to ask before booking your makeup artist, and How to get the most out of your trial session.
Here are some pointers that would be useful for any bride who's looking out for a makeup artist!
How To Choose Your Bridal Makeup Artist
1. Know if you're looking only for a makeup artist or someone who does hairstyling too. It's one less person to coordinate with if your makeup artist does hairstyling as well. Check with them if they include hairstyling in their rates.
2. Know your style. This style is your "inner style". Are you glamourous, or princess-girly, a rock chick, experimental, bohemian or sporty? Knowing this can help you decide on what type of makeup looks you will be going for.
3. With that in mind, start browsing online portfolios of makeup artists in your area. (Singapore is so small, so I'll say country, but if you are based in a huge country, look for someone within your city).
4. When you've shortlisted some of your favourites, email them early. Popular makeup artists get booked a year in advance. The earlier you email them, the lower your chances of being disappointed.
Important Questions To Ask Before Booking / Placing A Deposit
1. Are there any additional charges for…false eyelashes/ transport/ early calltimes/ accessories/ampoules?
Unless your package includes a trial session and touchups, those are usually charged on top of your sessions.
2. Check that you will get the specific makeup artist that you are requesting for, and that that same makeup artist will be there for your trial (applies more for bookings through a company that has many artists)
3. Ask how long the trial and actual day sessions will last, and how many looks you will get during the trial. I have had clients tell me of disaster trial sessions they had with studios that lasted only 15 minutes. I make sure my clients get at least two to three hours of my time during trial sessions.
4. Make sure you get an invoice, receipt and confirmation
How to get the most out of your trial session
1. When preparing for the trial, do some research on makeup looks and hair styles. Save images and send your favourites to your makeup artist before the trial. Bear in mind that styles will look different on you if you have very different features or colouring as the subject in the photograph. For example, if you have thick dark hair, styles that look lovely on blondes with highlights may not suit your hair type and color so well. Same goes for makeup, if you have monolids or small eyes, avoid using reference photos of women with deep eye sockets and large eyes.
2. During the trial, take photos and videos after each style is complete. A favorite of mine is to use my phone to get a 360degree video of the hairstyle and makeup look.
3. If you have your gowns with you, try the, on the gowns with the full makeup and hair so you can visualise your final look. If you don't have them, try to wear a top or dress which has a similar color and neckline to that of your gown.
4.. Wear the makeup and hairdo out for a dinner or afternoon/night out to see how well it sits on your face, and note any reactions (eg allergic reactions / oxidisation of foundation / makeup that smudges quickly/ hairdos that loosen or fall out). Feedback this to your artist. Bear in mind that no makeup lasts perfectly for hours especially in our humidity and heat.
5. Always check with the artist if you are planning to do a drastic haircut before the wedding day (I recommend not). The new length or cut may prevent you from achieving the hairstyle you want.
Okay! So those are my tips that I share with all my clients too!!
I always make sure that my clients get personalised service and expert advice before their wedding day, and that their style questions are all answered!