Hi Lovelies,
I've been itching to play with my new LA Girl Nail Art Kit, which I hauled
here
for NZ$9.90.
Unfortunately, I've had to give my nail's a break from polish for a couple of week's because they were splitting, breaking and they weren't growing. They're still not 100% and there was nothing wrong with yesterday's polish but I felt I wanted a vibrant polish change and decided to try this new one.
After painting my nail's with the gorgeous I love Pina Coladas (a red/orange/watermelon) shade I decided to do a nail accent with the LA Girl kit. This kit comes with 3 small polishes in hot pink, white and black and dotting tool.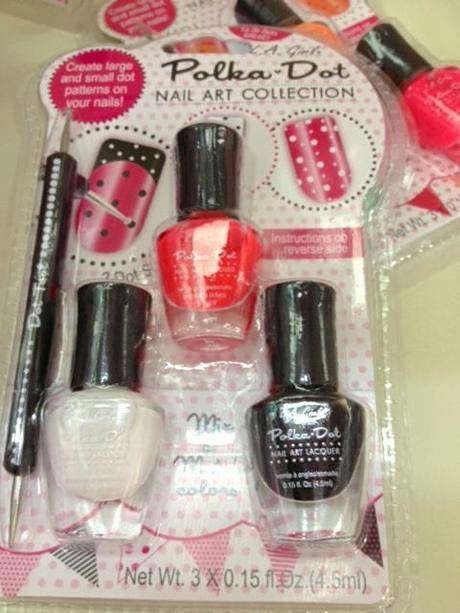 I've never done any kind of nail art with a dotting tool before so I wasn't sure what to create so I started dotting my thumb and then my ring finger with the black polish and once that was done I felt like it'd be nice to have some white dots on the nail's too so I just placed random white dots on each of the two nail's in between the black dots. My thinking was a Ladybird, until I decided to place white dots and I got carried away but I'm happy with the result for a first time play. I wasn't expecting anything fancy.
To keep the accent nail colour's in tip top shape I applied two coats of Seche Vite Top Coat to both nail's but just one coat to the Rubi polish nail's and I'm sure this is going to last 2-3 day's maybe more.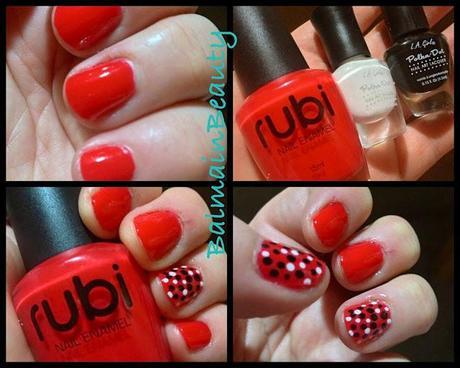 I definitely like this Rubi polish as well as the Pink Cadillac. This is more of a glossy color whereas Pink Cadillac has a pearl sheen to it, both are very pretty colour's and I'm really impressed with the formulations of these polishes and this polish was opaque in two coat's and a gorgeous color too.
I'm seriously considering buying a couple more Rubi polishes, if I can find new shade's that I don't have. I have 3 Red polishes and 4 Orange polishes so I need to stop buying these kinds of shades, but this is the only red/orange sort of watermelon color I have and I think it's an all year round color. I can definitely see myself wearing this over the Christmas and New Year season.
Rubi polishes are sold in
CottonOn
and
RubiShoes
stores in Australia and New Zealand. I saw on their website that they sell and ship items
outside
of Australia and New Zealand. Check CottonOn for availability to your Country and check the website for a country specific list of stores.
Like CottonOn on Facebook
here
, follow them on Pinterest
here
and on Twitter
here
.
Like RubiShoes on Facebook here but they don't seem to have their own Twitter.
Until next time, have a beautiful day.