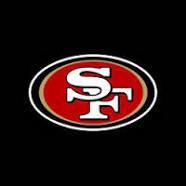 Maybe I'm naïve, but today's San Francisco 49ers bear so little resemblance to the dynasty I grew up watching that it's hard to imagine they wear the same red and gold. Bill Walsh, Joe Montana, Dwight Clark, Ronnie Lott, Jerry Rice, Steve Young…these aren't just names in 49ers history – they're symbols of a team that won with class, with integrity, and with character.
Surely there were legal issues and other misdeeds among the 49ers of yesteryear, and ultimately owner Eddie DeBartolo's legal problems in an unrelated business venture cost him the franchise, but I don't recall anything like what we're seeing from today's players.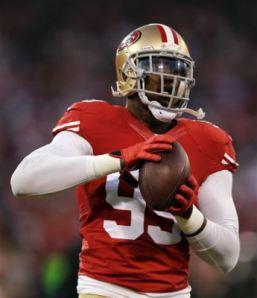 49ers linebacker Aldon Smith was arrested after allegedly claiming he was carrying a bomb at LAX. In both 2012 and 2013 he was arrested on drunk driving charges, and he is still facing felony weapons charges from a 2012 incident.
With yesterday's news of the latest 49er embarrassment, linebacker Aldon Smith being arrested at LAX after allegedly making claims that he was carrying a bomb, the San Francisco 49ers dropped yet another rung on the ladder in public perception. It's increasingly difficult to keep rooting for a team with players who make homophobic comments, find themselves in sexual assault investigations, are arrested on weapons charges, and more. Just in the last week, 49ers Chris Culliver, Colin Kaepernick, Quinton Patton, and Smith have made headlines for their alleged off-field activities, and we're not talking about their charity work.
Sure, these are each isolated incidents, and sure, this is nothing unique to the 49ers – this thuggery has run rampant throughout the league for several years now. For a time the Cincinnati Bengals seemed to have cornered the market on off-field lunacy with a litany of arrests (the 2006 Bengals had more arrests than wins), but it seems of late as if the 49ers are well on their way to claiming the top spot (or is it bottom?).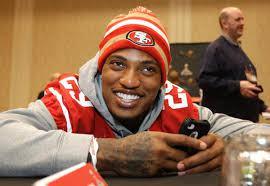 Backup cornerback Chris Culliver made anti-gay comments in 2013, then was arrested on hit-and-run and brass knuckles charges in 2014.
The NFL has never been more successful (i.e. lucrative) than it is today. However, while I continue to follow the NFL in passing, I'm no longer glued to my TV every Sunday in the fall, and I don't live and die with every 49er win or loss. These days, as I read about retired player suicides and current player assaults, bigotry and more, I find myself less and less enthused about supporting a league that seemingly enables these acts to continue. This is a league, after all, that continues to find places for Richie Incognito to be employed.
No professional sports league is without its problems, but the NFL these days seems to be taking a particularly ugly turn, and sadly the 49ers – once a beacon of class in a barbaric league – are no longer immune to the nastiness. Until that changes, I may just find other things to do on Sunday afternoons in the fall.