Nokia is investing in the future and has just released two new smartphones with Windows Phone 8 that put great emphasis on image and video. New flagship model, called Lumia 920, is the sequel to the Lumia 900, which was released in the spring, while the Lumia 820, of course, succeeds last year's Lumia 800.
- Nokia Lumia 920 -
New top model Nokia Lumia 920 offers both 4G via LTE – and Pure View technology.
Nokia's colourful flagship model, Lumia 920, is equipped with a dual core 1.5 GHz processor, which is part of Qualcomm's Snapdragon S4 platform, a slightly curved 4.5-inch LCD screen with HD resolution (1280 x 768 pixels), a 2000mAh battery and 1GB of RAM.
The screen of 4.5 inches Nokia has chosen to call Pure Motion HD + WXGA IPS LCD, and it is constructed of lightweight curved glass. The resolution is 768 x 1280 pixels with a pixel density of 332 pixels per inch. The Finnish manufacturer praises his own display and calls it both the fastest and brightest mobile display ever.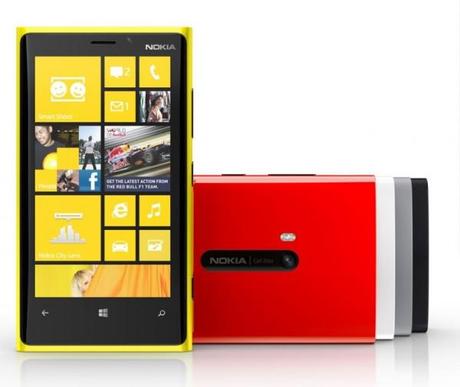 Nokia Lumia 920 with Windows 8
Among the most interesting features is that Lumia 920 has support for wireless charging (Qi standard) of its 2000mAh battery. Early information says that the Lumia 920 has a standby time of 400 hours and a talk time of ten hours (3G). Nokia has also incorporated its Pure View technology in the new flagship model. But unlike 808 Pure View, with 41 megapixels, Lumia 920 is equipped with a modest 8.7 megapixel camera.
Lumia 920′s dimensions are 30.3 x 70.8 x 10.7 mm, and it weighs 185 grams. Body of the device is made of a single piece of polycarbonate. Nokia Lumia 920 is expected to be released in several colours: yellow, red, white, gray and black.
- Nokia Lumia 820 -
Lumia 820 has a slightly smaller 4.3-inch display with WVGA resolution, ClearBlack AMOLED display, 1GB of RAM, the same dual-core Snapdragon S4 processor as in its big brother and an 8MP camera. Nokia Lumia 820 is a mid-range phone with 8GB built-in storage memory expandable by memory card; the battery has a capacity of 1650mAh – and support for wireless charging (Qi standard). Standby time for the Lumia 820 is said to be 330 hours with a talk time of 8 hours over 3G.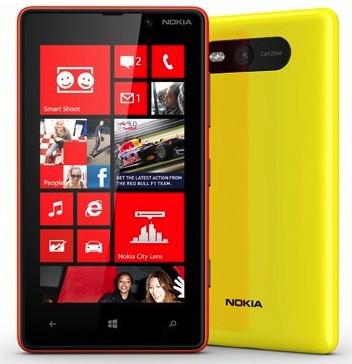 Mid-range Nokia Lumia 820
The dimensions of this phone are 23.8 x 68.5 x 9.9 mm, and the phone weighs 160 grams. Lumia 820 will be available with interchangeable covers, which will be available in a variety of colours.
Both the Lumia 920 and Lumia 820 have screens equipped with Super sensitive touch technology, making it possible to use the touch screen even when you have gloves on you. This is a feature that should be appreciated when these phones are released later this year. At present there is no information on how much the phones are going to cost, but we will be among the first ones to offer you Nokia accessories for these two models!