The Swedish headphone manufacturer Nocs made their first attempt with speakers, which went by impressively.  The new NS2 speakers are really special because they support AirPlay technology. Apple AirPlay allows you to stream media from your Mac, iPad, iPod Touch or iPhone to a TV or speakers.
Thanks to the traditional approach, NS2 consists of two separate speakers, so users can get better stereo sound and they can also use these speakers as TV speakers when not listening to music. Colours available are: black, grey, white, red, yellow and orange.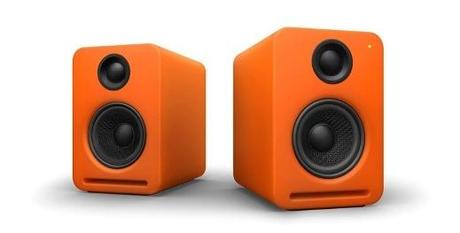 Nocs NS2 Speaker for iPod, iPhone and iPad
Nocs Air Speakers are significantly cheaper than most other models and although NS2 is very small it produces really good sound despite the modest size. NS2 is small and well-built with a nice finish and if you are looking for some Airplay-compatible speakers, Swedish company Nocs has a colourful collection to choose from.
Compatibility:
- AirPlay is compatible with iPhone 5, iPhone 4S, iPhone 4, iPhone 3GS , iPod touch (2nd, 3rd, 4th and 5th generation), iPad 2 and iPad with iOS 4.3.3 or later, or Mac and PC with iTunes 10.2.2 or later.
- In addition to the AirPlay connection there is a 3.5 mm stereo jack.
* Speakers are only small part of accessories we offer for the most popular smartphones and tablets. Make sure to check the latest accessories for iPhone 5, as well as iPad 3 accessories.