On my quest to find a cheaper, more widely available dupe for the amazing Bioderma, I stumbled upon this from Boots own brand No7.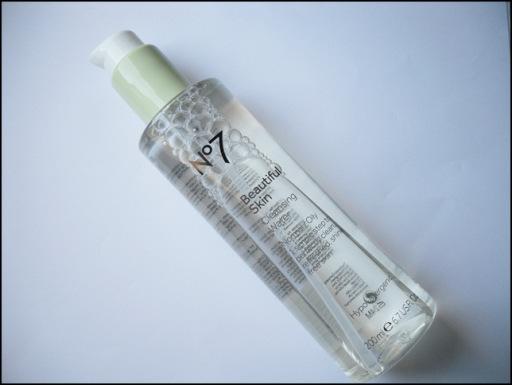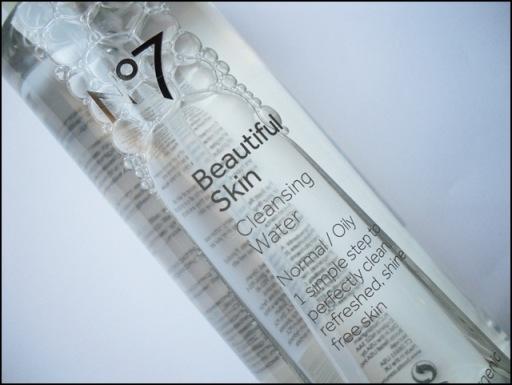 Designed for Normal and Oily skins, this is a Cleansing Water from the Beautiful Skin range that removes make up but also treats the skin leaving it refreshed and clean.
It contains a lot of multivitamins and minerals along with zinc to help with sebum production and is hypo-allergenic.
Now, this all sounds very impressive but how does it compare to the classic Bioderma?
Well, the packaging is smart and chic (still loving the No7 re-brand) and the price is great. This is meant to be a one step cleanser that saves time before bed. You pump the product onto a cotton pad and wipe over the skin. Yes it removes make up, but not instantly. It takes a few cotton pads to get everything off. You can't use it on the eyes either, so you will have to buy a separate product for that. Bad times. It has a fairly strong scent too, unlike Bioderma. This one smells a lot like the No7 Aftersun if you have tried that.
Whereas Bioderma feels lights and fresh on the skin, this feels oily and slick. My skin doesn't feel cool and refreshed afterwards, it feels a little greasy. Which is not what you want when you have oily skin. And I have come out in some terrible spots after using it. And as you know, my skin has been pretty good recently so this is a major set back.
I like it, but I don't think my skin does and I am a little disappointed with it. It sounded so amazing and I thought 'this could be it, this could be the new Bioderma' but sadly no. It isn't and doesn't even come close.
For now I am using a Soap & Glory cleanser to remove my make up as this has scared me off, what will its spot causing powers and all…
But if your skin isn't as oily or spot prone as mine, this might work for you. If it does, please let me know. 
Available exclusively from Boots stores and online. Priced £9.00.