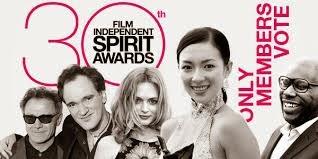 Had too much work yesterday to blog. 
Watched a bit of the Spirit Awards on IFC, which "used to be" about independant films, you know the films where people scraped up enough money to make a little movie anywhere from $25,000 to maybe $500,000.
Well, those days are gone and the films that were up for awards at the Film Independant party on Venice Beach Saturday night before the Oscars. For one thing, a lot of the independent films were the same as the Oscar films. Almost all except for Clint's American Sniper, which made more money than all of the other films put together.
So what's the difference between the Spirit Awards and Oscar nominees?
They all have major actors in them. Stars, as we say in America.
So what happened to those cheapie little "indie" films?
They got famous actors who earn millions of dollars.
Why did they get famous actors who get paid so much?
Because famous actors like Jennifer Aniston will do anything to get a shot at the Oscars by playing a role that isn't dumb movies like Aniston usually makes. So they defer their big salaries in hopes of their peers acknowledging how wonderful they are and that they worked on a real heartfelt movie.
And as far as budgets, indie films now are considered to be "indie", have budgets lower than $20 million. Fifteen years ago budgets were all under $500k with unknown actors, writers and directors.  That's gone, only the big guys can make small movies now.
And it was sure there at the Oscars.
The only real "Hollywood movie" was Clint's and was totally ignored. Because it made money.
Personally I thought it was a dull show, Doogie Howser is a good actor but not a presenter. Ever since Bob Hope, Johnny Carson and Billy Crystal left the Oscars, there hasn't been a really good host.
Hope and Carson are gone, of course, but Billy is still around. Too old, I guess.
Ratings for Sunday's Oscars were 16% below last year and the lowest rating since 2009.
I was glad Eddy Redmayne won for The Theory of Everything.  It seemed to be very international, with British winners and Mexican winners.
But I still think the best film I saw this year was Nightcrawler with
Jake Gyllenhaal.
Gotta get back to work.