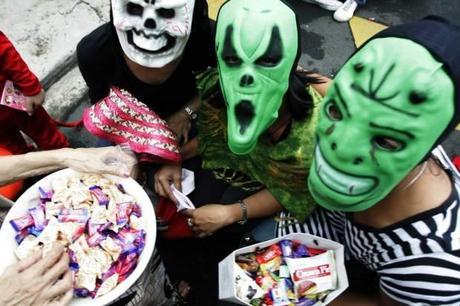 A woman in the U.S. has decided not to hand out Halloween candy to obese kids. Instead she'll hand them a note to give to their parents:
The Huffington Post: North Dakota Woman May Be Giving "Fat Letters" Instead of Candy This Halloween
Of course she means well, but this may end up doing more harm than good. Should you give candy to lean kids and a note to obese kids in the same group? And should parents of obese kids really prevent them from trick-or-treating with their friends? Obese kids have enough to feel bad about already, as have their parents.
Here's my suggestion. Give all kids something better than unhealthful sugary candy for Halloween (small toys, for example).
Parents of obese kids may help them by cleaning out the pantry, removing unnecessary sugar and rapidly-digested starchy foods. Present this as a good thing for the whole family, and the child doesn't have to feel singled out. As a bonus the whole family will get healthier and leaner.
What do you think?
More
Can You Prevent Childhood Obesity with a Lot of Carbohydrates?
Kids' Birthday Party With No Added Sugar
Do Kids Get Hyperactive by Eating Too Much Sugar?
A diet book for kids (!) and what it can teach us