Rating: 
5
Prep Time: 
25 minutes
Total Time: 
25 minutes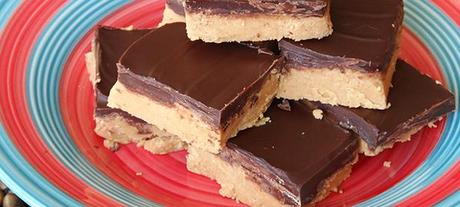 No Bake Dessert: Peanut Butter Bars
Ingredients
1 cup (2 sticks) unsalted butter, melted
2 cups animal cracker crumbs (or vanilla wafers, graham crackers, etc)
2 cups powdered sugar
1 1/2 cups creamy peanut butter
Topping
1/4 cup peanut butter
10 oz semi-sweet chocolate, chopped
Instructions
In a mixer or a food processor, combine the first four ingredients until smooth. Spread into a 13x9 baking pan.
For the topping, melt the chocolate and peanut butter together in the microwave for 1 minute. Stir. If not completely melted you can heat in 10 second intervals until smooth. Spread over the top of the peanut butter layer.
Chill dessert in the refrigerator for about an hour, or in the freezer for 15 minutes. Cut into bars and serve.