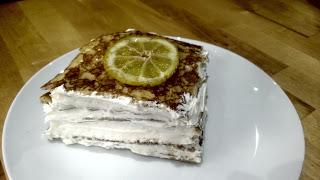 Ingredients
Mousse: 1 lemon, 150ml double cream, 1 tbsp icing sugar.
Curd: 4 Lemons, 4 eggs, 350g caster sugar, double cream, 8oz butter. 1 pancake.



Serves:

 1 

Preparation:

 1 hour
I was recently sent some of the lovely Abra-ca-Debora pancakes for a foodspiration challenge and had a lot of fun with the concept of "no bake cakes." My interpretation was to quarter the pancakes and layer with lemon curd and lemon mousse to form a single slice of cake. Abra-ca-FABULOUS.
1) To make lemon curd, see my previous recipe.
2) Zest and juice the lemon and whisk with the double cream and icing sugar until stiff peaks form. This takes about 2 minutes in a food processor with a whisk attachment or using an electric whisk.
3) Sandwich the layers of pancake with lemon curd and lemon mousse, "grouting" the edges to keep the shape when pressing down.
This can be served immediately or chilled for later.