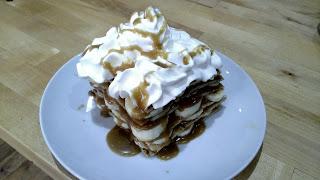 Ingredients
200ml double cream, 30g butter, 60g muscovado sugar, 1 banana, 1 pancake.



Serves:

 1 

Preparation:

 1 hour 15 minutes
I was recently sent some of the lovely Abra-ca-Debora pancakes for a foodspiration challenge and had a lot of fun with the concept of "no bake cakes." My interpretation was to quarter the pancakes and layer with toffee and banana, topped with whipped cream to form a single slice of banoffee cake. Abra-ca-FABULOUS
.
1) Melt the sugar in a pan, then add the butter and 100ml of the cream. Stir continually until a caramel sauce has formed. Set aside to cool, then chill in the fridge for an hour to form the thicker toffee.
2) Peel and slice the banana into 1/2cm discs, then spread the toffee sauce onto the pancake and top with slices of banana. Layer with more pancake, toffee and banana.
3) 
Whip the remaining 100ml cream and pipe onto the top.