Hey everyone!
Today I am going to write about a product which has become my absolute favorite. It is the Nivea Vitamin shake Cranberry and Raspberry lipbalm. I love lipbalms and i collect them just for their packaging or shade or smell. So when i saw this lipbalm review in another blog, i wanted to try it out and got one.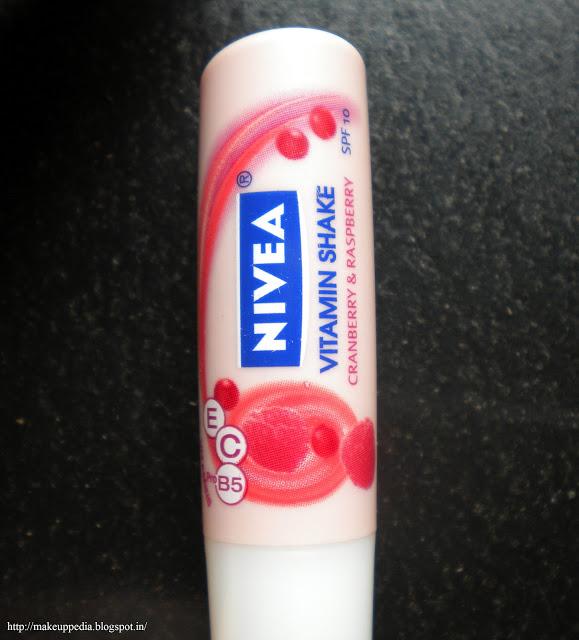 Nivea says: Do you wish to nourish and protect your lips while enjoying a luscious flavor and fragrance?
The innovative marbled formula of Nivea Vitamin Shake combines intensive moisture and a blend of fruit extracts with vitamins for a smooth and nourished look with a light fruity tint.
1. Intensive moisture with vitamins C and E and Pro-vitamin B5.
2. Natural pinkish tint and subtle flavor blend of Cranberry and Raspberry.
3. SPF 10 with protection from UVA and UVB rays.
4. Skin compatibility and dermatologically tested.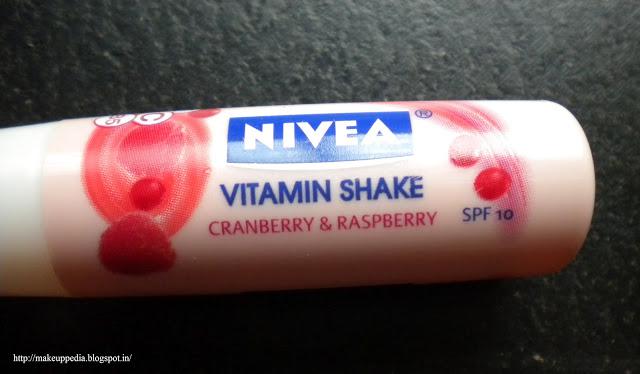 Ingredients: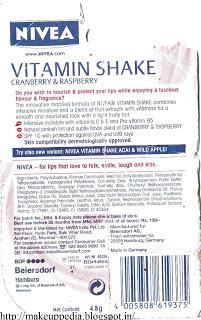 Sorry about the ingredients picture, i threw this cardboard away somewhere and i had to scan it.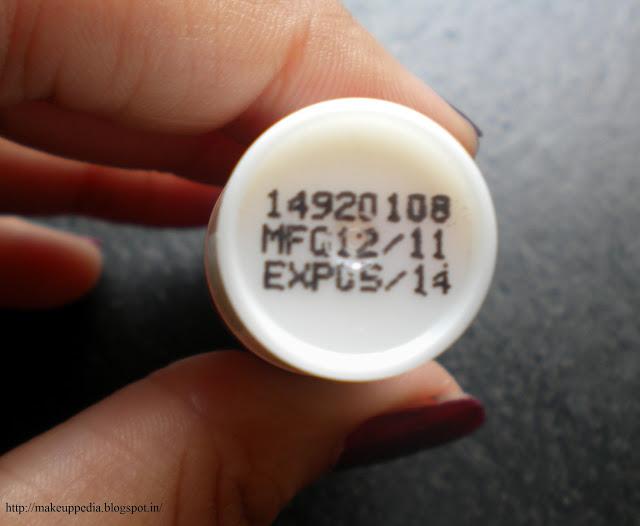 My experience with it: I had picked this up just because it said "Natural pinkish tint and subtle flavor blend of Cranberry and Raspberry" and the swirls. And

I was very excited to try it on mainly because of the swirls in it and the claim of it containing a mixture of Vitamins B, E and pro B5. It comes in a twist up tube just like the other Nivea ones.And the outer cover has pictures of cranberries and raspberries in a swirl.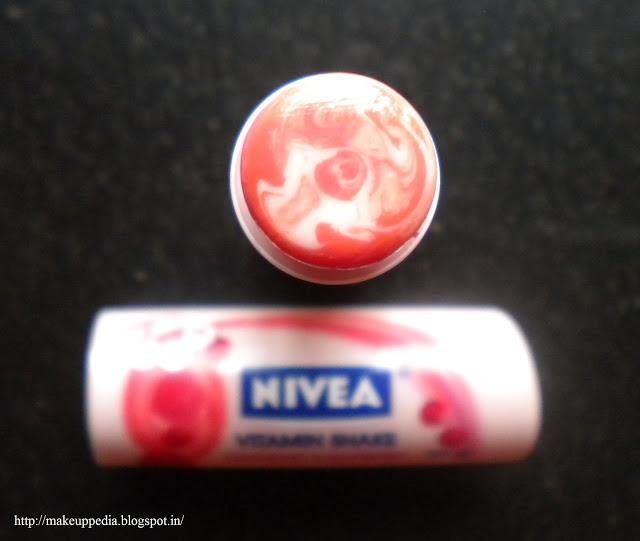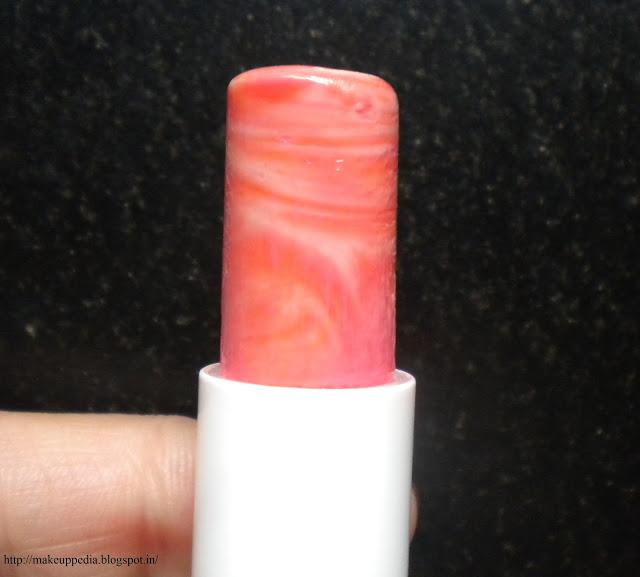 The smell is a very mild mixture of cranberry and raspberry. And it lingers on for about half an hour after application. Coming to the tint of this one, it is nothing like the other Nivea fruit shines and gives a mild milky peach tint, which nevertheless looks beautiful on my lips. But it does nothing to hide the pigmentation and so no lip swatch for this one, as I have a slightly darker upper lip.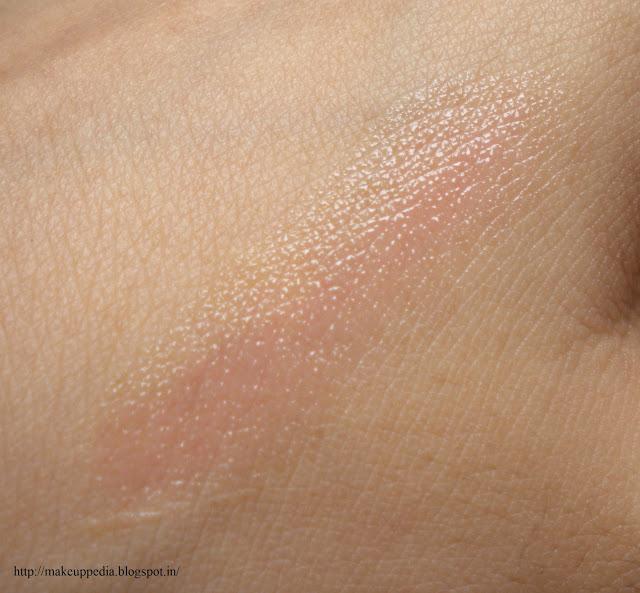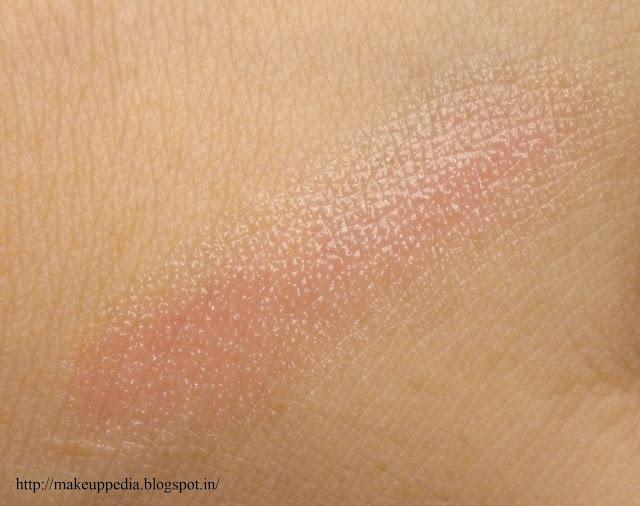 It provides a decent moisturisation and definitely heals chapped lips. I wore it before I went off to sleep and I had smooth and soft lips in the morning. And the best thing about this lip balm is that it has SPF 10 and has reduced my pigmentation!!! But there is a catch here, if I use it regularly day and night, the pigmentation gets reduced. I was able to see my slightly darker upper lips turning a little pinky. But I did not use it that regularly, as I did not want this to get over so soon and the pigmentation was back. I guess it is just like a sunscreen on face, You stop using it and you will tan, u continue using it and your tan will go away! Stupid me! Now that this is available easily, I am going to use it 24x7. But before that I will have to arrange for backups
:)
I am really crazy about this lip balm! 
Price : Rs.139 for 4.8 gms.
The good about this product:
1.

  
It has the goodness of Vitamins B, E and pro B5
2.

  
It has extracts of cranberry and raspberry.
3.

  
It moisturizes the lips and makes them soft.
4.

  
Has SPF 10 which helps reduce tanning of lips and reduces pigmentation.
5.

  
Smells very mild and wonderful.
6.

  
The price is reasonable.
The not so good about this product:
Absolutely nothing!!
My rating: 5/5
I highly recommend this to every one!