Everyone has that special month they look forward to like your birthday month, wedding anniversary month etc. For foodies it is October because that is good food month! :P Every October in Australia The Sydney Morning Herald hosts a month- long showcase and celebration of Australia's restaurants, cafes and bars. This month long event definitely calls every foodie within us all to experience and celebrate Australia's food industry. My favorite part of good food month is the nigh noodle markets held in Hyde Park (Sydney). I believe they have similar markets in Melbourne. This year I heard there was a great line up of restaurants showcasing their food and even some restaurants like Wonderbao and Hoy Pinoy all the way from Melbourne to bless Sydney with their delicious culinary specials.
For the past few years I always showed up to the night noodle markets after 6pm and braved the long queues each and every year but this year I was determined to go early and avoid the queues. The night markets open at 5pm and that was the time my friend and I showed up and we were able to to cruise in to the places we wanted to try out. I feel there was a wider selection of different foods other than noodles, there was a lack of noodles this year even though it is named night noodle markets :P but the other types of food made up for it! I did my research before coming here so I already knew what I wanted to try. My friend and I definitely bond over food and being hungry little students we ate our way through the night noodle markets!!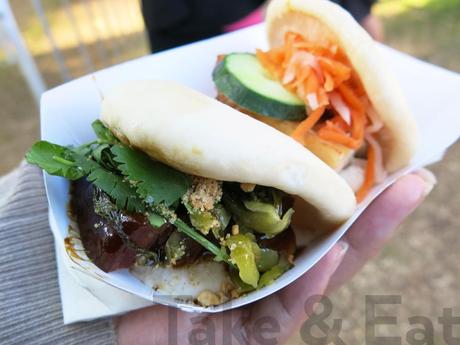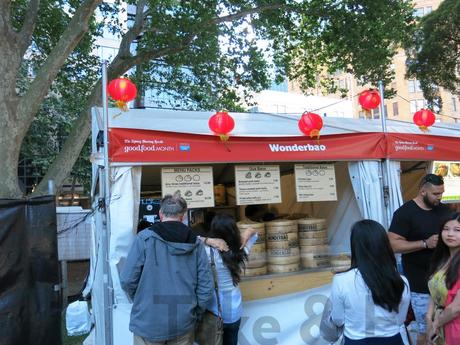 First stop- WONDERBAO! I've heard a lot about wonderbao and their delicious selection of baos and I even put it on my "go to" places when I visit Melbourne. I was so happy that Wonderbao was at the Night Noodle Markets 2014 and I hope they will even consider coming back next year or opening a store here in Sydney :P (Fingers- crossed!) We ordered the braised pork belly and twice cooked pork belly ($7.00 each), we didn't want to get the combination pack (includes the tofu bao for $20) because my friend isn't a fan of tofu and we thought we save a bit of money for other food :P
If you know me, you will know that I am a huge fan of pork, especially pork belly. The braised pork belly had a really nice glaze over it, it was a little bit chewy compared to the twice cooked pork belly because that just melted instantly in your mouth. I definitely enjoyed the twice cooked pork belly because of the soft and creamy texture. The buns may be small but they were jammed packed with flavoring and pork belly that was cooked with tender, love and care! :)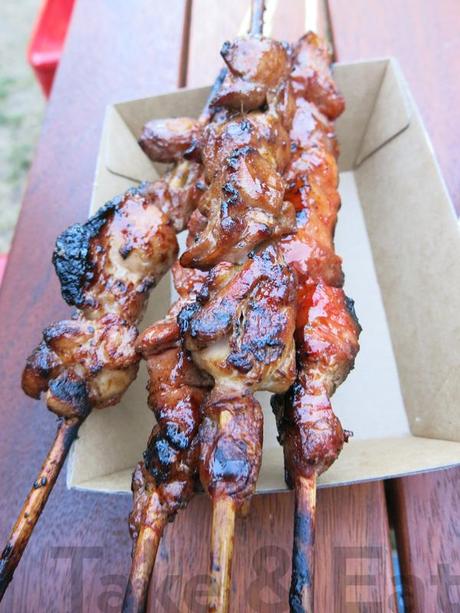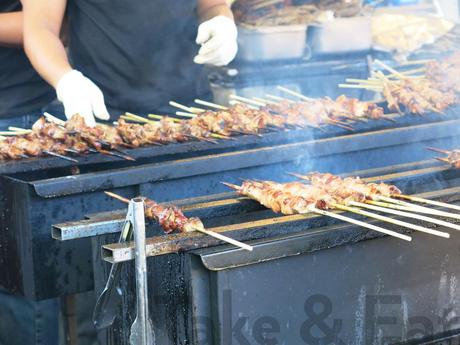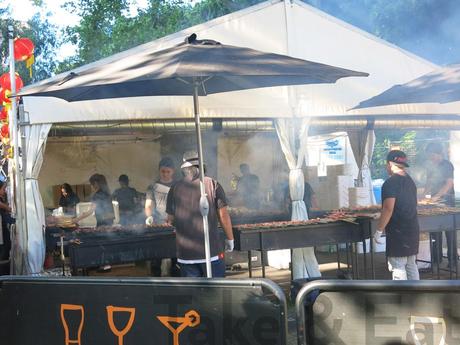 Next stop- Hoy Pinoy, another Melbourne eatery! There were quite a lot of stalls selling skewers but there was definitely something different about Hoy Pinoy's skewers. There was quite a line for these Filipino skewers and it was only around 5:15pm, imagine the line at around 6pm! I definitely understand why there was such a long queue! we ordered the chicken and pork belly (more pork belly!!!!) skewers. I can't remember the exact price but I think it was around 2 skewers for $10 with the option to add extra for rice. The skewers were huge, not like your usual sized ones, and definitely worth the amount you pay. Both skewers were glazed in a similar sticky bbq sauce and it complimented both types of meat. The chicken was very tender and juicy. The pork belly skewer that I got was basically 90% fat but I didn't really mind but I know some people who aren't fans of pork belly fat. The pork belly besides the fat did have some meat which was a little bit too chewy for my liking and a little bit hard to get off the skewer. Nonetheless the skewers were extremely tasty and inspired us to purchase our next food item!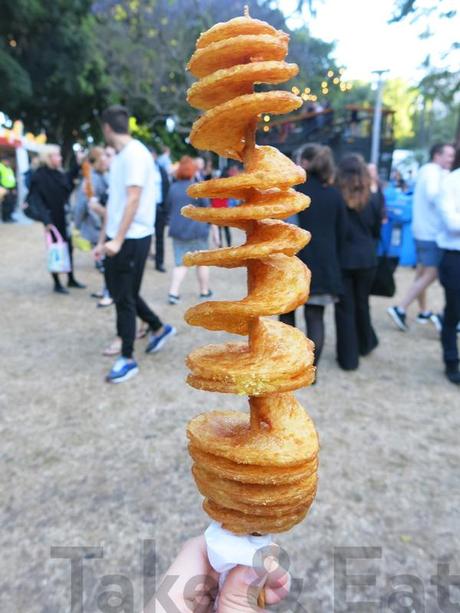 The famous potato twist on stick has been my favorite at the Friday night markets in Chinatown (every Friday night-Dixon & Little Hay Street, Haymarket) and I've seen and eaten it at other events like the Easter Show. There was a staff member handing out samples of the chicken salt potato twist and my friend and I were hooked, we even went back for seconds! The first one we ordered was chicken salt and the second one was lime and vinegar. The potato twist tastes like hot chips, you can't go wrong with hot chips! :P If I remember clearly, it was around $6 or $7 per potato twist with your choice of flavouring.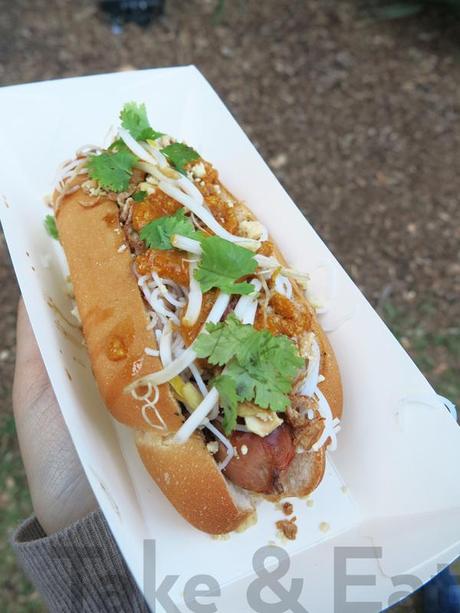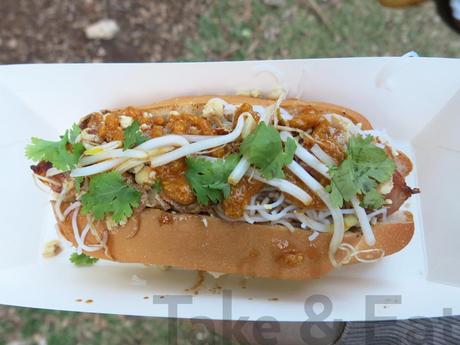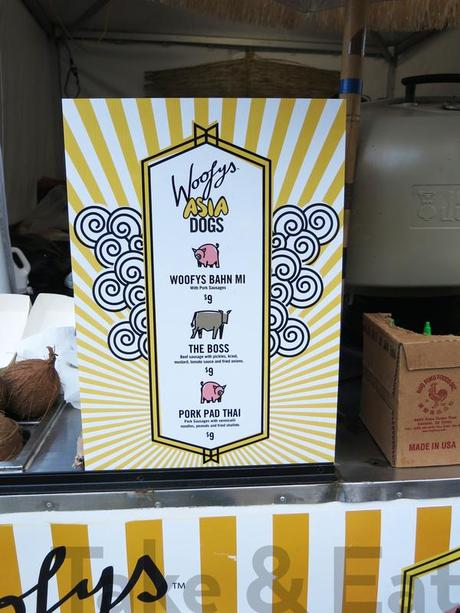 Who thought hot dogs and pad thai go so well together!? I had a bit of hard time choosing between the bahn mi and pork pad thai but I heard a bit about the pork pad thai that I opted for that. The pork pad thai was definitely a unique combination, the first few bits were delightful and the combination just worked! Towards the end my friend and I were waving the surrender flag but I don't like wasting food I ended up finishing it. The sauce does get a little bit too heavy and stomach. The pork pad thai is quite a heavy dish because of all the elements in it. I found it to be a very innovative dish and I commend Woofy's for their creative thinking! :)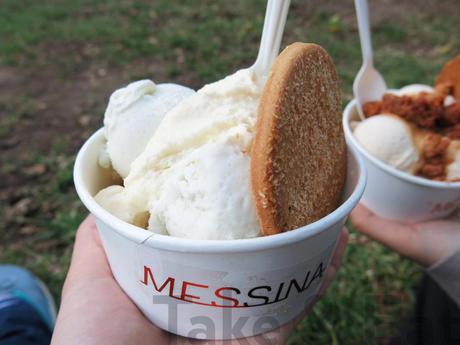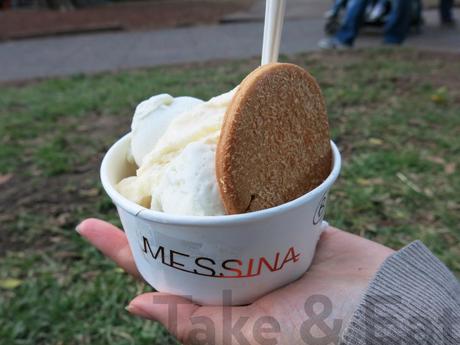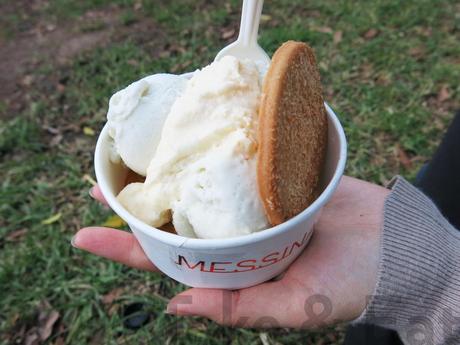 Bangkok Holla | Kaffir lime sponge, pandan & coconut sorbet, pineapple & lemongrass mousse and chilli coconut cookie | $9.00

Messina has definitely been my "go to" place for gelato and all things sweet! When I saw that Messina had it's own store at the night noodle markets I instantly got super excited that I even contemplated to eat dessert first (there's nothing wrong with that right? :P). The queue for Messina was quite long since we finished eating all the savoury food around 7ish. The wait was around 15-20 minutes and this was when my friend went back to get a second potato twist :P After a long time deciding what flavours to get we ended up getting the Bangkok Holla and Street Hawker.
The Bangkok Holla was not too sweet and it had a subtle pandan flavouring, it tasted more like vanilla ice cream. Compared to the Street Hawker, the Bangkok Holla was definitely very mild in flavouring.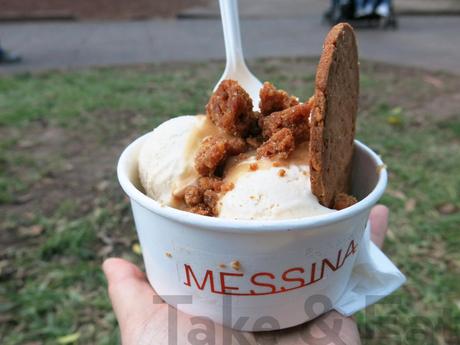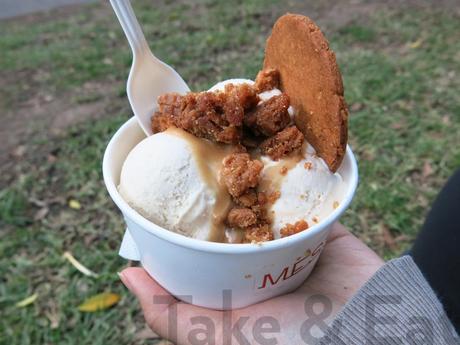 Street Hawker | Lime & Chocolate brownie, peanut gelato, coconut & caramel jam, fortune cookie clusters and peanut cookie | $9.00

The Street Hawker was extremely sweet, there was a lot of ingredients in this Messina creation that I feel they got a little bit too ambitious that they just created this cup of sweetness. I have heard mixed reviews of the Street Hawker, some love it and some agree that it was way too sweet! However, it is nice in moderation if you have a spoonful every 5- 10 minutes :P On the base of the Street Hawker was a brownie which was extremely hard to break but very tasty and chewy!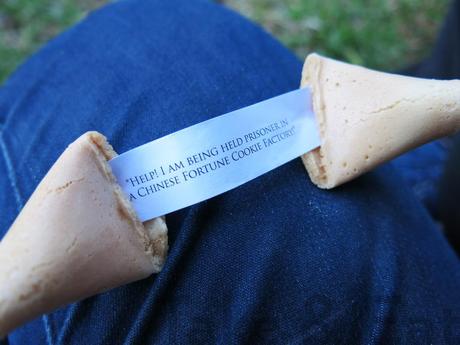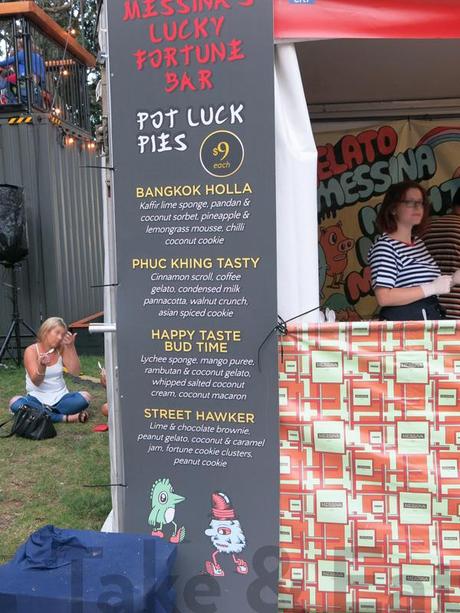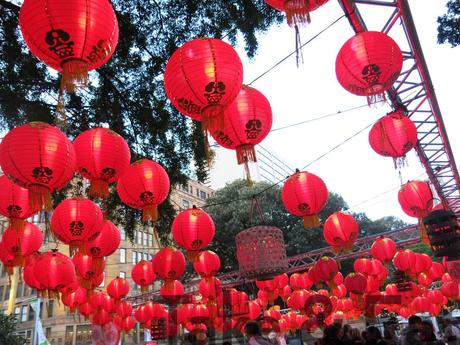 Overall, I felt that this years Night Noodle Markets was very successful and delivered a selection of delicious Asian food! As per usual the prices are always high for these sort of events but hey it only happens once a year so I think it is alright to splurge on good food for one night :) I can't wait until next years good food month because that is the month we are looking forward to! 
Happy eating x