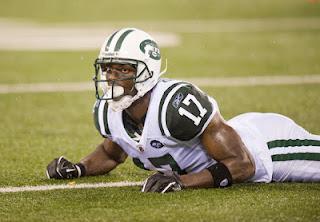 Photo: AP Images
- Troy Ballard 
This is an eyebrow raiser -- for those who haven't been keeping tabs, New York Jet wide receiver Plaxico Burress is an unrestricted free agent, and still has yet to be signed by an NFL team.
There were rumors out the wazoo early on that the Philadelphia Eagles would sign Burress and reunite him with long-time childhood friend and former jailbird Michael Vick, but talks fell-through and nothing ended up happening.
At one point it seemed a possibility for Burress to return to the Jets as well, but following the draft where New York selected Stephen Hill and Jordan White, his return seems incredibly improbable.
It then begs the question, has Burress become the next Terrell Owens?
The simple answer appears to be yes.
Even last off-season when he was coming back into the NFL, teams were wary that he was too old, out of shape, and couldn't produce enough to earn a spot on a roster. New York took a chance, and he only had mild success with Mark Sanchez, and for the most part, he was generally ineffective.
The only part of the field that Burress really excelled in was the red zone, and that's strictly because of his body size and his ability to box-out corners. Other than his size-advantage in the red zone, Burress was often locked-down by faster corners, didn't look sharp in his routes, and seemed to lag behind on plays late in games.
Burress' lack of production in non-red zone situations could be pinned as one of the plethora of reasons why the Jets failed to make a postseason appearance last year.
There was a time when Burress was a premiere receiver in the NFL, but since his incident in that night club, things have spiraled. NFL teams have taken a look at his numbers from last season (which really aren't that impressive), weighed the pros and cons, and the ultimate decision is not to give him a chance.
Who knows Plax, maybe TO and yourself could combine to make the dynamic duo for the Wranglers?
Be sure to follow Beard and Stache on Twitter @BeardAndStache, and also Troy @TroyBallards, Like our Facebook page HERE!