As much as London is an expensive city to live in one area where it always shines is show accessible the arts and culture is to everyone no matter their budget.  Many world class museums are free, countless free events and festivals pop up around the city, street art in the East End and I could go on.
While I've not written much about the theater on the blog I really do love it.  Last year I saw a Season in the Congo at the Young Vic near Waterloo.  The main actor Chiwetel Ejiofor (star of 12 Years a Slave) gave a powerful performance as Patrice Lumumba, a Congolese independence leader and the first democratically elected Prime Minister of the Republic of Congo.  Lumumba was executed by firing squad.
Belgium, the United States (via the CIA), and the United Kingdom (via MI6) have all been implicated in Lumumba's death.  The cost was £10 and although we sat further back the stage was actually two levels and when the actors were upstairs we were closer to them than the entire room.
Following finding that gem I set out to see more plays and musicals and take advantage of what London has to offer.  Next well I will be starting off this year with a play called The Pole Factor.  Now I must confess this is a friend's play (Fiona) but if you can't support your friends then who will.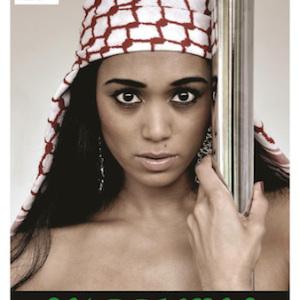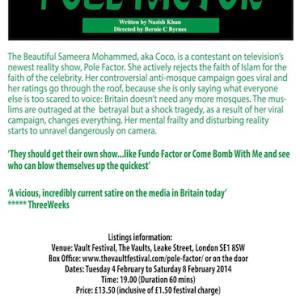 Fresh from a 5* run in Edinburgh, 'Pole Factor' is having an outing in London at The Vault Festival, 4th – 8th Feb.  From the flyer: The beautiful Sameera Mohammed aka Coco is a reality celebrity on Pole Factor. Actively rejecting Islam, her controversial anti-mosque campaign has gone viral. The Muslims are outraged at the betrayal but she is only saying what everyone else is too scared to.
The media and the masses are on her side. But a shock tragedy, as a result of her viral campaign, changes everything. Her mental frailty and disturbing reality starts to unravel dangerously on camera.  Fiona plays Gina, an Irish contestant on the show.
Fiona's Bio: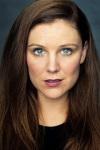 After training Fiona went on to become a member of 'Interanimation Theatre Company' where she performed 'Miss Julie', 'Three Sisters' and 'The Master Builder'. She had the pleasure of being part of The Old Vic – New Voices platform, with 'Holborn Corner Theatre Company'. Recent theater credits include 'The House of Bernarda Alba', at The Almeida Theatre, 'Final Score' at The Tristan Bates Theatre and 'Pole Factor' at The Edinburgh Festival 2013.TV credits include: 'Always & Everyone', Granada TV; Nationwide commercial campaign for The Portman Group and 'Bunce – Little Crackers' for Sky TV. Fiona has appeared in a variety of short and feature films. She has most recently been cast in feature film, 'The Seer'. Fiona was awarded 'ACTRESS OF THE YEAR 2012′ at Player-Playwrights and was nominated for 'BEST ACTOR' at the Braine Hownd Film Awards 2013. 'DOG DAY', starring Fiona, wins an 'Award of Merit' at the Women's Independent Film Festival in LA. Fiona is thrilled to be reprising the role of Gina in 'Pole Factor' at The Vault Festival 2014. If you're in London get your tickets
here
.   I have to warn you though that my co workers and I alone may have taken a huge chunk out what's available so book fast. Closest tube: Waterloo
Links
Fantastic article summarizing the play here
https://www.thevaultfestival.com/pole-factor/
The production company:
http://www.angrybairds.com
Twitter: @fiona_mcgee