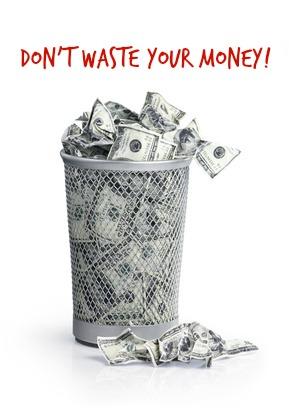 I remember when I first started my wedding planning business, I wanted to start with a bang and make sure I let everyone know how professional I was. I invested in things that in hindsight were a total waste of money because they didn't bring me the business I thought they would.
Some of the wedding planners I speak with today are wasting their money on these same things and I want to make sure that you don't do it too.
Here are 3 ways I wasted money that you need to avoid:
1) I ordered fancy logos and stationery before I started doing business
I had a designer create a whole business stationery set before I knew exactly who I was going to market to and what services I was going to offer. Once I determined my target market, I had to have everything redone because my original choice didn't fit my real business.
What to do instead: You want professional looking business cards and stationery but keep costs low until you've established your niche.
2) I invested in advertising and marketing that wasn't targeted to my niche
People offered me "deals" on advertising and marketing opportunities that seemed to practically guarantee visibility to a large audience. Problem was, they weren't always an audience of people who wanted what I was selling. For example, I had advertising in a community newsletter and an online directory, both of which are meant for the general public, not my niche.
What to do instead: Please make sure you do your research before investing money in advertising and marketing. Stick to opportunities geared towards attracting brides. And, although there are many wedding websites ads and bridal shows you could invest in, be sure the ones you choose target the brides you want.
3) I bought the latest fashion accessories and technology gadgets
I would go to wedding and event planner conferences, notice other planners with designer bags and jewelry and go out and buy them too. Then I realized that having the latest trendy object may be impressive but it won't bring clients.
What to do instead: Get what you need to be and look professional, don't copy someone else.
In short, don't be in a rush to buy. Do your research and always keep your budget in mind – you don't want to waste a lot of money on credit card interest charges!
And if you want more help to become a top wedding planner, sign in to get my ezine "Wedding Planner Tips."