We are delighted to offer great new arrivals from the likes of some of our favorite swimwear designers such as Seafolly Australia, Sunseeker Australia and Moontide New Zealand. Coming from somewhere that enjoys over 3,000 hours of sunshine a year, you just know they will have got style and functionality down to an art! This season is all about bright colours and brave pattern, and here at Idlewild London we've got it all wrapped up and ready to go with you.
This gorgeous booster bra bikini set from Seafolly is simply a burst of Summer! Every color you can think of has been whacked onto this swimwear set in an abstract pattern. This bright modern print is however softened down with a girlie tie between the cups and a frilled skirt along the top of the hipster bikini bottoms. The set also benefits from an adjustable underwire bra with soft cups - giving you support and shape beyond measure!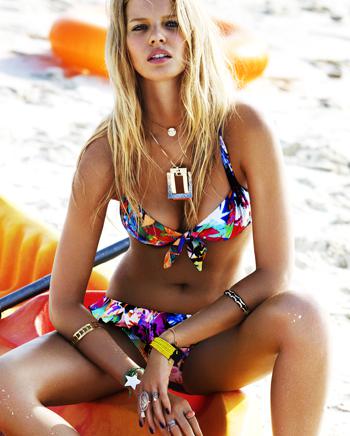 We think you'll just love the Atoll Twist Bandeau Bikini from Sunseeker. Fashion forward in design and cut, this sophisticated striped print bikini set features fixed cups and a removable neck tie. The bikini boxer pants also have a cute ruched tie to the sides. The fantastic print in blue and purple hues is reminiscent of tie-dye style fabric - sure to evoke memories of carefree days lazing in the sun for hours on end.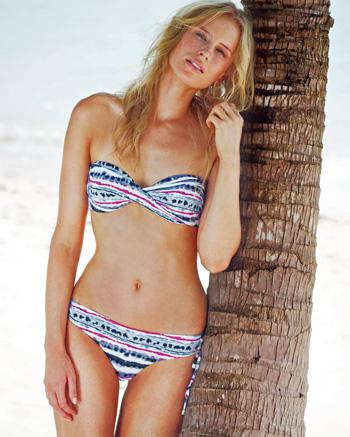 If you prefer something a little more classic in style but still full of holiday fun then the Provence Frill Bikini from Moontide is the perfect set for you. The stunning printed halter style bikini top and bottoms are both trimmed with cute frill detailing. The top has clever fixed and padded cups to offer both shape and support, and we think the small moon charm between the cups is a cute little addition to finish the set off.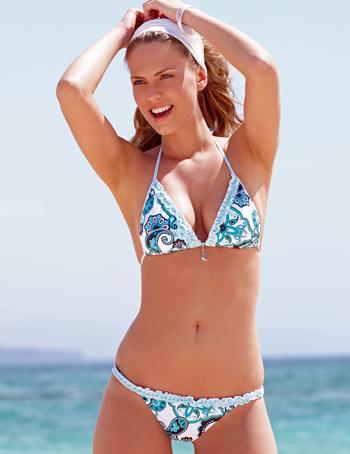 In addition to colourful swimwear, don't forget to check out our swimwear accessories such as hats, flip flops, kaftans and beach dresses. So when you depart for your holidays this Summer, make sure you have some fabulous branded swimwear and accessories from Idlewild London in your suitcase!