The end of last month was my Director's birthday. She always makes such an effort for our birthdays that I wanted us (we all go together at work for colleague's birthday gifts) to get her something different, something special.
I thought I'd use the occasion to paint. A little nervous as obviously it puts pressure and a big responsibility on my shoulders, I did a little sneaky investigation into what her most favorite things were to decide on what to paint. My director's daughter sent me a really cute picture of their English bulldog cross, Margaret, and so I took on the challenge – I'm normally a landscape painter so this was something new for me!
And this is how it turned out…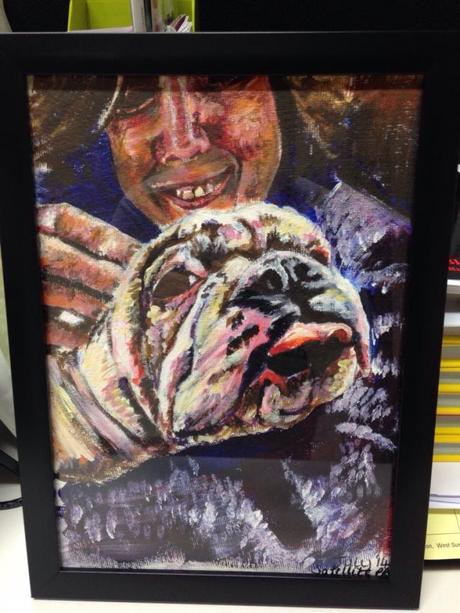 Pretty pleased. Obviously as a painter and perfectionist I can always spot something else I could adjust and sometimes it's hard to stop from carrying on. But I really liked the finished painting! And the reaction when she opened the present was lovely!
This is definitely the start of painting again. So make sure you come back to see new additions…and please do feel free to leave a comment. Would love to hear what you think too!
Chloe xx