Ok, so I want to show you guys how excited I am about this new storage system that DH has bought me...ok, now don't get all jealous because my DH is not the type of guy who notices anything that I like haha.  He bought it after I drilled it into his head that I needed new storage equipment hahaha.  So yes, after much bitching, he could no longer resist and purchased this for my birthday lol.
I was searching onine for an acrylic storage set that wasn't Clear Cube nor Muji.  I love the look of a see-through storage set, but I wasn't about to pay those kinds of prices.  I already have a MUJI flip top lid narrow 2 tier acrylic storage unit.  Sure, I paid less because I won it off of ebay, but the retail of this tiny tiny unit was £8.50 for the 17.5(w) x 13(d) x 9.5(h)cm unit.  I mean seriously?  If you read my blog, then you probably are just as big (or bigger) beauty product fanatic, and that wouldn't even hold 10% of our collection.  I personally didn't know how small these units were, so that was my bad, but since then I have done my research and MUJI cases are quite expensive, especially since you need like 3-4 to get to the size of 1 clear cube unit.  Speaking of Clear Cube, I'm sorry but unless you got money like that, Clear Cube is a HUGE investment, and frankly I just don't have the funds nor the balls to fork over $275-$400 on a makeup storage unit.  I would much rather buy shoes or makeup with that money haha.  But I will say that Clear Cube units do looks very lovely, and I can definitely see the allure of those.  Anyways, enough blabbing..let me show you what was ordered today.
This is by Osco, a office solutions company.  It is a 3 tier acrylic paper sorter.  It is quite deep and spacious and I love it.  I initially found it lone and then went into town to actually see it for myself, and it is the same quality as Muji.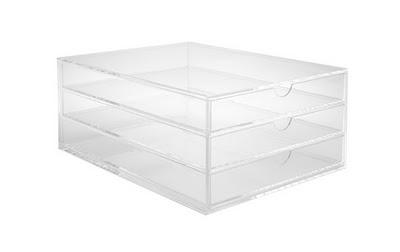 I will be getting two of these units.  The dimensions are 13.7(h) x 23.9(w) x 32.2(d)
It is very very spacious ladies, and it doesn't look like the typical papersorter.I think two units of this will take care of 90% of my stash, and I'm so excited.
They retail for £27.99 each at Rymans, ebay and Amazon.But if you act before Jan 15th, Home Base sells these for £20.99 and currently you can get there is 15% off (PROMO CODE: DISC15)
I think I'll upload my first video onto youtube, once I get this unit and my set up is all organised.  This way you guys can see the difference between this and my MUJI acrylic storage items. I'm super excited to get these.  My inner OCD and methodical side will be satisfied once I'm able to finally get my stash organised. YAY!
I saw these in town the other day, and I think I need them.Topshop is a danger zone for me.  They steal my money all the time, and I honestly don't know how they do it.  I need new flats, as I walk around so much here in England now vs. being in the states where I use to just hop into my car.  I saw these for £28 and I didn't buy them, but I will.  I did a little google search and they seem quite popular with the young girls.  I dunno, sometimes I wonder if I dress too young for my age haha, but then I think, who the f- cares, as long as makes me happy right? lol.
TOPSHOP Vectra3 Studded Flat Slippers(sorry about the crappy iphone spy pic)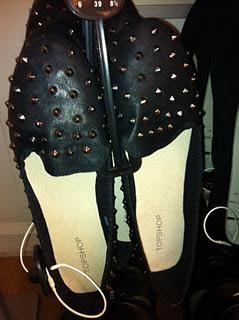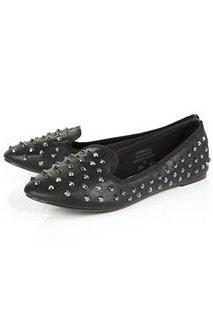 I just can't justify the Christian Louboutin pair (which clearly Topshop drew their inspiration from), as I'm trying to save up the Louboutin black decollete 100 as I need them a bit more.  I don't any close toe black pumps? What is wrong with me? I know this isn't everyone's cup of tea, but I need these...yeah, need them baaadddddd.
 And next is something not as exciting, but....my love for instagram, and my lack of creativity to do nail art has bumped heads and created these mannequin hands of mine.The polish is Nails Inc Basil Street.I know I haven't done a NOTD in a long time.  I'll be honest with you, I am getting a bit bored with NOTD.  I was doing them so much, and then it just seemed so mundane.  I know a lot of my followers are nail lovers, so I'll make more of the effort to show you my NOTDs :)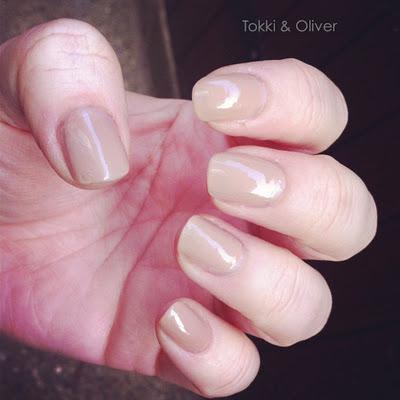 Well hope everyone is having a safe & lucky Friday the 13th. I'll be back very soon with the review on the awesome awesome Benefit "They're Real" Mascara!