This is sort of going to be a Batman and Robin post aka Dynamic Duo.  Thanks to the local Max Factor team who invited me to the press launch for their newest product!  I'll be  introducing Max Factor's newest foundation out on the market, which is their Ageless Elixir foundation while somewhat showing how I apply it using my Etude House Babydoll Puff Blending Sponge.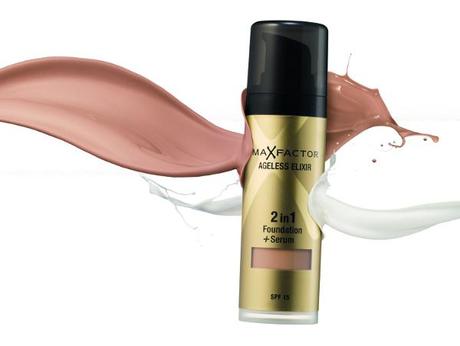 HOW MAX FACTOR AGE ELIXIR WORKS

"The foundation claims to help even your skin tone by not clogging in fine lines and wrinkles, reflecting light to reduce the contrast of uneven skin tone, optically blurring the edges of fine lines and wrinkles while filling and smoothing the skin surface.  While the added serum with SPF 15* is said to help protect the skin in order to achieve beautiful looking skin through its moisturising skincare formula, anti-oxidant package, and SPF 15 to ensure daily protection from UV radiation plus help prevent further age spots."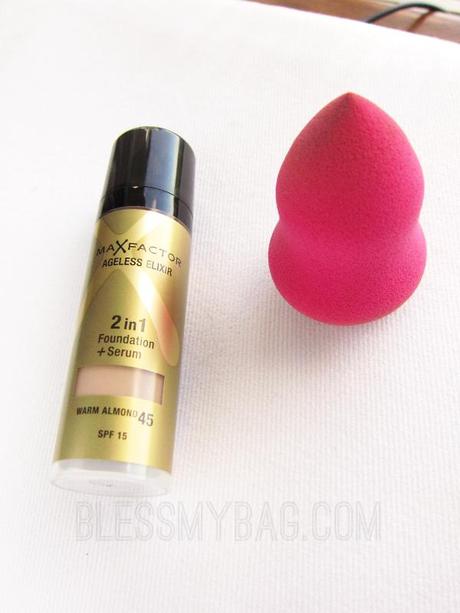 Max Factor is one of my top preferred drugstore brands available locally and the brand itself been around as far back as the day my older, late grandmother most likely learned how to walk in 1909.  Think of their original Pan Stik or Pan Cake makeup, which was the way of the base in Marilyn's day.  Max Factor has been around for over 100 years and back then was eventually acquired by Revlon in 1986 then sold to Procter & Gamble in 1991.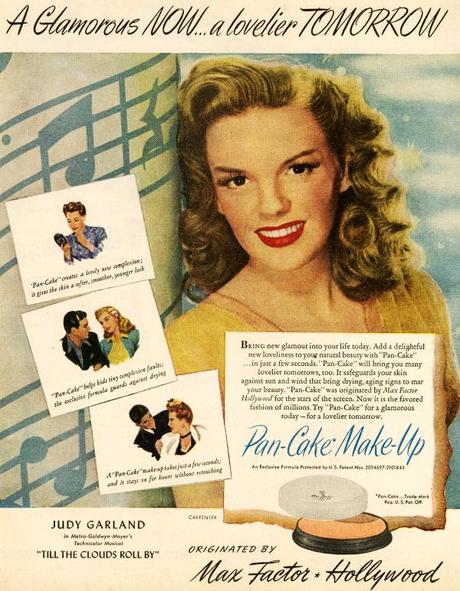 Image Credit: glamourdaze.blogspot.com
Mentioned in the 90s up 'til today as the "Make-Up of Makeup Artists" I was successfully convinced as a teen when I first started reading magazines that Hollywood makeup artists used mostly Max Factor products on set, oh the wonders of advertising, it was quite true, but more so in the era of vintage beauty at the time.  Today Max Factor is one of the best drugstore brands in the consumer market.  With Max Factor's NEW Ageless Elixir Foundation they swing the hefty 2-in-1 product bat at the ladies whose faces crave not only coverage but a helpful helping of integrated skincare.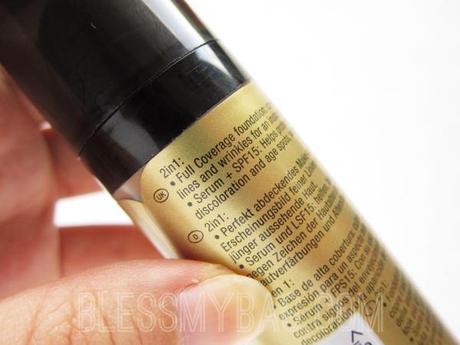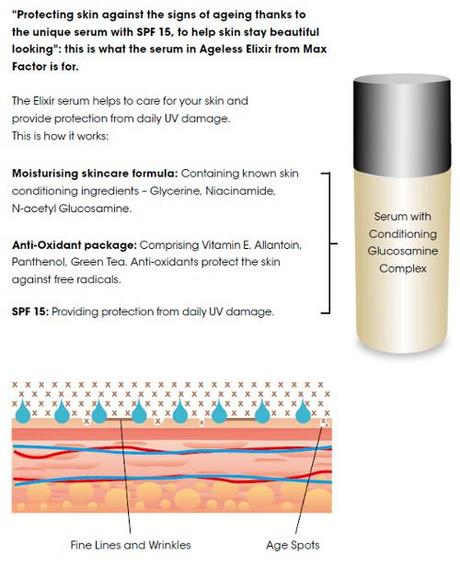 The serum component of this foundation contains Glycerin, Niacinamide, N-Acetyl Glucosamine and an anti-oxidant package of Vitamin E, Niacinamide, Allantoin, Panthenol, and Green Tea.  Ageless Elixir also carries an SPF 15 mark for mild UV protection.  I found this official Max Factor Ageless Elixir diagram online as part of the global press release late last year, it was a PDF that I simply found by searching on Google.
Read more to see the full post and my application of Max Factor Ageless Elixir foundation using my Etude House beauty blender dupe.
The product comes in 7 good shades to select from, but honestly, I'm not as impressed with the shade range as I am with the foundation itself.  The texture is creamy but not runny which is typical of a value-for-money  foundation.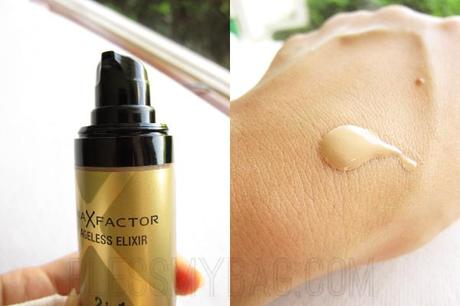 My best shade match would have been Light Ivory had I known that this foundation although lovely in texture has a tendency to oxidize and darken, after around 30 mins I look half a shade too tan, and I'm not even that acidic.  So the one I took home with me from the Max Factor Ageless Elixir launch was Warm Ivory, it's a good match but it isn't GREAT and it shows an obvious difference between my neck and face when I apply it.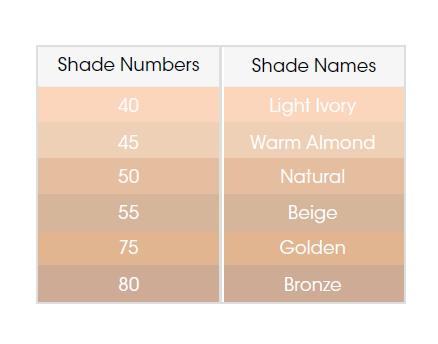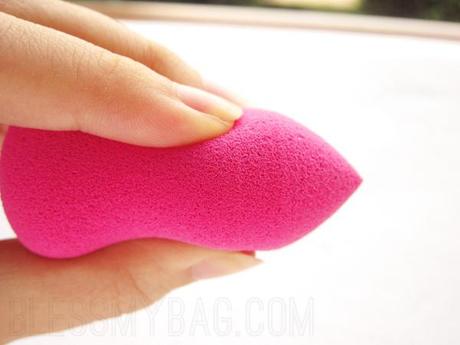 I dampened my Etude House Babydoll sponge with cold water from under the tap and gave it two squeezes before I began applying the foundation on my skin.  Then I begin pressing and dabbing (not swiping or rubbing) the product all over my face evenly.  Sometimes, I'll use the pointy part to apply foundation where its hardest to get it into evenly then flip it over to the round bottom and continue pressing and dabbing till I've got even coverage all over my face.  The Etude House Babydoll sponge isn't as "pillow soft" as the beauty blender, it's slightly firmer but my thoughts on it are that for Php375 you can't expect it to be exactly the same as the original one, but for a dupe it's quite impressive and does not disappoint in my book.  Following the finished application I didn't apply concealer so you could properly see what the product is able to cover on its own.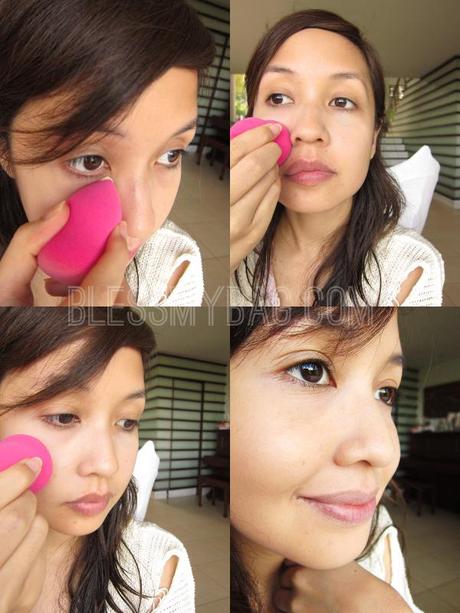 The Warm Almond shade went on "ashy" on me but then later as it oxidized did not leave a white cast anymore on my face, but I was then half a shade too tan than my original skin tone.  However, the finish, for a drugstore foundation had a wow factor that bowled me over after my disappointment with the shade selection.  Coverage is medium and the texture and mild fruity berry fragrance reminds me of Bourjois Healthy Mix foundation, a drugstore product from the UK that Lisa Eldridge loves.  It's a bit moist and tacky to the touch after application and mildly dewy, just like L'oreal True Match foundation which I've reviewed, but the tacky part is nothing that a little loose or pressed powder can't solve.  One concern for some of you with sensitive skin out there might be the question of the serum contained in this product.  Whatever effects the serum may leave aren't harsh or noticeable for me (it only would make a difference after a few weeks) and it's not a million miles away from any other drugstore foundation that I'm not allergic to.  I experienced no irritation whatsoever after application.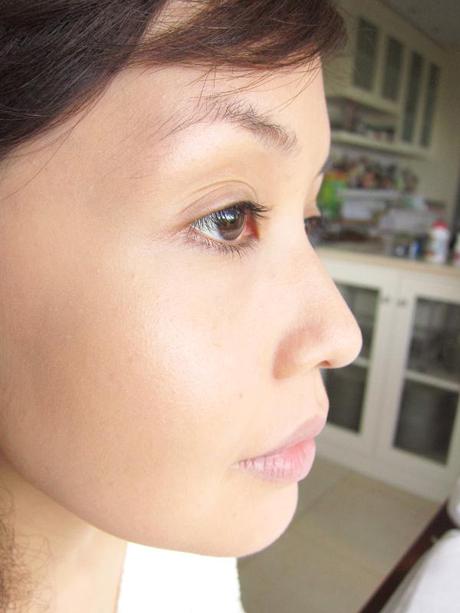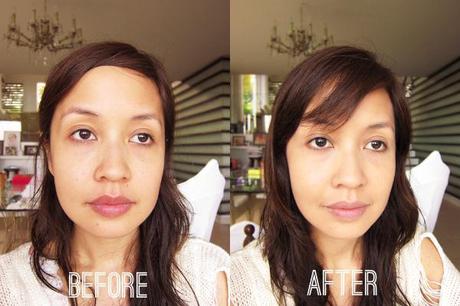 Recently I've become slightly curious about product redundancy and repackaging especially when it comes to drugstore brands that are under huge umbrella corporations.  It's kind of like how I'm convinced about the sneaky comparison I've made between Cover Girl and Max Factor.  It feels like the Cover Girl Lash Blast Mascara is the exact same thing as Max Factor's False Lash Effect mascara, and the Shadowblast cream eyeshadows are also the Masterpiece Colour Precision cream eyeshadows (you can tell from the color collection) only that they're repackaged for Max Factor.  It would make sense and be totally fine of course since they're sister companies but in my mind as a blogger if it were true that's a bit funny to know.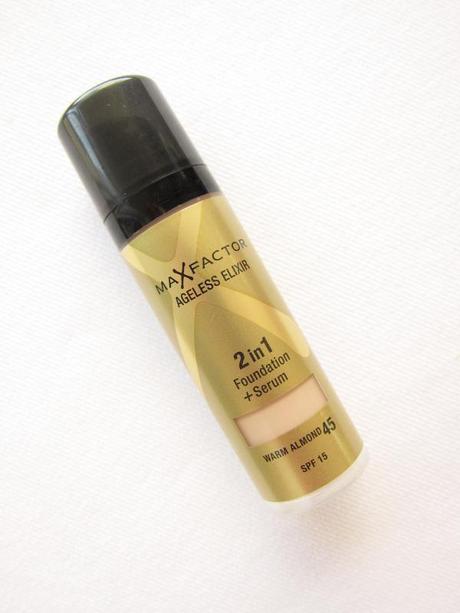 Overall, on the Max Factor Ageless Elixir foundation, honestly it is great in quality but it is not a fast favorite on my end and they lost me with the pink and beige tones in the shade range, BUT I'm completely impressed with the fact that Max Factor have put out a foundation that gives a healthy-looking finish, is silky upon application, and on top of that they made it available at our local department stores.  Ohhh, how I wish I'd picked Light Ivory instead, I have too many foundations that are half a shade too dark, but Warm Almond will work for me in a few weeks once I get a bit of a tan this summer.  Max Factor Ageless Elixir is now available for Php895.00 at leading department stores nationwide.