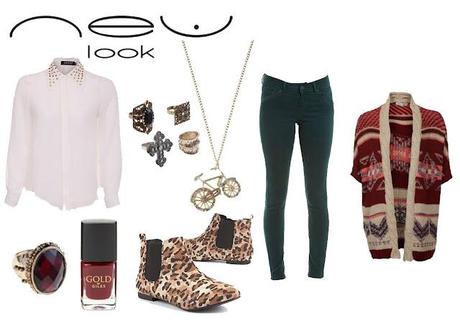 New Look
and
Sparkle Blogger
Demin Competition
After my second stressful day of being a final year university student, I thought I'd take a much-needed break from my studies by creating an outfit for New Looks denim competition! I absolutely adore putting outfits together, so this was a much enjoyed task!
You can find all of the competition ins and outs
here
, the grand prize is £200, a pair of jeans and the winner will be featured on Sparkle Fashion Blog wearing their new jeans! Who in there right minds would turn down jeans, money and a chance to be a model for the day?! Certainly not this girl!
So, of course, the jeans had to be the main feature of the outfit, and I've decided to go with these teal coloured skinny jeans. As soon as I saw them I instantly fell in love. I'm a huge fan of a coloured skinny jean, I think it adds a pop of flirty and fun color to any outfit, and New Look are now offering darker and more Autumn-friendly coloured jeans. There's teal, burgundy and khaki. I chose the teal color as I'm a big fan of grean and just simply adore the color. It's such a deep shade that I feel it would look amazing with almost anything. Who says coloured jeans are just for the summer?!
I paired the jeans with a simple shirt with a studded color as I feel that this is both an elegant and edgy piece. It has the simple structure of the classic feminine shirt but the studs give it an added kick, just like the teal color adds to the jeans.
I'm a big fan of clashing prints, however I doubt I could personally pull of two bold prints in the two main pieces of an outfit, which is why I've chosen  to keep the body of the outfit (the jeans and shirt) block and colours so I could play around with the shoes and the cardigan. I love Aztec print, and I love leopard print. Simple as that, really, but I feel that they both complement each other really well.
I also included a subtle color scheme of green and red... Dare I mention Christmas this early on in the year...? Ahem...
I'm so in love with this outfit that once I saw the completed compilation picture I began to weep inside as I wanted to buy everything included... My poor poor bank balance!