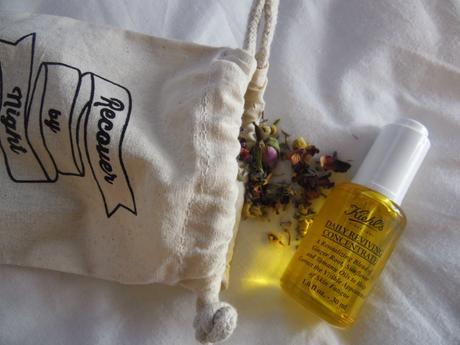 Hey there,
I'll just start by saying if you love Kiehls midnight recovery, you will love their new daily reviving concentrate…need I say more?
I was lucky enough to get my hands on one of the new Daily Reviving Concentrate at the Kiehls Regent Street Launch event last month. We all know I love my lotions and potions. I will chuck almost anything on my face, (OK, maybe not anything but I've got this whole layering products to a T), so adding this in to my current routine was just more fun and exciting for me.
Time to battle the fatigue.
If you are looking for a new addition to your AM routine, and to waken your skin, then I suggest you give this beaut a go. The daily reviving concentrate smells incredible. I actually look forward to applying it for the smell alone, it is really fresh and awakening. It contains ginger root, sunflower and tamanu oils, all aimed at fighting the fatigue in your skin, while giving you that AM hit. I would have never have said, fatigue was a concern of mine. I mean I know I don't look the same when I leave the house to when I return, to be honest I usually look like crap, with my make up half off, and those tell tale dark circles. But I am only 24, so my skin still err kind of bounces back… kind of.
I would suggest this for all skin types and ages, as although fatigue and stress tends to show more in the skin as we age, (Oh don't you just love the aging process), this little daily revivor will help reenergise young skin, and help disguise those busy lifestyles. The formula is lightweight, not as heavy as an oil, but a slightly different consistency to a serum. Overall, it's easy to drop in to your current skincare, smells beautiful, and puts radiance back into the skin. What more do us girls want?
Are you a fan of the Midnight Recovery? Will you be grabbing yourself a Daily Reviving Concentrate?
Launches September 2015! Keep an eye out for it.
Hope you all have had a lovely day?
Lots of love,
KBxx