After months of test versions for developers, Apple makes their new operating system iOS 7 available for the general public. The update will be offered over the air and iTunes.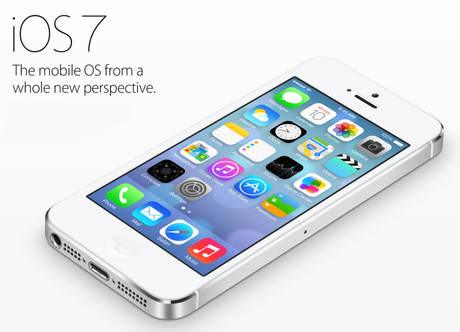 Can I install iOS 7?
iOS 7 is supported by following Apple devices:
iPhone 4 *
iPhone 4S *
iPhone 5
iPhone 5C
iPhone 5S
iPod touch 5G
iPad 2 *
iPad 3 *
iPad 4
iPad mini
( * some features are not supported )
How can I prepare for the update?
Before you install iOS 7, you can do at least two things to prepare your device for installation:
Update your iPhone, iPad or iPod touch to latest iOS version. For iPhone 5 it is iOS 6.1.4 and for all other devices it is iOS 6.1.3. You can check which version is running on your device by navigating to Settings and then select 'General', 'Info'.
Make a backup via iCloud and / or iTunes. This makes it easier to restore your iDevice if things go wrong.
Most likely Apple will make iTunes 11.1 also available today, a new iTunes version containing support for iOS 7. It is recommended to install it before you update to iOS 7.
How do I install iOS 7?
There are two ways to update to iOS 7. The most obvious method is via automatic update via the settings screen of your iPhone, iPad or iPod touch. In Settings > General > Software Update, the update will be automatically offered, and all you need to do is follow directions to install it.
It is also possible to update your device via iTunes. You must first connect the device to your computer, select it in iTunes and click the button Check for Update.
What's new in iOS 7?
The difference between two iOS versions has never been so clear as in iOS 6 and iOS 7. A brand new design ensures that your Apple device feels completely different and new features, such as the new panel, will make iOS 7 also a lot faster and more convenient.
iOS 7 got a new, cleaner, modern look. Apple has redesigned the colours, icons and animations. The latest version uses gyroscope so that the background image moves when you move the phone. Thus, you get the impression that the icons are hovering in the background.
Improved notification center
Notification Center in iOS 7 is divided into three categories: "Today", "All" and " Unread". The first tab shows your current and future notifications that are in your calendars and updated weather forecasts. Under the category "All", you can check all the notifications and as its name suggests, the last category shows notifications which you have not seen yet.
The news is that you can now go to the notification center from lock screen.
Drag your finger up from the bottom of the screen on the iPhone and you will see a redesigned Control Center. You can also go to the Control Center from the lock screen.
It contains shortcuts for Wi-Fi , Bluetooth, Brightness, "Do not disturb" function and other options that are used the most, as well as a new, flashlight function.
The old multitasking is still available in iOS 7, but the list of app icons has gotten a preview. It is available with a double tap on the Home button, and previews with a double click, this time on the app icon.
Apps will be automatically updated, and iOS will prioritize them depending on what you use the most, and monitor the network to the download when it is full signal or you have Wi-Fi connection.
The new AirDrop feature in iOS 7 lets you share photos, videos or other information with your friends via Bluetooth or Wi – Fi. Thus, you can transfer files wirelessly.
iOS browser is now faster than before and gets a whole new look. The window is now full screen and completely black and white. A smart search function has been added to the unified address bar, along with a minimalist bookmarks and enhanced parental controls.