Hello lovelies,
It's high time to show you all the shopping I've done /gifts I've got recently. I wanted to post this haul earlier, but I waited for everything to arrive (I'm still waiting for Dior and some other stuff).
The first part is skincare-related. All the make-up will be in the second part (featuring Naked 3, which is great palette).
Let's start with the products on the photo above. I got these Caudalie mini sets with lookfantastic discount code (I think it was 20 or 25% off). The first set is Caudalie Must Have Set (full price GBP22) and the other two are Travel Kit sets(GBP12,50). The sets are pretty good value, especially with discounts. There is also a third Travel kit, which is already unpacked, so I didn't put it on the photo.
—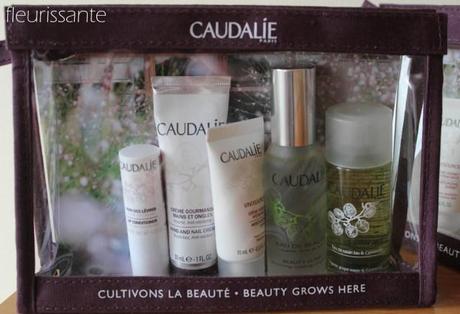 Caudalie Must Have Set contains a full sized lip balm, mini hand cream (30ml), mini Vinosource moisturizer (10ml), mini Beauty Elixir (30ml) and micelle water (50ml). All the raves across the internet made me want to buy Beauty Elixir and, with the price of a mini size being almost the same as the discounted set price, I thought this might be a good way to try it, as well as other Caudalie products.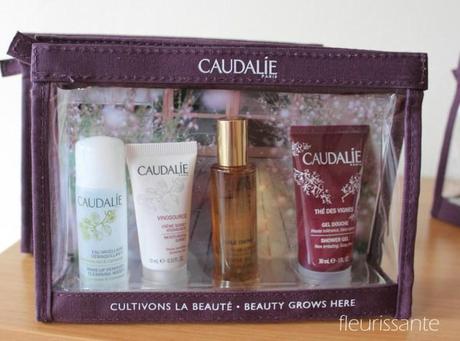 Caudalie Travel Kit contains a 30 ml micelle water, 10 ml of Vinosource moisturizer, 15ml of Divine oil and 30ml of Fleur de Vigne Shower Gel. Based on a sample I had a chance to try, I like Huile Divine, but I'd like to test it a bit more before I shell out for a full size. This is again a great way to test Caudalie products.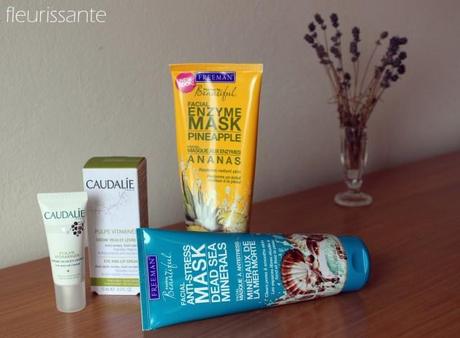 Having spent all my eye contour moisturizer samples, I've found myself in dire need for an eye contour cream. Normally, I'd get something from Bioderma or Avene, but their creams are not moisturizing enough me and I don't want to use Retinol during summer. Being in Caudalie mode, I ordered Pulpe Vitaminee eye contour cream. I'm using it for a week and so far I like it.
I also decided to try Freeman masks – they get all the raves on other blogs. I currently use their Avocado mask and I'm not too happy, but I hope that Enzyme and Dead Sea minerals masks will be better.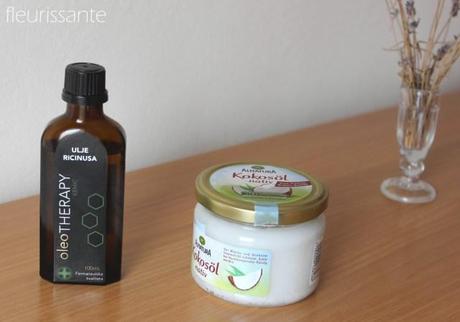 Positive effects of macadamia and avocado oils on my skin encouraged me to include more natural oils in my skincare routine. I picked up Oleo Therapy castor seed oil for my hair and Alnatura unrefined coconut oil for hair and nails.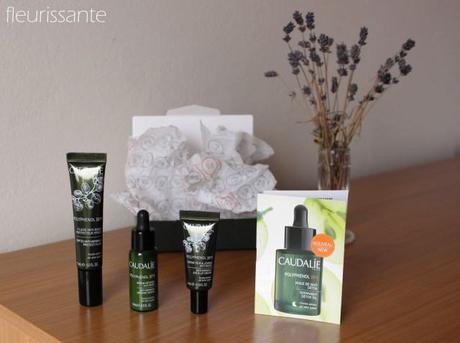 The final product is a GWP from Caudalie – a mini set of their new Polyphenol line – a serum, moisturizer, eye contour cream and oil. I can't wait to try them. I estimate that the products are big enough to last me a month of daily use, which will give me enough time to test them properly.
Well, this is it. The part 2 will follow soon.
xoxo Tamara
Filed under: Alnatura, Caudalie, eye-contour treatment, Freeman, lip balm, mask, micellar solutions, moisturizer, Oleo Therapy, serum, skin treatment, skincare, skincare - body, toner Tagged: beauty, caudalie, caudalie polyphenol, freeman, natural, oil, polyphenol, skincare