I LOVE Caribbean cuisine. Obviously it has something to do with the fact that Alex is from Barbados as he's the one who introduced me to the spicy, flavoursome dishes I've grown to love and crave – well actually it'd be his mum's cooking, which is insanely good, and it was more like love at first taste than growing to love.
Last Saturday I pushed Alex out of bed early so that we could spend the morning in Levi Root's Caribbean Smokehouse in Westfield Stratford, which opened towards the end of last year. We were at the Rastaurant (haha love it!) bright and early, before lunchtime opening hours, to try out the brand new cookery sessions Levi is launching to inspire and teach everyone from Caribbean cuisine rookies to food fans how to make some of his favorite dishes from the menu.
Alex and I hadn't had chance to go to the rastaurant before this session even though, due to some great recommendations, it was on our 'must visit' list  – I think we were avoiding the temptation of a shopping trip before/after, haha.
Out on The Street at Westfield, Levi's Smokehouse gives off some fab Caribbean beach hut vibes so you can tell which restaurant exterior will be the Rastaurant before you even see the sign. The decor from out front to inside is so cool, fresh and vibrant. I love the beach hut feel.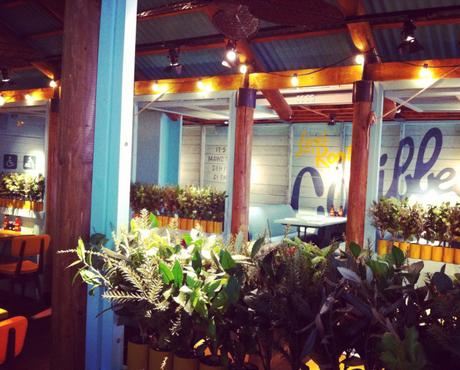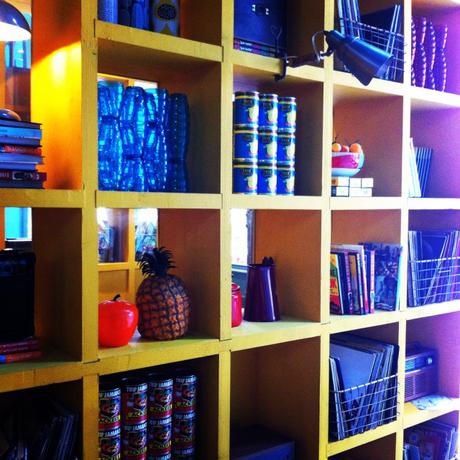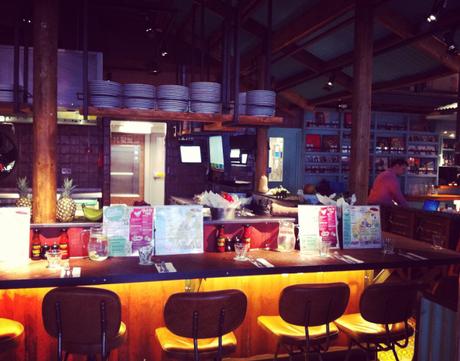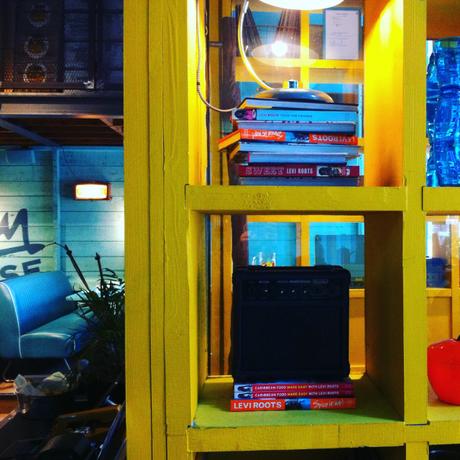 We all gathered for the first ever cookery session and were welcomed with a meet and greet with Levi. We got to know each other a bit better over a coffee and juice (
Levi is such a down to earth, funny and lovely guy
) before seating ourselves on the bar around the open kitchen ready to absorb some Caribbean culinary insights and be inspired, by the face of Caribbean food here in the UK.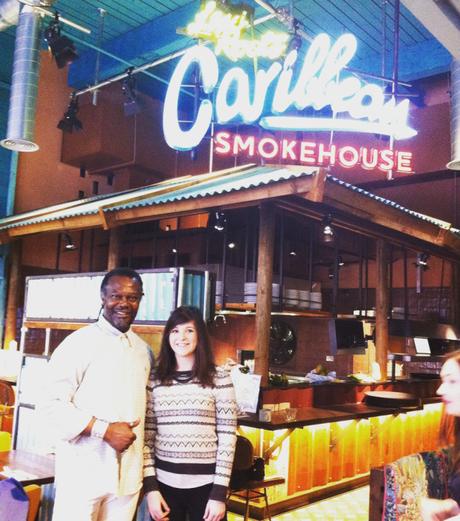 Cheeky snap before cooking demos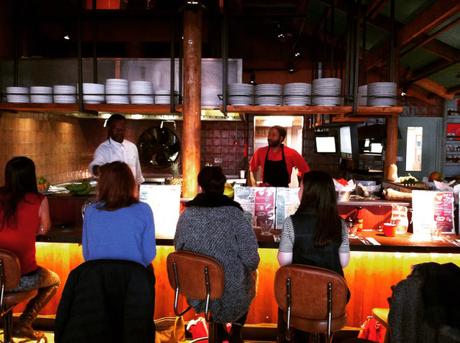 The group gathered and engrossed in Levi's demo
The session started with introductions to some of the key Caribbean ingredients from Okra to Ackee and Scotch Bonnets.
One of the most interesting bits about this part was our chat about Scotch Bonnets, a chilli which we use a lot in our cooking at home. They're the hottest chili pepper on the Scoville scale (the official measure of spicy heat), yet as we learnt, you can always pop a whole scotch bonnet in to cooking, whole and uncut, to add flavor and a slight nuttiness. It's only the white lining inside which adds the heat. In Caribbean cooking they use a whole scotch bonnet in quite a few dishes to add extra flavour, including the super tasty rice and peas.
I could go on forever telling you about all the things I learnt – trust me, there were so many – but I think Levi tells it best, so you have to go along.
The whole time, Levi was his funny, chatty self. Letting us know he's not an expert at everything, only at being Levi. This is why he's hired Greg as his chef at the Smokehouse, an expert on the cooking side of things, Ian Burrell (The Rum Ambassador) for the cocktails and the bar at theSmokehouse, and he also mentioned also his business partner Eren Ali who's an expert on how to run a restaurant (co-founder of Las Iguanas). I thought it was really humble of him, and great that he kept mentioning his team.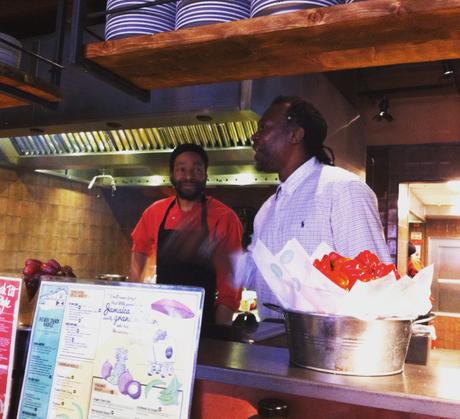 Levi soon got more hands on in his kitchen and started demonstrating his method for Curry Goat, going into the type of meat used traditionally in the Caribbean, talking through the marinating process, and how best to cook it.
Levi then let us in on what inspired his cooking and his menu – his Grandmother, Miriam. Miriam had inspired Levi to cook when he was young and passed on her recipes, which Levi has continued to develop and share with everyone. All of his restaurant's dishes are based on the recipes he grew up with – family secrets included. We did try to get Levi to divulge on some of his secret ingredients but he couldn't let us in on all of them, but did tell us that cooking Caribbean is more about your passion and personality. Everyone's cooking is different!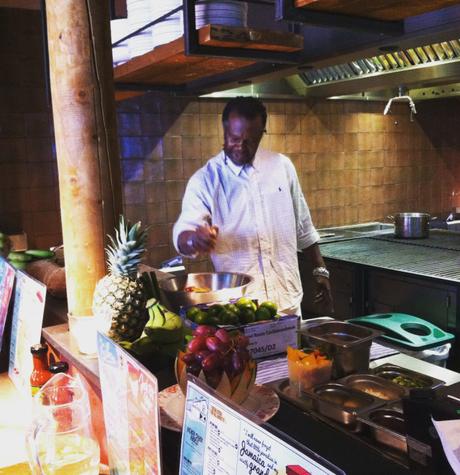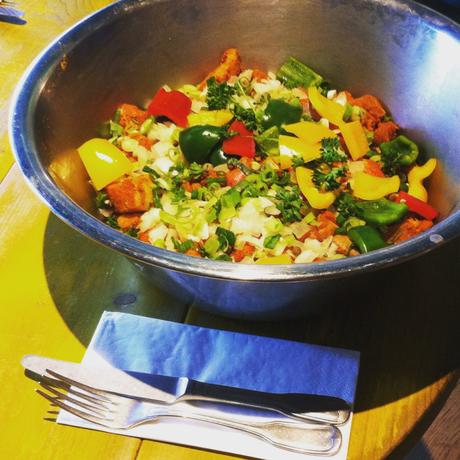 The curry goat – prepared ready for cooking
Back to the food…The curry goat looked really good and so colourful when it was prepared for cooking. Levi let us know that the full recipe is available in his cookery book, so I'm definitely going to have to invest so I can try this at home. I always say I need to be able to cook Caribbean dishes for Alex at home. 
We went on to learn how to make festivals, which are so easy yet really tasty – maybe because they are a little naughty. Simple and cheap, this recipe is really old having been passed down through generations, combining only flour, sugar, nutmeg and water before kneading and frying. See easy – peasy! We got to taste these whilst they were warm…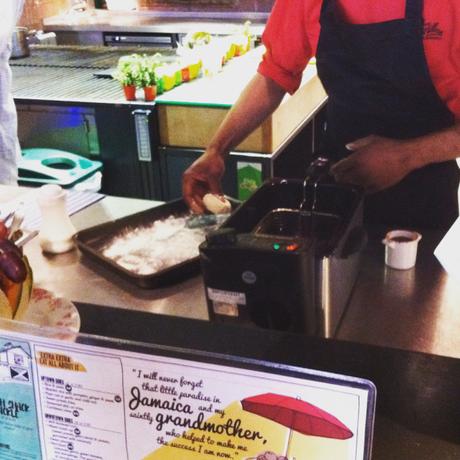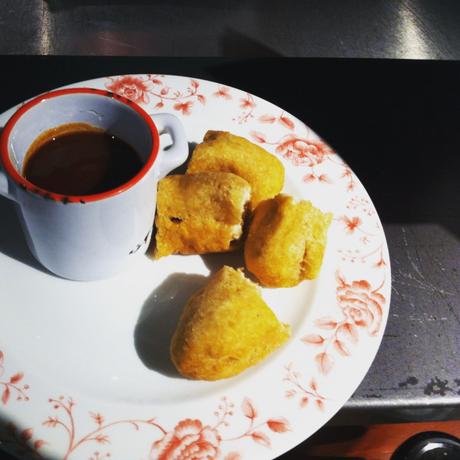 I would never have paired a sweet, dough-y food with a tomato reggae reggae sauce but it complimented it so well. The festivals were slightly sweet and reminded me of doughnuts, crisp on the outside and squidgy/dough-y in the middle. Absolutely incredible still warm! They're the perfect thing to make with little ones, and Levi can remember making his when he was only 8!
I'm definitely having a go at these at home, adn I kow they'll go down well with the housemates. 
Next up was Jerk Chicken. A favorite of ours, we absorbed as much information as possible to try to recreate at home.The pre-made marinade Levi presented (which had been prepared earlier – like he said, it's all about personality and passion) was extremely flavoursome, thick and spicy. You could tell it would coat the chicken pieces well, and it certainly did. Greg demonstrated the marinading process, showing how to get the chicken to have the same flavor throughout, rather than just on the skin. The homemade jerk sauce Levi added whilst cooking and after grilling was incredible – we have tried creating this before and not one trial has come close to the taste of this. Runnier than the marinade, the perfect level of spice, this is one family secret we really need to know ;)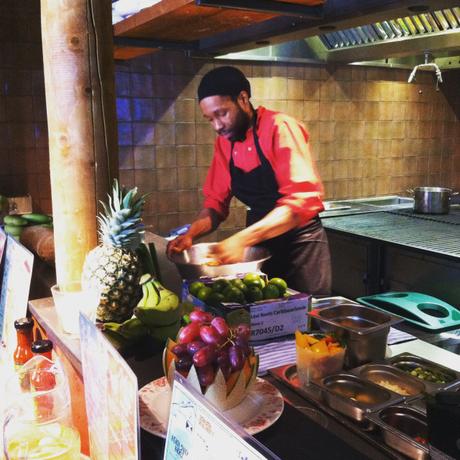 Greg hard at work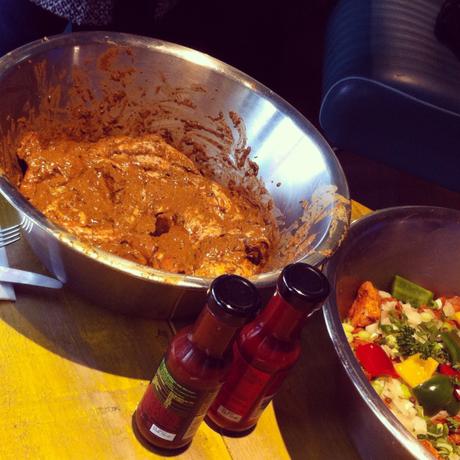 The Jerk chicken marinaded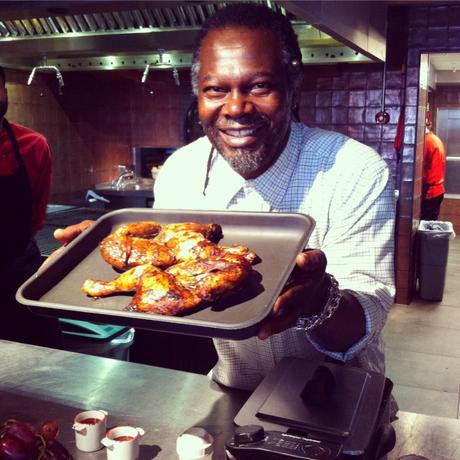 Levi with his grilled Jerk Chicken
Tasting was obviously a highlight – you can't watch all this amazing food being prepared without getting hungry, and I can tell you my tummy was rumbling. In true Blue Peter style, Levi and Greg brought out some jerk chicken and rice 'n'peas first, which they'd prepared earlier (well the chicken does have to be slow cooked for the ultimate tenderness).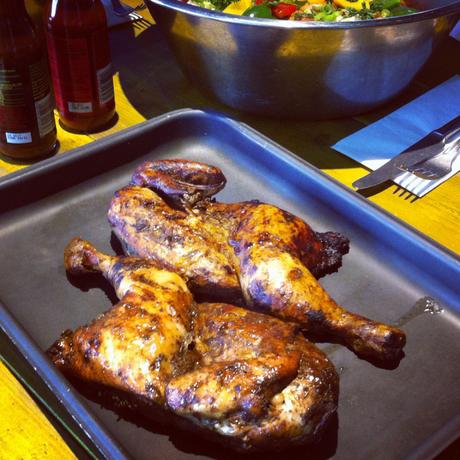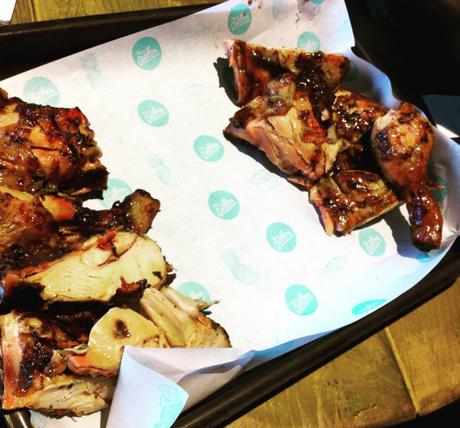 The chicken was served, one side with extra jerk sauce and one side without, cut into bits so we could all dig in and get tasting. Just wow. The chicken was juicy and super tender. The marinade and sauce was just amazing, full of flavor which gave it depth, a bit of a kick to warm those taste buds, and the flavor went all the way through, not just staying to the skin. The rice 'n' peas was just as flavoursome, it's incredible how rice can be so tasty. With a hint of coconut running through, the rice was a purple-y color from being cooked with the kidney beans, which were soft, yet the whole side dish was flaky, with a fabulous texture.
Curry Goat with Skanki rice and roti bread arrived at the table we were gathered round next.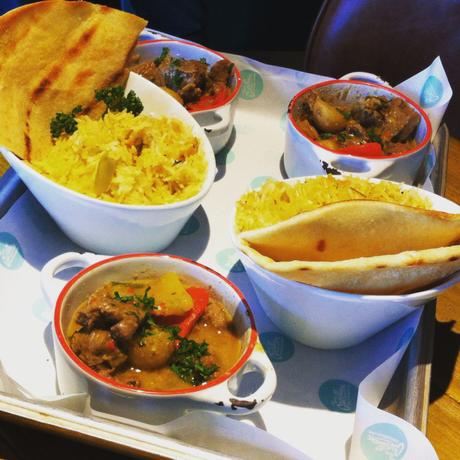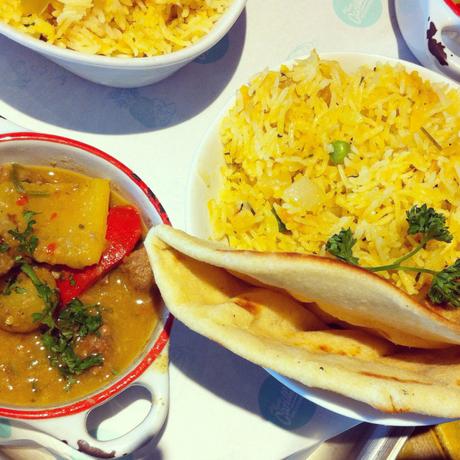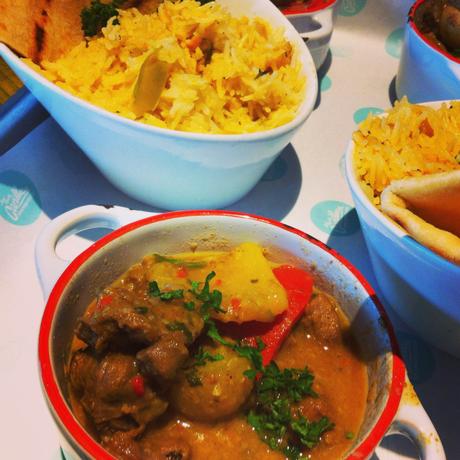 The curry goat not like I'd had before – Although it wasn't cooked with the bones (we normally have bones in the one Alex's mom makes – this helps enhance the flavour), it was just as tasty. Covered in a rich, meaty and spicy sauce, the goat was extremely tender (it's less fatty than lamb too) and just melted in your mouth. The potatoes and peppers were a great addition to the dish. The Skanki rice was pretty tasty, with a similar perfect texture, although I think the rice'n'peas beat this by far!
We gathered back at the bar, where we tried plantain and fish cakes.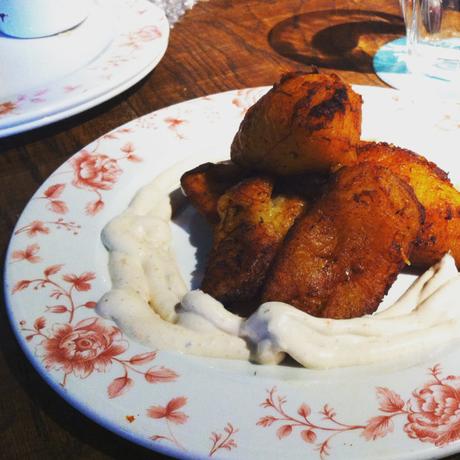 The plaintain having hints of banana coming through, sweet and soft, the fried treat was delicious. One of the girls who attended said she didn't like banana, and yet could definitely eat this for breakfast – so even if you don't like the yellow fruit, you should give this a whirl.We had the plaintain served with Levi's 'Come back and get me' sauce, which is very wisely named, as you definitely want to go back for more!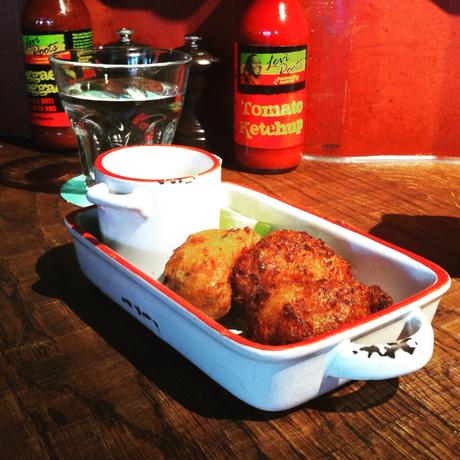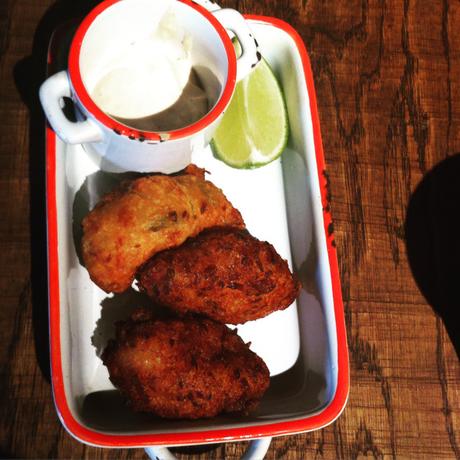 The fish cakes were crispy on the outside, soft and almost spongy on the inside. They were slightly salty, from being made with salted cod, and yet not overly fishy. With a squeeze of lime, these fish cakes were scrumptious, and you can understand why they're one of the two most ordered starters on the menu.
We had a bit of a Q&A session at the end – I asked Levi about washing chicken as I know in Caribbean cuisine they traditionally wash chicken with lime among other things. It opened a really interesting discussion, and I definitely came away with some extra insight into the Caribbean ways.
The whole experience was amazing. We loved our morning, and even Alex who grew up with Caribbean cuisine felt like he learnt some fab new insights and loved the food! Levi was great at hosting, making the morning funny although informative – he was just so charismatic and genuine.
I can't wait to try out some of the tips we learnt during our morning. I'm ordering Levi's cookbook and I'll soon be on my way to being a Caribbean culinary whizz – I'm sure Alex would love that. We're definitely going back to have dinner after work one evening too, the food is just too good not to, and we really want to try some of the desserts – look at the menu and you'll see why.
I definitely recommend going to one of the sessions. They new cookery classes are running on four Saturdays (19th March, 26th March, 9th April and 16th April) from 9.30am – 11.30am, and you can book here.
What's your favorite Caribbean food?
Chloe xx
*I was invited to attend this blogger event. All views my own.