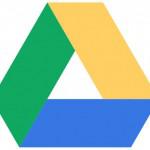 After a few weeks of rumors and comments everywhere, Google Drive is finally here.
Google Drive is now available from and as it had been rumored, it offers free storage space 5 GB which can store and share files of any type, including video, photos, documents from Google Docs, PDF files, Adobe Photoshop or Illustrator. As expected, Google Drive becomes the evolution of the good old Google Docs, because it allows sharing of content stored and also it lets you to work with them collaboratively with others and keeps you updated of all changes by receiving notifications when someone makes a comment or share content.
As stated before, Google Drive offers you a virtual hard disk with 5 GB of free space with the possibility of expanding it to 25 GB for $ 2.49 per month, 100 GB for $ 4.99 a month or even 1 TB space for $ 49.99 a month with the added advantage that if we decide to go for some of these premium services Gmail space will grow to 25 GB. For ease of operation, in addition to classic web interface with which we used to manage in Google Docs, Google Drive extends the gateways to the service with desktop client (available for PC and Mac) and a mobile client for Android already available and will be expanded in the coming weeks, with a client that will access IOS services to iPhone and iPad terminals.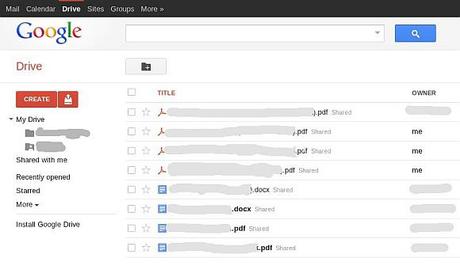 Another important detail in the comprehensive view that Google is giving all its services, is the integration of Google Drive with Google+ will allow, for example, post photos of our warehouse Drive in our profile on Google's social network or even, thanks to integration with Gmail, attach documents or images on our emails. In fact, the integration of Google Drive with other services, including third parties, is an idea that I find very interesting and can add much value to the service.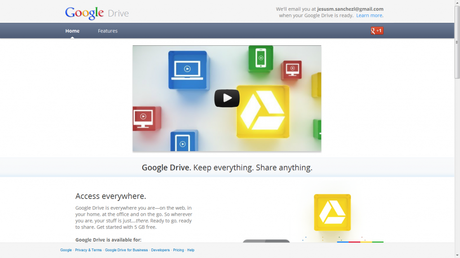 Now what? Let's go and start testing our free 5 GB and desktop applications simply have to access Google Drive Page and click on the button to activate that have enabled our account. Although, some accounts will be delayed in activations (like one of mine) so we must have some patience, but trust me it will worth it.