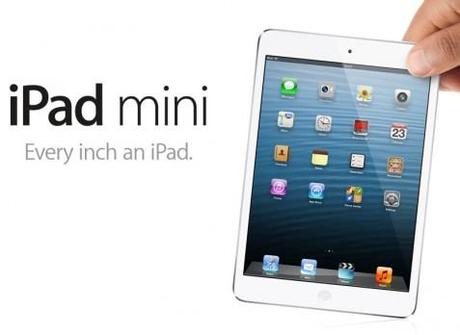 Apple just officially announced its smaller version of the iPad: The so waited iPad Mini. The rumors took shape when Apple CEO Tim Cook unveiled a smaller Apple tablet on stage.
This new version of the tablet also comes also with a small price starting at $329 for the 16 GB Wi-Fi version and goes on sale November 2.Starting on October 26, the Pre-orders will be available for everybody. Curious thing about this date is that it is the same day Microsoft's Surface tablet will be launched.
Lets talk about the hardware. The iPad Mini will have a 7.9-inch display, which is the right size to compete against the wonderful Kindle Fire. But not everything is wonderful. You can just forget about the amazing high-resolution retina display because it wont be available for this model. *Sigh*. This is something that developers will not have to care about because it won't be necessary to tweak their apps to fit the smaller screen.
About the design, the new iPad mini will have an amazing shape where the Ultra Rounded Edges are the thing to see: When regular rounded edges are simply not round enough.
According to Techcrunch, there was a comparison between iPad Mini and the Nexus 7 Tablet:
Phil Schiller pit the iPad mini against the Nexus 7 on stage, and showed that the display is actually 49 percent larger in portrait, and 67 percent larger in landscape.

That has to do with a new design that makes the bezels much smaller than we've seen on the larger iPad models. Schiller showed off Yelp!, eBay and Pandora apps on both tablets, showing the difference between apps developed specifically for a tablet as opposed to apps that have been stretched from a smartphone.
Regarding the prices, here you can find a table where you can pick the right one for you and your budget: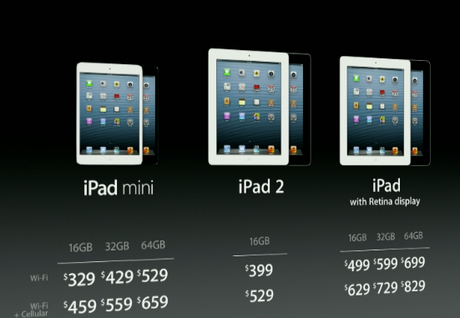 Finally, here is a complete list of what we will find on this new tablet:
7.2 mm thin
0.69 lbs
7.9-inch LCD Display
1024 X 768 pixels resolution
Black and White color options
16 GB, 32 GB, and 64 GB storage options
Wifi (802.11 a/b/g/n 2.5 GHz)
3G wireless
4G LTE wireless (optional)
Apple A5 dual-core processor (same chip that was in the iPhone 4S)
FaceTime HD front-facing camera
5 MP rear camera that also takes 1080p HD video
Lightning dock connector (same as the iPhone 5)
Nice to see new competition for the Kindle Fire and also to see that Apple is paying attention to some other markets that were not in target before.
And you. What do you think about the iPad Mini? Share your opinion in the comments section.