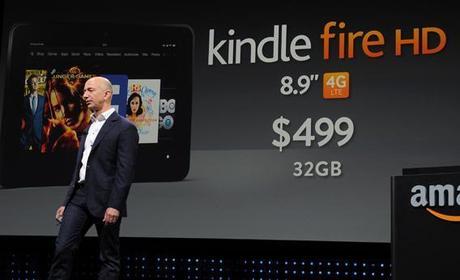 At long last!. Amazon unveiled the first markets outside US that will get the Kindle Fire tablets: the new Kindle Fire and the HD version. The news first leaked out in an announcement on Amazon.co.uk, which also pointed out the availability of the new Kindle e-reader.
This kind of announcement shows the international plans that Amazon has for their tablets on key markets where Kindle readers have already been a big hit in markets where they have launched. Mixing this fact with a competitive price points, will be Amazon's weapon to enter in the tablet market dominated by Apple.
Let's talk about the new arrivals in the European market.
First we have the the Kindle Fire, which has a faster processor and 16GB of memory,  will sell for £129 (around $200)
On the other hand, we can find a HD model. This is a seven-inch tablet with also 16GB which will sell for £159 (around $253) and the 32GB version for £199.
The new Kindle e-reader will sell for £69 (around $109).
You can find a full announcement below:
 Introducing the All-New Kindle Fire and Kindle Fire HD, plus the All-New Kindle e-reader

Kindle Fire – the Kindle for movies, TV shows, music, books, magazines, apps, games, and web browsing, and the #1 bestselling product on http://Amazon.com for the past year-is now available in the UK with a faster processor and twice the memory of the original Kindle Fire, at a breakthrough price of only £129.

Kindle Fire HD – all-new with a stunning custom HD display – offers the fastest Wi-Fi, exclusive Dolby audio with two stereo speakers, and a high performance processor and graphics engine for the most immersive HD experience available on a lightweight, portable 7″ tablet – all backed by Amazon.co.uk's vast content ecosystem, the best cross-platform interoperability and the best customer service – for £159.

Select from Amazon's vast collection of digital content with over 22 million movies, TV shows, songs, apps, games, books, and magazines.

We've also introduced a new version of the world's best-selling e-reader – the all-new Kindle -still incredibly small and lightweight, but now with faster page turns, new fonts and parental controls -and at an even lower price point of only £69.

Enjoy!

The Kindle Team

And also the message from Jeff Bezos on the different Amazon sites in Europe. this one is from Amazon UK.