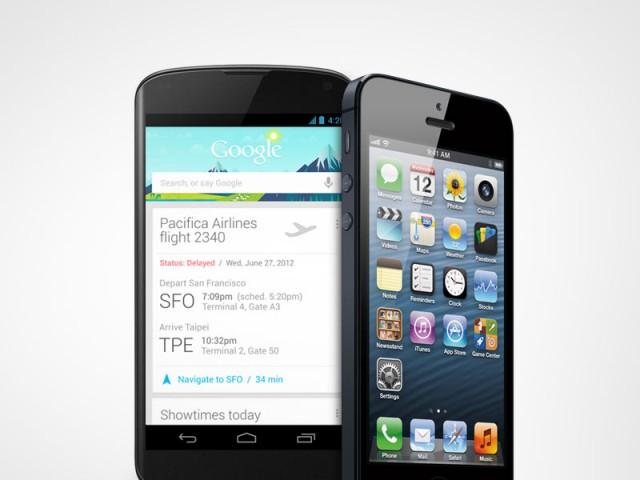 A battle long awaited has begun. We have head to head two tech giants setting free their champions. Representing Google we have The relentless Nexus 4 which is one of the best Android phones on the market with a really sexy price. On the other corner is the mighty iPhone 5 who walks into the ring after criticism from many who have said that has not come up with major important developments. This is actually a very important fight for both companies and each has played its cards.
Let's start with the fight!
Processing Power and RAM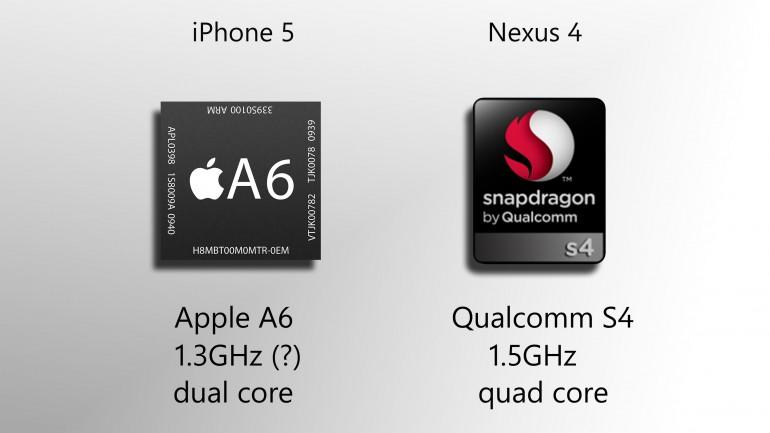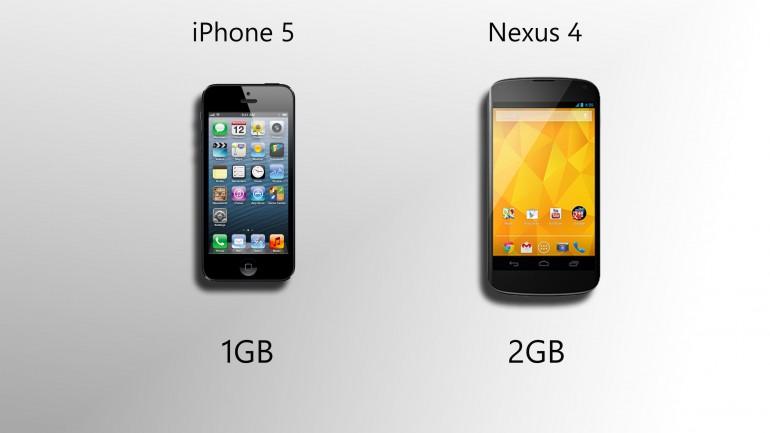 We run into a very difficult thing to compare, since theoretical specifications of processors and completely different operating systems are not really useful for comparison. In any case, we try to analyze them. The Nexus 4 carries a quad-core chip Qualcomm Snapdragon S4 Pro with a clock speed of 1.5 GHz. Currently, this is considered among the best processor used Android devices. Furthermore, it is accompanied by a RAM of 2 GB.
The iPhone 5 has the new A6 processor and there is few information about theoretical data. However, one has to think it's a dual core, with a structure designed by Apple, based on ARM and manufactured with 32 nm technology. Its clock speed reach 1 GHz, and RAM would be 1GB. The main thing is that we are talking about the two leaders in their field processor. The operation and performance of these depends on the operating system in a large proportion, so we can not compare them directly.
Dimensions and Weight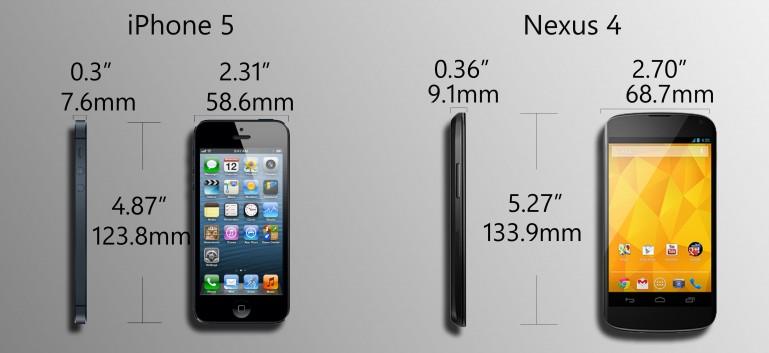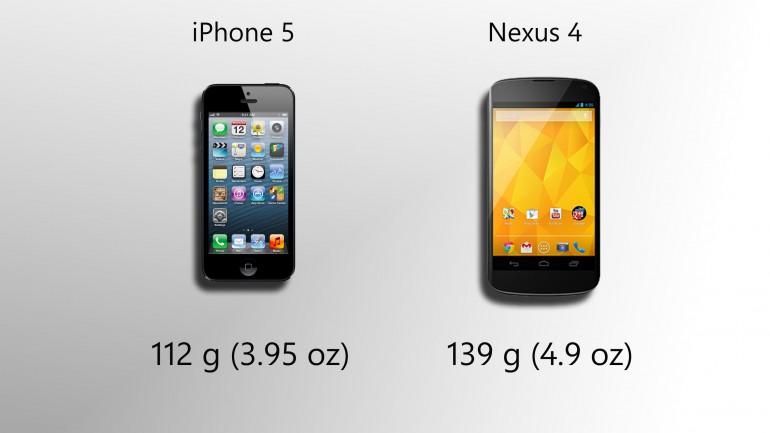 There is not much to say here. Some may pay attention to this feature and some not. Anyhow, In every dimension, the Nexus 4 is larger than the iPhone 5. Still the iPhone 5 is still thinner which is a good advantage. Regarding the weight, the Nexus 4′s is directly proportional to its dimensions, which makes it considerably heavier than its opponent.
Battery and Storage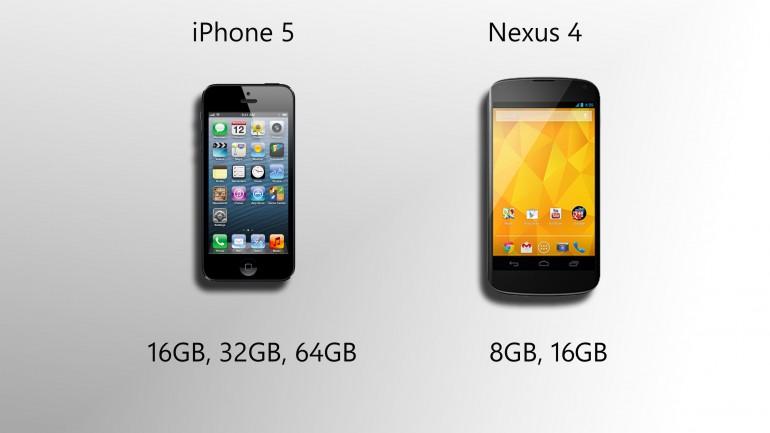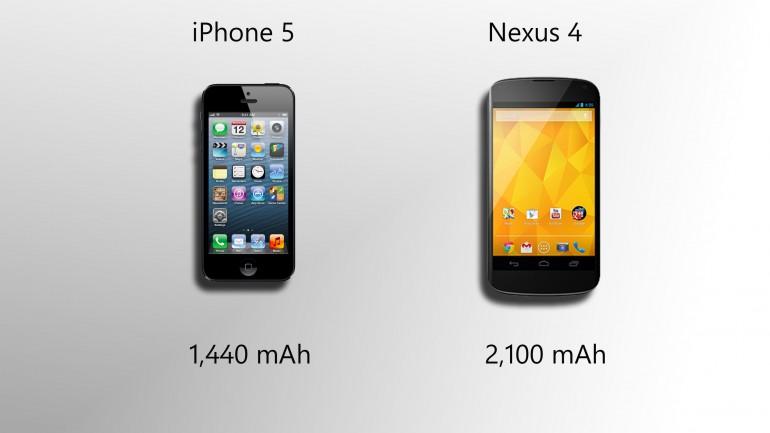 When speaking of memory, we find pretty weird but good options in the case of the Nexus 4. The most logical way to go with such a high level device is to go out with a greater capacity. But not, perhaps to cut costs, it has only come in two versions: 8 GB and a 16 GB. The iPhone 5 is available in 16GB, 32GB and 64 GB. Google has done it to adjust the price even more, but it is possible that, like they did with the Nexus 7, in few months from now they will maintain the price but will double the Storage. This is done with the purpose of making the Nexus 4 a pretty attractive device.
In the field of battery, and the theme is different. The Nexus 4 has a 2100 mAh battery, compared to the iPhone 5, which seems to be of 1,440 mAh. In paper, the nexus 4 seems to be a clear winner here. Let's see how does it do in real battle.
Camera and Screen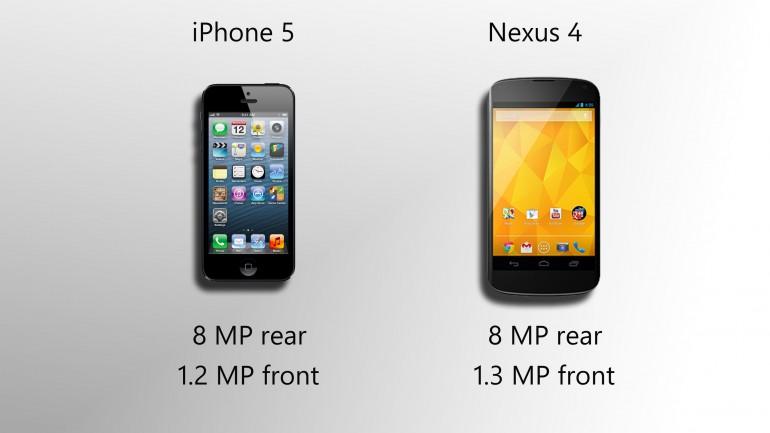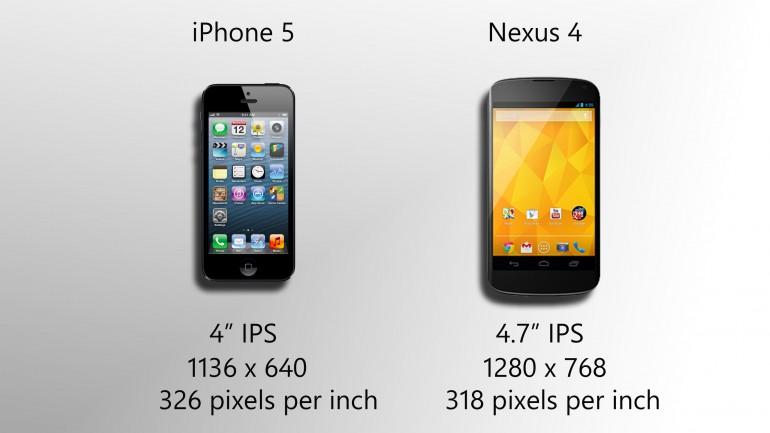 Here we have a chance to truly compare them. The Nexus 4 features a 4.7-inch screen with a resolution of 1280 by 768 pixels, giving a pixel density of 320 PPI. The iPhone 5, meanwhile, has a 4-inch screen with a resolution of 1136 by 640 pixels, with a pixel density of 325 PPI. As we see, they retain the same quality, but the Nexus 4 takes the point here being a larger screen device. The quality of the screen has to be much higher for a larger size is kept the same pixel density, which ultimately is what defines the sharpness of the image.
As for the camera, we are two pretty evenly matched devices. Both two have a camera with an eight megapixel CMOS BSI sensor with backlight. They are able to record Full HD 1080p video. It is true that the iPhone 5 has special applications, but the Nexus 4 with the new Android 4.2 is a worthy rival.
Connectivity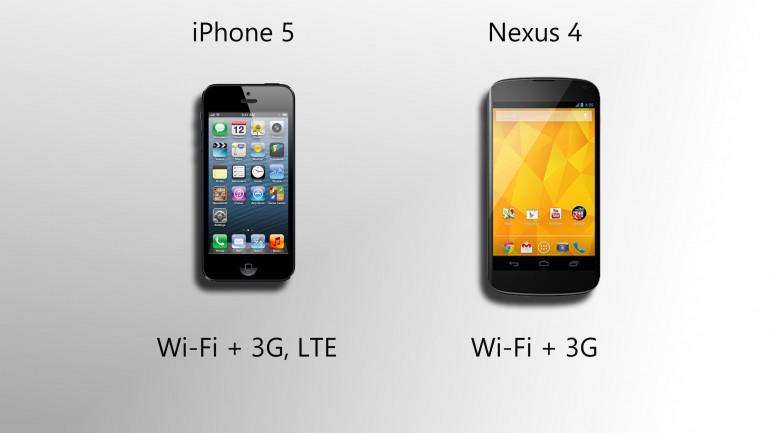 Here's an area where Google and LG did the price reduction: the Nexus 4 lacks LTE. This is a clear advantage for the iPhone 5.
Finally here is a comparative chart between this two amazing phones and other strong competitors in the market.

Nexus 4

iPhone 5

One X

Xperia T

Galaxy SIII

Optimus G
Display 4.7 Inches 4.0 Inches 4.7 Inches 4.55 Inches 4.8 Inches 4.7 Inches
Resolution 1280 × 768 1136 × 640 1280 × 720 1280 × 720 1280 × 720 1280 × 768
Pixel Density 320 ppi 326 ppi 312 ppi 323 ppi 306 ppi 320 ppi
OS Android 4.2 (Jelly Bean) iOS 6 Android 4.1 (Jelly Bean) Android 4.0 (Ice Cream Sandwich) Android 4.1 (Jelly Bean) Android 4.0 (Ice Cream Sandwich)
Processor Snapdragon S4 Pro 1.5GHz QuadCore A6 1GHz DualCore Tegra 3 1.5GHz Quad Core Snapdragon S4 1.5GHz DualCore Exynos 4412 1.4GHz QuadCore Snapdragon S4 Pro 1.5GHz QuadCore
GPU Adreno 320 PowerVR SGX543MP3 ULP GeForce Adreno 225 Mali 400 Adreno 320
RAM 2 GB 1 GB 1 GB 1 GB 1 GB 2 GB
Storage 8/16 GB 16/32/64 GB 16/32 GB 16 GB 16/32/64 GB 32 GB
MicroSD? No No No Yes, up to 32GB Yes, up to 64GB No
Batery 2.100 mAh 1.440 mAh 1.800 mAh 1.850 mAh 2.100 mAh (Changable) 2.100 mAh
Main Camera 8 MP, LED flash, FullHD vídeo 8 MP, f/2.4, LED flash, FullHD vídeo 8 MP, f/2.0, LED flash, FullHD vídeo 13 MP, f/2.4, LED flash, FullHD vídeo 8 MP, f/2.6, LED flash, FullHD vídeo 13 MP, LED flash, FullHD vídeo
Front Camera 1.3 MP 1.2 MP 1.3 MP 1.3 MP 1.9 MP 1.3 MP
Connectivity WiFi WiFi, LTE WiFi, LTE WiFi WiFi, LTE WiFi, LTE
Bluetooth 4.0 4.0 4.0 3.1 4.0 4.0
Weight 139 g 112 g 130 g 139 g 133 g 145 g
Dimensions 133.9 × 68.7 mm 123.8 × 58.6 mm 134.36 × 69.9 mm 129.4 × 67.3 mm 136.6 × 70.6 mm 131.9 × 68.9 mm
Thinkness 9.1 mm 7.6 mm 8.9 mm 9.35 mm 8.6 mm 8.45 mm
NFC Yes No Yes Yes Yes Yes
GPS A-GPS A-GPS, Glonass GPS A-GPS GPS, A-GPS, Glonass GPS, A-GPS, Glonass
Price 299/349 euros From €669 From €480 €549 euros From €500 No Info

Please share your opinion in the comments section.
Pictures Credit: Gizmag