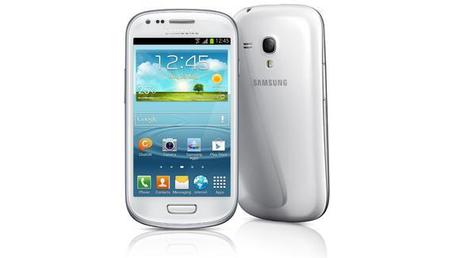 The Samsung Galaxy S3 Mini appeared into scene providing us with a slightly more affordable version of the Galaxy S3. The truth is that we won't find a good deal in terms of specifications and here is why.
Before we start to dig in, we should take a look of this video:
SPECS
Let's start with a general overview of this device:
4-inch WVGA Super AMOLED display
1GHz dual-core processor
Android 4.1 (Jelly Bean)
Dimensions: 121.55 x 63 x 9.85 mm
Weight: 111.5g
NFC capable
Wi-Fi a/b/g/n
Bluetooth v4.0
microSD slot (up to 32GB with micro SD card)
3.5mm headphone jack
Network: HSPA 14.4/5.76 900/1900/2100 & EDGE/GPRS 850/900/1800/1900
5-megapixel (rear) camera w/ AF and LED flash
VGA front camera
Video recording/playback: 720p
8/16GB ROM
1500mAh battery
Game/Video/ Readers/Music Hub
Kies, KiesAir
FM Radio (RDS)
TouchWiz
Actually this is not a bad start for an economy-sized version of a pre existing phone. But let's get a closer look.
DESIGN
This is, without a doubt, the most attractive part of the phone because it looks like the little brother of  the Samsung Galaxy S3 with a similar home button and curved chassis.
Nevertheless, this is the only similarity that this two have.
SCREEN
The Galaxy S3 Mini has an amazing 4-inch Super AMOLED display. Wow! Super AMOLED on a cheap version of the S3! That is so cool. Wait, the resolution is only 480 x 800 and you won't be able to get a really good HD picture. Actually, that is not good.
Still you should be able play movies and games on this awesome phone without noticing any major quality issues.
OS
Good news everyone! the Samsung Galaxy S3 Mini has the latest build of the mobile platform: Jelly Bean. This is clearly one advantage over its big brother which currently ships with Ice Cream Sandwich OS.
PROCESSOR
It is a shame that we have to forget about the quad-cores of the Galaxy S3, because the Galaxy S3 Mini has a  1GHz dual-core processor.
Since power isn't evrything, there is a 1GB of RAM to help things along. Still this brand new phone is less well equipped than the 1.2GHz dual-core Galaxy S2 and Samsung Galaxy Nexus.
PRICE
Apparently, It looks like the Samsung Galaxy S3 Mini will be available for around €370. If you are not willing to spend a 24 month contract to get it for  €45, then this phone will be a little over-priced, with similar handsets available for less. Samsung, this is a really important thing if you want your phones to remain competitive in this market!.
AVAILABILITY
There is no official release date for this phone, but it's expected to arrive in stores from early November.
According to the Phones4U website, it will start shipping the Galaxy S3 Mini from November 2, while Unlocked Mobiles reckons it will receive stock during the first week of November.
MAIN COMPETITORS
The Samsung Galaxy S3 Mini have a tough fight. We have some amazing phone for less than the price like HTC One S, Sony Xperia S and Samsung Galaxy Nexus.
With all this, only time will tell if consumers are willing to pick the Galaxy S3 Mini over these other amazing phones.
What do you think? Share your opinion in the comment section