Today, I'm talking about Natio Spa Heavenly Hand Cream, which you might remember I hauled in my Auckland MakeUp Sale video I posted

here

.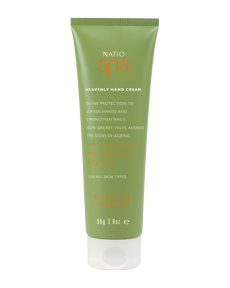 Natio is an Australian company founded in Melbourne in 1992. According to Natio's website Natio is Latin for "creation", "birth", "birthplace" and the ancient name for the Goddess of Nature. It symbolises the pure and natural, plant-based origins of Natio's range. 
Natio Spa Heavenly hand cream is 90g and it's enriched with Certified Organic Aloe Vera and Ginseng. This cream is non-greasy and it feels luxurious. I read on the reverse of the packaging it leaves skin feeling silky, soft and supple and helps reduce pigmentation and age spots. It has a herbal smell to me, which isn't unpleasant and it sink's into the skin leaving it feeling hydrated and soft, the hand cream is suitable for all skin types. 
How to use: Lightly massage cream into hands from wrists to fingertips.
I paid just $1 for this hand cream (at the Auckland MakeUp Sale) and I wasn't sure what to expect but after a few month's of use, I like it. The Australian RRP is $9.95 but I don't know the price in New Zealand. I definitely want to repurchase it. I only wish I'd bought a few backup's! 
I've never used a product from Natio before except a candle, which I also bought on-sale at the Auckland Makeup Sale and will definitely repurchase a Natio candle in the future.
I'm sure you'll agree that some hand creams are too thin, the consistency contains too much water and/or it's too greasy so I like a medium to thick formula and this works a treat, it doesn't take a lot of time for it to soak into your skin and you still feel like it's there nourishing your skin.
If your looking to spend a bit more on a hand cream to get your hands and nails in tip top condition ready for splashes of finger tip gorgeousness this Spring and Summer, please give Natio Spa a try. I think there needs to be a lot more chatter about Natio Spa product's because firstly their Cruelty Free and as you probably know, I like to support Australian and New Zealand brands!
My tube of cream has been squeezed to get every last drop and I'm just about to cut it open with scissors to get the inside of the tube completely empty.
I'm definitely going to be looking at the Natio display in Farmers to choose a few more product's to try and of course I shall let you know what I bought and my thought's on them in the coming month's.
Natio is sold in Australia, New Zealand and The United Kingdom. You can also buy product's from their website if you live in Hong Kong, Macau,  Malaysia, Singapore and Taiwan. 
You can buy Natio at Farmers in New Zealand. Click here for Natio stockist's.
Natio have a website and you can also Like their Facebook page

here

.