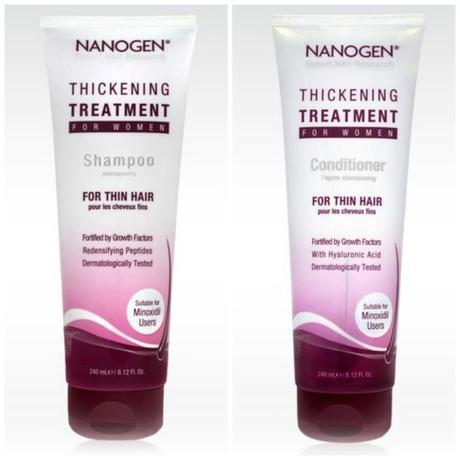 Hey There,
A few weeks ago, (Maybe 3 to be exact) I started using *Nanogen's Thickening Hair Shampoo and Conditioner. At first I was a bit worried about using it, as I wasn't sure if I was getting confused with my hair products and was actually about to review a 'hair loss' product. So I did some research on Nanogen first… And its all very scientific! Me and science don't go well, (It pretty much goes straight over my head), but lets face it we all like to trust a science backed product.
So here is where I must of got a bit confused…Nanogen actually specialize in Hair loss, growth and thickening treatments, for men and women, (So if you know any men with receding hair lines, point them in Nanogen's direction). The product range includes shampoo, conditioner, serum, hairspray and even thickening fibres.
As per usual my shampoo has lasted longer than the conditioner, (I know most people are the other way around) if you know me, you will know that my hair is rather lengthy, and my pride and joy. So yes, I get very product happy with conditioner, trying to maintain those healthy ends. Personally, I think my hair is quite thin, I just have lots of it, (I'm not sure if my hairdresser would say the same), so I was intrigued to see what Nanogen Thickening Treatments would do for my hair. I wasn't expecting Cheryl Cole flick-able hair, (One can only dream), I just thought it would help with the health, appearance and fullness of my hair. I am forever moaning about how flat my hair is, (The only downfall to long hair), so as I applied the shampoo and conditioner religiously every other day, I eagerly awaited to see some fuller looking hair at the end of the course.
Nanogen describe the products as an 'invigorating treatment for thin hair, that thickens from the first wash'. The products are fragranced with fresh berry, dermatologically tested for sensitive users and suitable for Minoxidil users. Nanogen recommend using the shampoo alongside the conditioner, to get a full and deep cleanse, ready for the benefits of the conditioner, which hydrates with Hyaluronic Acid, nourishes and improves shine, and promises to add volume to fine or thin hair.
I can confirm that the treatments smell berry fresh, and last all day. Since using the products my boyfriend has commented on how nice my hair smells, and to be honest I have noticed it to. The only other shampoo I get that long lasting smell from tends to be Aussie, or Aveda, (That is a tick in the box). My hair looks healthier, (Maybe a little thicker), I can definitely feel that my hair is stronger, and more conditioned since the use of both shampoo and conditioner. When I grip my hair, or try and put it in a top knot, that is when I notice the difference from the treatment. I would recommend trying them yourself, if you have thin hair, or even just damaged hair.  At £7.95 & £8.95, they are a little expensive compared to your average shampoo, conditioner combo, but I always think it is good to look after your hair, as lets face it, it is always on show.
Nanogens products have also been talked about by @PureBeautyMag and named a 'hair hero' by @Theladymagazine.
Have you tried any of the Nanogen products or any other thickening treatments before? Which of their products take your fancy? The Keratin hair thickening fibres are taking my interest now.
Lots of love,
KBxx
Twitter : Beautybykaris - Instagram : Kkbrelsford
Facebook : Beautybykaris - Bloglovin : Beautybykaris