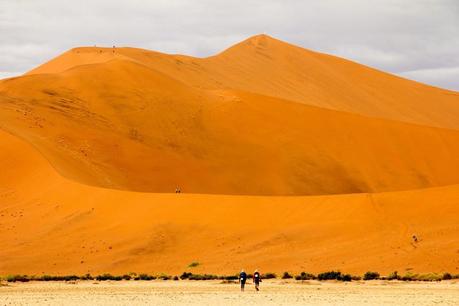 Namibia Desert Challenge – Big Daddy dune
Namib Desert Challenge – An Overview
The Namib Desert Challenge  (NDC) stage race has been described as "hot, hard and awesome". The race has become increasingly popular over the past five years with ultra runners from all over the world.
Weather conditions make Namibia a tough running destination and therefore competing in the NDC is nothing short of extreme, and certainly not for the faint-hearted. Hot and dry weather in the summer and cold and dry conditions in winter, along with the tricky terrain, make running here no easy feat.
The event is organised by Kinetic Events, which prides itself on helping individuals from all walks of life push their self-conceived personal limits and discover their true potential.
The NDC is now in its fifth year running and takes place in the Namib Naukluft National Park of Namibia. Taking place over five days, the NDC is 220 kilometres long and separated into five stages of between 28km and 55km. Stages cover some of the most beautiful and diverse scenery, from rocky mountains to the famous Sesriem Canyon and the two highest sand dunes in the world, Dune 45 and Big Daddy.
The runners are required to carry only emergency equipment as part of this semi-supported race. Water checkpoints, which have been described by runners as an "oasis in the desert", are strategically placed along the way, with a medical team and supportive crew members based at refuelling points to encourage the runners and keep their spirits sky high.
The logistics crew keep the race camp well organised so that the runners are welcomed to a buffet dinner each evening, warm showers, campfire, as well as tents in which to sleep. This is the time when the medical team can sort out any painful blisters and sore feet that the competitors may have developed.
Each competitor has his or her own reasons for running the NDC as well as own training schedule and method of preparation.There is nothing more satisfying than pushing your own limits and achieving your goals. The NDC is a 'must do' race on the international ultra running calendar.
The 6th edition of the Namib Desert Challenge will be run from the 28th October to the 1st November 2013.
Results of the March Namib Desert Challenge
Pos Bib Name Time
Men
1 11 Argyrios Papathanasopoulos 19:18:31
2 20 Marius Van Zyl 20:27:08
3 2 Asa Cowell 23:05:13
Women
1 12 Christine Horner 30:02:03
2 19 Lisa de Speville 32:02:12
3 23 Jennifer Worrell 36:03:41
Resources
For full details about the March and November races, please visit www.namibdesertchallenge.com
Read Lisa de Speville's experience at the March 2013 edition of the Namib Desert Challenge http://adventurelisa.blogspot.co.uk/
From Multidays.com, post Namib Desert Challenge October 2013