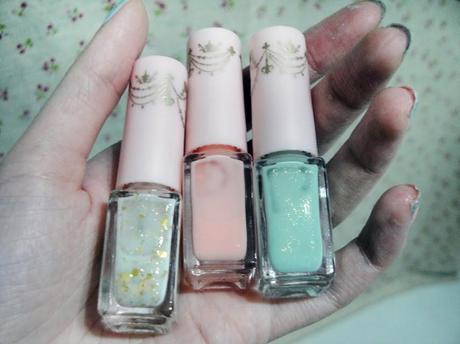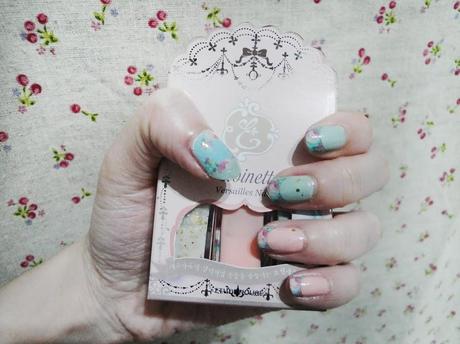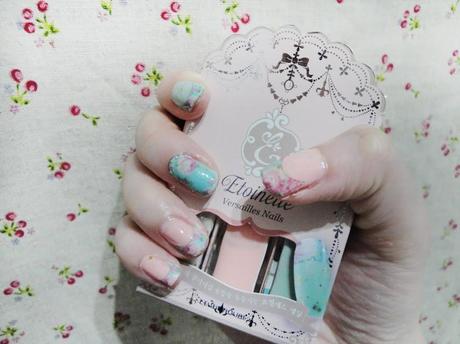 Every Chinese New Year, I always do my nails myself. Other than beauty events where we have complimentary nail services, I never step into a nail parlour to do my nails. I don't like all that extra sanding, buffing and pushing the cuticles services as I believe it is spoiling my nails in the long run. My nails are always strong and long and the cuticles never peel at all even though I do not visit a manicurist. If I ever step into the nail parlour, I would make sure that they don't buff my nail bed. I'm also not a fan of gelish as they tend to dry up my nails and roughen the surface.
This year, I decided to glam up my nails using Etude House's Etoinette Nail Set which consists of three nail polishes and one piece of decal stickers. I was immediately attracted to it when I see it on fellow beauty bloggers' blog that I had to get it once I get the chance to visit Etude House. I'm almost never that impulsive when it comes to getting nail colours, so you can probably tell that this time round is different!
I actually spent two hours doing my nails from painting them layers by layers, to waiting for them to dry and then to pasting the decal stickers. The decal stickers application were rather easy but I had no experience prior to this so I ended up wasting a few of them.
How to paste the decal stickers:
1. Soak the decal stickers in lukewarm water for 10 to 20 seconds. In my case, it works even for normal temperature water.
2. Peel it off with your fingers. In my case, the stickers came out easily by just pushing it off a little.
3. Paste it on your nails (make sure nails are dry or they won't stick) and trim or buff off the excess. I had problem with this step but trimming it with a scissors is easier than buffing off to me.
The nail polishes took about two to three coats for a full coverage and they actually have slight shimmers in it which I love! However, judging from the price, I'm expecting a better quality nail polishes and these were just average. I'm just truly madly deeply in love with the shades' combination and the floral decal stickers.

Price: $16.90
Happy Chinese New Year Folks!!