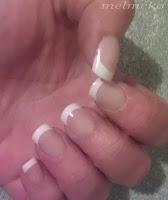 As they are, prior to filing.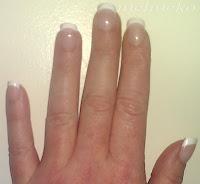 As they are, prior to filing.
Hello peeps
:-h
False nails have never appealed to me, especially after a nightmare-ish experience as a teen, 
:-O
so I've avoided them like the plague ever since.
:-S
But, when
Beauty Heaven
offered me the opportunity to try the
Nailene So Natural Everyday French
, featuring a new comfort flex technology, I decided I had nothing to loose and everything to gain, confident that surely glue-on nails would have improved over the past 20 odd years.Based on my experience, needless to say, indeed they have!
=D>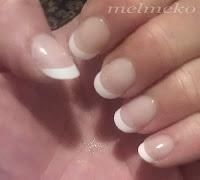 Filed to my desired shape/length.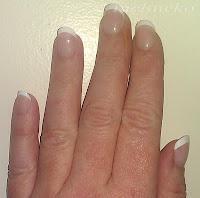 Filed to my desired shape/length.
The Nailene So Natural Everyday French nail kit is presented in cardboard packaging with a clear window at the front, so consumers can view the exact colour, shape and length of the nails inside.I was sent a short sheer pack, consisting of 24 nails in assorted sizes, a file/buffer, cuticle stick and a small tube of glue, which is ample to affix two full sets of nails and then some.The nails were so easy to apply and fit my own nails precisely, with the whole process of sticking on the 12 nails, taking less than 5 mins to complete.
  :) 
The glue has the same texture and consistency as standard super glue, but without the offensive smell.It was simple to run the glue on the back of each false nail and then quickly transfer it to my own nail, gently pressing and holding in place for a few moments to allow it to set. The drying time was only seconds, allowing me to carry straight on with the application of the rest of the nails concurrently.It did take me some time afterward to file down the artificial nails to the shape and length that suits my preference, however this is a one off step and once it's done the nails look so authentic nobody would ever know that they weren't my natural nails.;)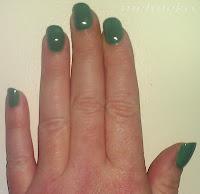 Polish done, nails complete.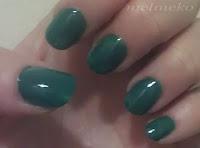 Polish done, nails complete.
I was super impressed by the lightweight, comfortable feel, durability and staying power, because a week later and these nails have not budged.
<:-P
I am super hard on my hands and during this past week, I've washed dishes twice daily, scrubbed clothing and undertaken rigorous housework and the nails have withstood my busy lifestyle.I painted the nails using my favorite nail polish and I am amazed at how long the polish has remained looking freshly painted, with only a bit of wear and tear showing just on the tips, even after a full week. Never, ever has my manicure lasted so long!I have not yet removed the nails, so I can't determine if there is any damage to the surface of my own nails at this stage, although generally the damage occurs to the nail bed,
*-:)
which can easily be avoided by keeping the cuticles constantly nourished by applying moisturising hand and nail treatments and cuticle oil/balms.I will reassess my review at a later date, if I feel the need to alter my rating, however at this stage; I seriously can't fault the Nailene So Natural Everyday French.I would absolutely recommend these nails to anyone who wants gorgeous, natural-looking, low-maintenance fingernails that I personally think are just as good as professional falsies, for a fraction of the cost. Thanks to
Nailene
I am finally sporting the nails I always dreamed of!
\:D/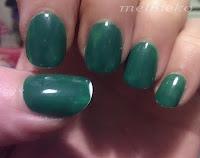 A week later, minimal wear and tear.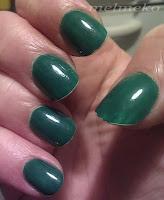 A week later, minimal wear and tear.
NOTD: Products Used
1.  CND Stickey Base Coat
2.  OPI Jade Is the New Black 
3.  CND Super Shiney Top Coat
What is your take on fake nails, do you think they are any better than the falsies of the past?:-?  Would you use them yourself?Have you ever tried
Nailene
glue on nails and if so how would you rate your experience?