I got my first gel manicure almost a year ago when my nail stylist, Julie, talked me into one. Regular manicures are $15 and the gel is $30. The gels last 2 weeks so it's really the same thing. They have the OPI gel formulas but I like the Gellish brand.
The first one I got was a piping hot

magenta

! Then I got a silver-ish color w/this multi size glitter as a top coat, so the combo of the two looked like shining diamonds when the light hit my nails! The mani stays so shiny and crisp! I've gotten a few since because I like how nice they look for so long, definitely better than a regular manicure.
I started calling the first sparkly mani I got the "Diamond mani." Julie showed me I could do the same thing in

pink,

which I did before, using a lighter base coat than the one I have here and 2 coats of the

pink

glitter.
All of the polishes are numbered so I have no idea what the names are, which is why I started giving them my own names! Lol! It might look like just glittery polish to some but it looks so twinkly when it catches light. Plus, I like getting my "Diamond mani" because the colors are neutral enough to wear with everything, so I don't feel like I have to change my polish every week. I

love

it!
"Pink Diamond Mani"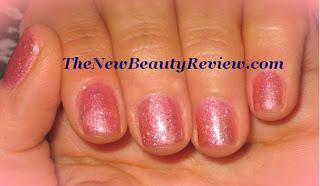 Keep it pretty! *Stephanie*