I know it's Friday and not Monday but it still counts for this week because it's my blog & I make the rules! ;-)
I make it a point to get my nails done regularly to keep up with cuticle drama and because manicures are an essential part of being a woman, for me anyway. I also never work on a client without manicured hands. It's just a rule for me. When I say manicured I don't mean doing them myself, I mean salon worthy nail candy! Lol!
I was booked to do hair & makeup for a few clients this week so I knew I was due for a mani!
My first client was Liz Pelletier, Founder of Entangled Publishing. I blew her hair our, set it in pin curls and got started on her makeup. She was also extremely kind and funny too! We laughed a lot and I really enjoyed speaking with her. I love being around people I can learn from and she had a lot to say. She spoke well, which always impresses me but how she set up her business is simply brilliant. Nicknamed the "Jerry Maguire" of publishing, she's said...

"

All of our employees are contracted and receive a percentage of every book they work on. This means everyone at Entangled has a stake in making your book the best it can be, sell the most copies possible. Our income is tied to your success, so we all want you to succeed!

"

 


That whole concept really motivates people & it's amazing because everybody wins! She's

made some serious moves so I encourage all of you to take notes! :-) I will post pics as soon as I can but she was amazing to work with & was such a good sport when I sprayed her into a hairspray oblivion! Lol! (Sorry doll! XO)
I added a link to her website so you can read more about her and Entangled Publishing!---> *Entangled Publishing*

I had the quick pleasure of working with Kneko Burney (pronounced Nee-Ko) 
It was the fastest makeup application I think I've ever done! Lol! Literally, she was in and out in 15 minutes. In that short time, I picked up on how well traveled and smart she is. She was a real lady and has perfect lips! :-) She was there to be a guest on CNBC's The Closing Bell. Kneko, in true  entrepreneurial spirit, is the President AND Chief Strategist of Compass Intelligence, a global consulting & market analytics company. I have to say, the world can never have enough smart, driven women like this. I would have loved more time to speak with her. Next time for sure! Cheers Kneko!


Back to my nail story...this week's Nail Of The Week is

"It's My Year"

by OPI. This polish has everything I need for fall...it's super shimmery,

 Plum

and

Gold

. It's gorgeous! My nail doll, Julie, really does the best job! I'm actually doing her makeup in a few weeks for a wedding, I can't wait, she's the sweetest!
(Hi Julie!!!! XO)
Anyway, this polish looks like it would make a beautiful lip gloss. I might even have something similar, I'll have to check. If not, I'd love to have something like this in an eye shadow too. Lancome had something similar but I'm not sure of the name because I de-potted it and the sticker came off...womp, womp. :-/
The polish changes with the light. It looks like a light shimmer until it hits the sun, then it's a deep

purple

w/specks of

hot pink

and

gold

. It's insane! It's part of the Miss Universe 2011 collection & you can purchase it *HERE*
So I felt as though my polish picked me in a sense because this certainly has been "My Year" in so many ways. I started the year with my blog and an abundance of wonderful things have happened since, it's just been really productive, so there :-)


"It's My Year"

by OPI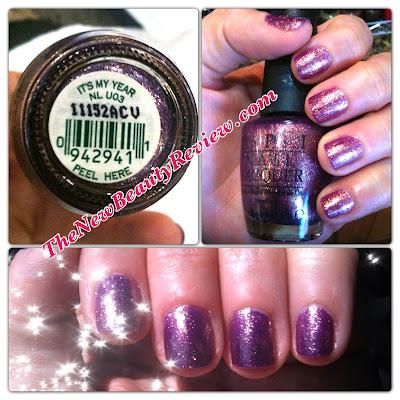 Keep it Prettie!
*Stephanie*