I found these cool nail wheels at Sally's Beauty Supply about a month ago. They were on sale for about $4 & they come 10 wheels per bag with 18 swatches per wheel. That's 180 different options!
I know I started doing the "Nail Of The Week" where I show what new polish I'm wearing but this can give options and ideas all at once.
Nail polish is not like a shirt or pants, you can't usually try it on. Some stores let you take a swipe on paper but I don't like to do that unless I'm buying it.
The wheel lets you put the painted nail over your own so you can "try on" your potentially new polish. Nail polish, like most products, are personal in the sense that the same color doesn't work for everyone. I like being able to see how it looks against my coloring. So when I saw these I knew I had to get them. I dazzled them up & now I can show what's in my nail candy drawer.
I have a few more done & a few I'm working on still. This is good also to practice making designs & applying decals and/or accessories.
Polishes like #9 & #10, because they're just sparkly, I often use them as top coats to other colors.
Seeing the colors all out in the open like this helps to spark ideas. You can also take the wheels with you when you're shopping for a matching lip color or eye shadow. It's much easier than taking a nail polish bottle or trying to imagine how things match up. This just makes it super easy!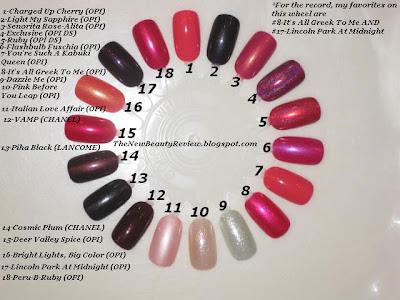 Keep it pretty!
*Stephanie*