Three plus two words.  I like this…a lot.  When Myra's minions sent me an email last December, which was a frantic month for me, I couldn't work around my schedule to pick up the batch of Myra VitaGlow Tinted Moisturizer press samples they set aside for me.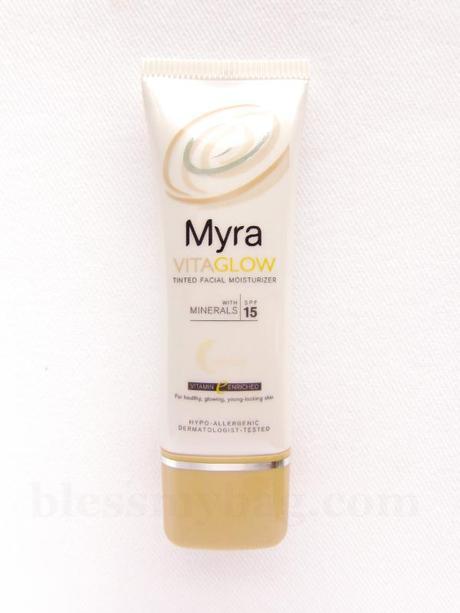 I finally managed to pick them up yesterday, quite delighted to see how generous they were with sampling.  The Myra minions gave me 6 pairs (two shades) of these tinted moisturizers so I received 12 in total.  Stay tuned for a Valentine Giveaway coming soon with more products in addition to this.  Ok, back on Myra, I insist that you read the full post, because, although I never tend to be pushy I will this time because these Myra VitaGlow Tinted Moisturizers exceeded my expectations BIGtime.  The product considerately comes in two shades, Ivory – a yellowish medium to fair shade, and Beige – a slightly more pink but deeper medium to medium deep shade.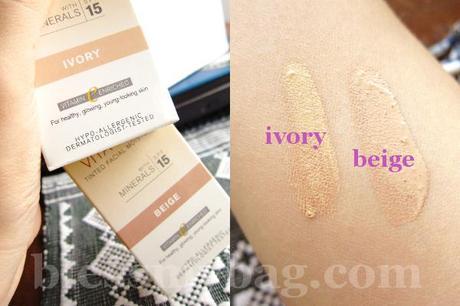 The formula is thin, thinner than a Laura Mercier tinted moisturizer, but not watery, so it isn't runny either, (make sure you shake a bit before use).  When I first received the email and did a quick look about online I suspected that Beige would probably be my shade, but I was mistaken, since Ivory turned out to be closer to the M.A.C. NC family of shades I was certain Beige would be just a little bit too pink for me.  Read more to see me put it on!
So I wore Ivory, and I was actually having a moment to myself thinking "Holy wow, is this really as good as I think it is?  Omigawrsh…it is!".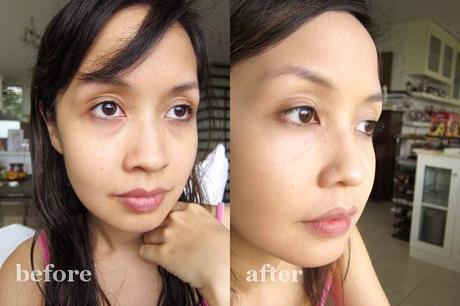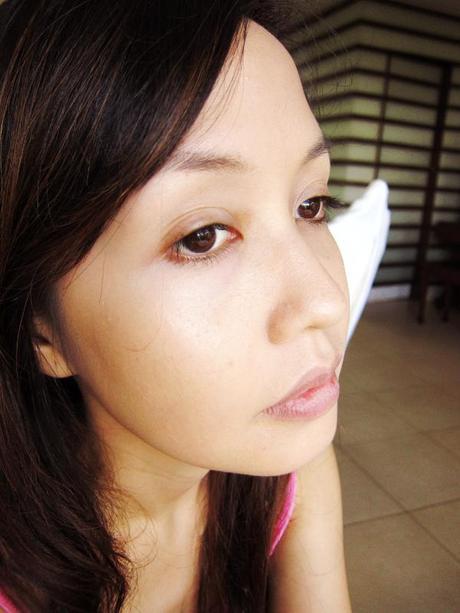 I didn't apply concealer, my eye bags seem to have completely disappeared only because I'm facing a different angle but they're still there.  Although, yes, the tinted moisturizer did make the dark circles visibly less.  The formula absorbs so quickly into the skin, it doesn't sit heavily on top so you have to spread and blend it quick, but I like that, A LOT.  My skin just drank it up and hello, thank you, God…no allergies.  I'll admit, I wasn't expecting to like it as much as I do.  The benefits of Myra's VitaGlow Tinted  Moisturizer, listed like that of a BB cream's, are:
Moisturizer (duh) – Like I said, my skin absorbed it so quickly I had to stop and notice what was going on.
Make-Up Base – I agree with this, there is a matte quality to it when it dries, it almost feels like you don't need powder
Minerals – nearly microscopic shimmer imparts a healthy, luminous sheen, but it isn't overly dewy
Sunscreen – SPF 15 is a pretty mild value, I wish it were double at 30
Concealer – I contest this one, there's not enough coverage for this to claim you don't need concealer, but it does even out normal to dry skin (my skin) beautifully
Vitamin E – It wouldn't be Myra without Vitamin E would it…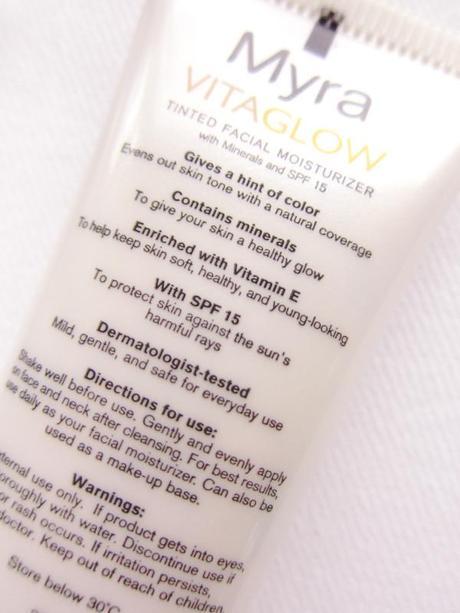 The only thing I don't super dig bout this is that it's mildly scented, but the scent is tolerable, like soapy baby cologne.  Dare I say this might possibly be a dupe for Chanel VitaLumiere Aqua?  I've never tried that thin luxury foundation but I have seen photos of girls wearing VitaLumiere Aqua by Chanel.  Myra Vitaglow tinted moisturizer gives me a similar finish and also imparts a luminous sheen that does not look artificial or greasy thanks to luminous particles that aren't immediately visible to the naked eye.  For more formal full coverage I'd probably top this up with mineral makeup to set it and render a more matte finish.  I recommend the same tip for those with more oily skin, top this off with mineral makeup to set it, I recommend the local brand Ellana.  For those with problematic skin I don't think this is the right product for you if you want to conceal those imperfections more, you may need something more heavy duty like MUD cream foundation which I reviewed here.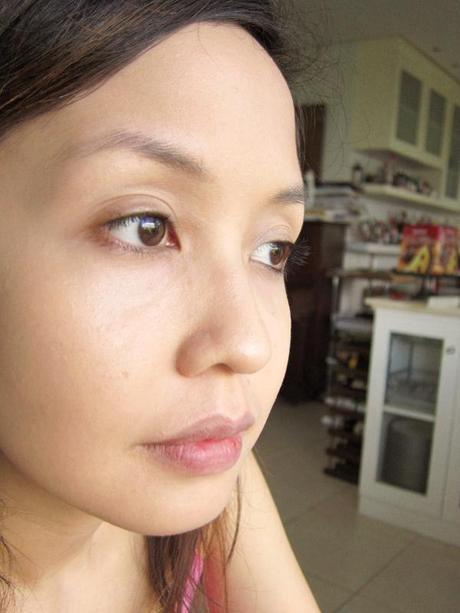 Some of you may be bothered by the idea that there IS shimmer in this tinted moisturizer, but if I hadn't mentioned it, you probably wouldn't find out.  That's how visually negligible the shimmer in this is.  This base is a perfect affordable alternative for all those sheer nearly-not-there summer face products that are on the beauty forecast for S/S 2012 because the SRP is Php135.00.  Myra Vitaglow Tinted moisturizers are available at Watson's branches nationwide or wherever Myra products are sold in most local malls and drugstores.  Summer's on its way, and I think I'll be using more often when the sun begins blazing in.  Last wish?  Seriously?  I wish they'd roll out more shades.