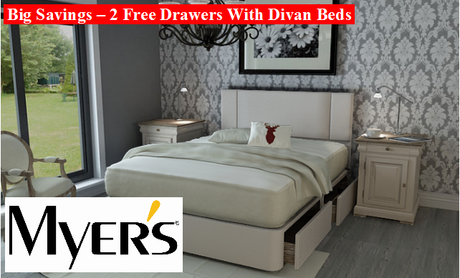 Myers Beds
Myers Beds have been a particular favorite with shoppers here at Dalzells for many years, offering exceptional value and pillows full of that most important commodity, restful sleep!
Founded by Horatio Myer way back in 1876, the brand has incredible pedigree and is today part of the Steinhoff Group which includes Relyon, Staples and Dunlopillo to name but a few. All Myers Beds are NBF Approved (National Bed Federation) assuring the quality of materials and design to ensure good honest healthy sleep!
2 FREE Drawers With Divan Beds
Purchase Any Myers Divan Bed from now until further notice from us here at Dalzells be it online, over the phone or in-store and you'll receive 2 Free Drawers in your new Divan Bed!
This excellent promotion will deliver exceptional additional storage in your home in a highly convenient and discrete manner in your bedroom which you'll soon be lost without. If you doubt it, come and see our fantastic offering of Myers Divan Beds for yourself in-store!

We Appreciate Your Business!