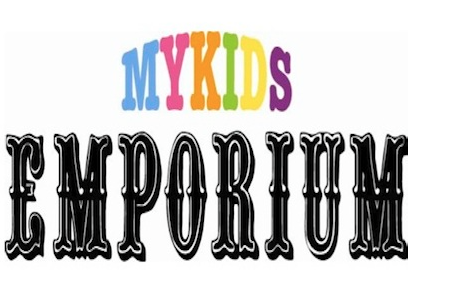 M-
My day was very eventful to say the least today as I was honored to have been invited to a little reveal type thing for the breathtaking Myer MyKids Emporium. It is like something I have never seen before in my life (shopping wise.)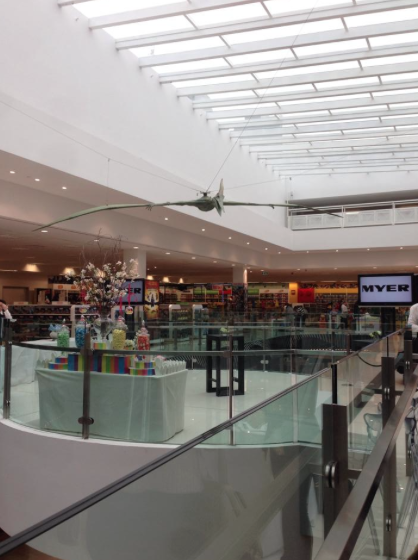 Y-
You often dread the fact that you have to take the kids shopping, and I know personally my kids attempt to touch absolutely anything they can get their greasy little mits on. Myer MyKids Emporium actually encourages your child to play and interact with their surroundings at this beautiful store.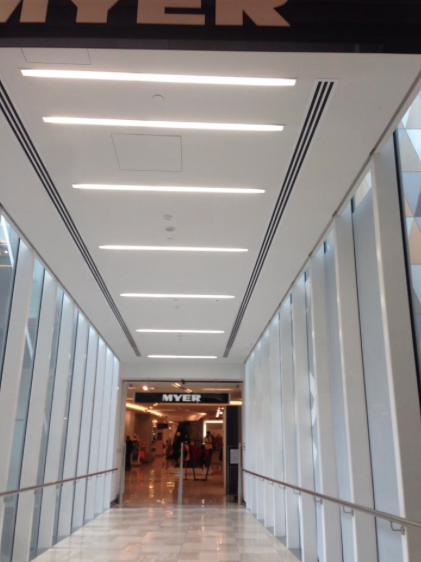 E-
Everything about Myer gets me excited as you know you can go to their stores and do almost all of your shopping there except for the groceries of course. I love being able to shop for the home, the kids, my partner and of course myself (der!)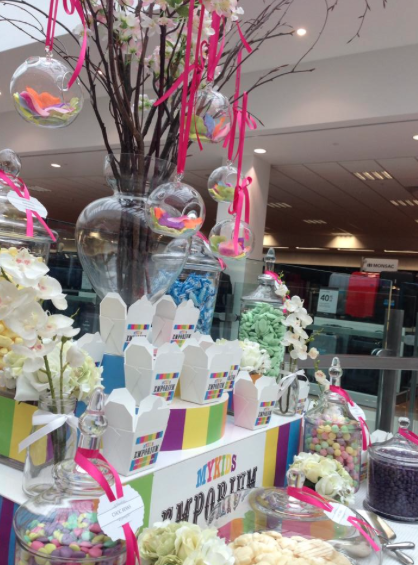 The Candy Buffet, which was delish!


R-

Right from the get go I knew this event would blow my mind, but never did I think it would be this good. There are actual areas set up rather then isles as you would usually find.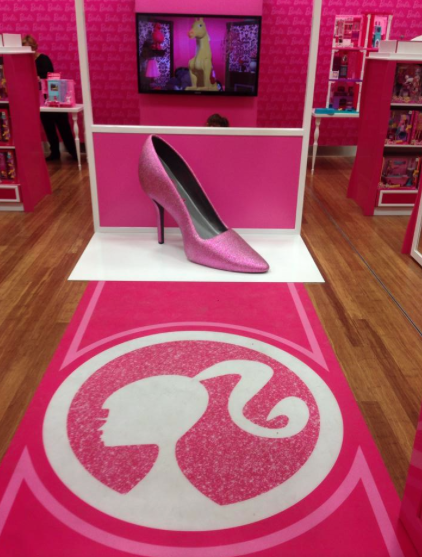 Madison's favorite was the Barbie area, where they show Barbie movies and have a Barbie pink couch. You will also find a gigantic, sparkly Barbie shoe here as well.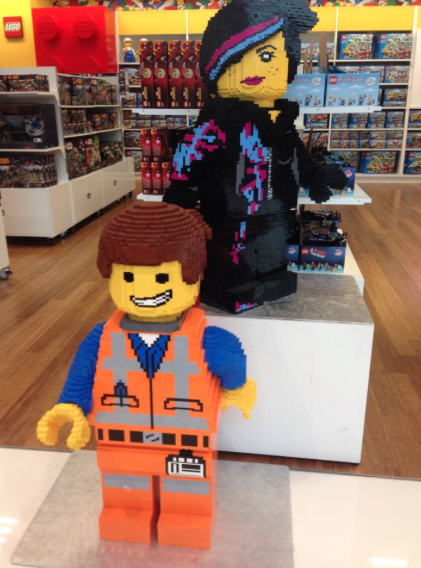 For me I loved the Lego Land where there was amazing Lego sculptures set up all around and a miniature version of flinders st station that took my breath away.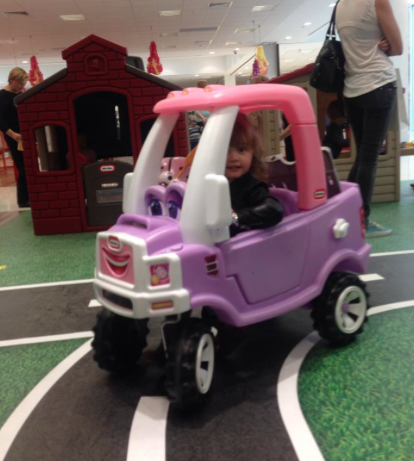 M-
Madison also enjoyed scooting around the Little Trikes area, where there is a little road setup so the children can "test drive" a vehicle today haha. Madison jumped in the big, purple jeep like Little Trike, and it is fair to say I think this is on our Christmas list this year (or birthday list!)
Y-
You could easily get lost in Myer, and a few a times I actually did get lost and had no idea how I ended up there…
Myer Emporium will occupy approximately 7,000 square metres on the fourth floor of the building and offer toys, childrenswear, men's accessories, sports apparel, and luggage.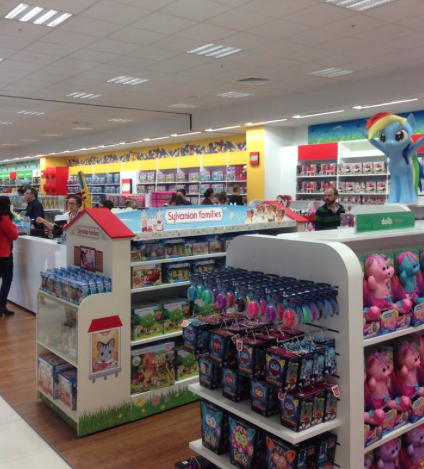 K-
Kids shopping for me is so much more fun then buying things for my partner and myself. Often the girls will be dressed better then myself and I will look down at their tiny clothes and think to myself- "Gosh I wish that came in my size!"
I-
If that wasn't enough of a selling point for you then I am sure you will love the kids clothing department (I know I did, but my credit card didn't!).
MyKids Emporium will also feature Myer's largest childrenswear offering with exciting custom-fit concept areas for brands including:
·

  
Bonds Baby
·

  
Bardot Girls (girls)
·

  
Mossimo (boys)
·

  
Baker by Ted Baker (exclusive to Myer, recently launched)
MyKids Emporium will also feature the largest offering of Myer exclusive brands including:
·

  
Jack & Milly
·

  
Sproat
·

  
Milkshake
·

  
Tilii
·

  
Bauhaus
·

  
Origami
·

  
Brooklyn Industries
D
-
Don't ask me how much money I spent today in that darn childrenswear department, as I don't even want to know. But not only did I literally spend money, I also mentally spent money. I now have a list soo long of things I want to buy the kids.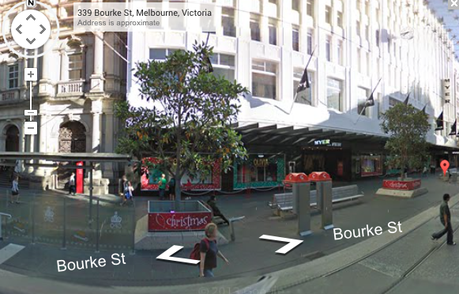 S-
So much history surrounds the actual store, I was really surprised to find out how old this building was.
After establishing the Bourke Street store in the early 1900s, Myer went on to occupy two buildings (this is the reason why you cross over the bridge to get to the other side) between Bourke Street and Lonsdale Streets. In 2007 Myer commenced the redevelopment of its flagship Bourke Street store, which has now been re-opened for several years.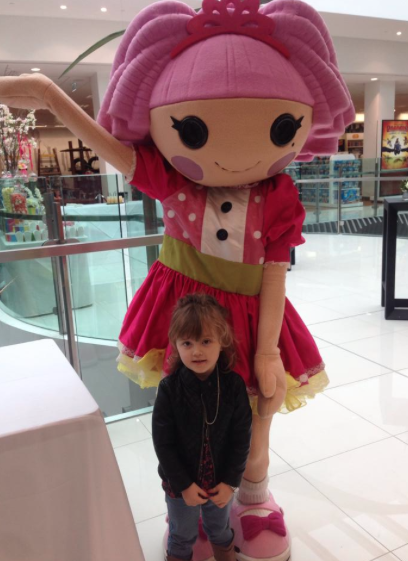 E-
Even if you don't like shopping, I would recommend taking a trip into the Myer MyKids Emporium (kids or no kids) and just have a look, you will be surprised at how the inner child of you comes out to play in certain surrounds- yup I could be found playing with magic sand, building a sandcastle.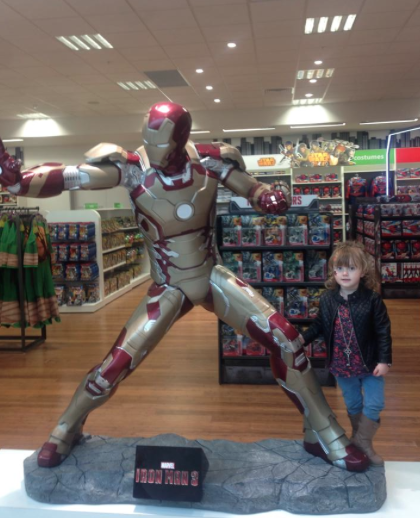 M-
Myer has partnered with brands including LEGO, Mattel, Hasbro and Headstart to create one of a kind, world-class concept areas to showcase each brand in a fun, exciting and engaging way that is a first for Australian consumers. The key concept areas are:
·

  
LEGO
- Lego has taken all its best ideas and concepts from all over the world to create on the most exciting Lego retail spaces. The LEGO concept area is set to be the highest selling LEGO outlet in the Southern Hemisphere.
·

  
Barbie Boutique
- Little girls will delight in Australia's largest Barbie retail and play space
·

  
Thomas The Tank Engine Train Station
– Pre-school age children will love the Thomas play area complete with a front train cab where kids can pretend to drive a train.
·

  
Little Tikes Driving Track
– there will be a driving track where kids can test-drive Little Tikes cars on a track painted on the store floor. On completion of the store the kids will be given their own personalised driver's license upon the purchasing of a Little Tikes ride-on.
·

  
Action Heros area
- This includes a huge Transformers area, as well as areas dedicated to Marvel heros and Star Wars.
P-
Practical, easy to locate and easy on the eyes is certainly how they have built this whole kids department concept, and I could imagine a Willy Wonker of toys behind this creation… If Willy Wonka had a toy factory I think this is where you would find it- I loved this place and even after over 4 hours I did not want to leave!
O-
Over the moon, Madison left there with the famous black and white Myer bag. Inside her bag she had gone a mini shopping spree in the Barbie department and cutely enough the little munchkin even picked up something for her bigger sister!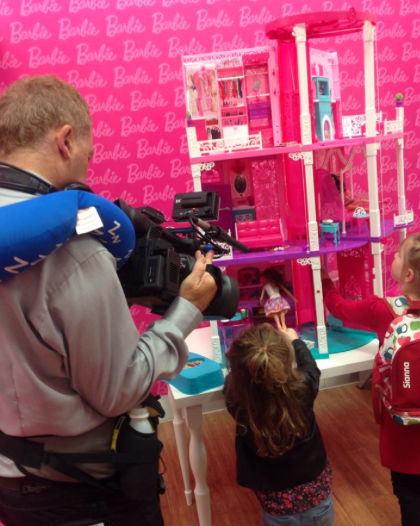 R
-
Right as the clocked ticked over to 1pm I decided it was time to leave. Madison had fallen asleep in the pram and Mummies feet and credit card was in a lot of pain. Even though my inner child didn't want to leave I knew it had to be done as school pickup was calling my name.
I-
I will however return for some more Myer MyKids Emporium fun and might even pop in to see the Wiggle LIVE appearance, which is coming up soon. But every weekend there will be something new and fun in this Myer Store, hopefully bringing the kids back to the city- for all the right reasons!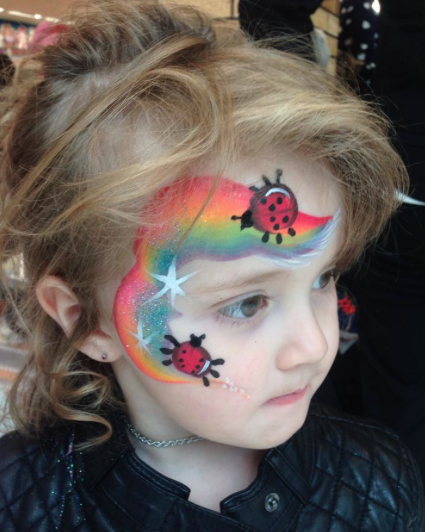 U-
Understandably I am done for the night and I need to retreat to my bed now, so that's it from me. Goodnight all!!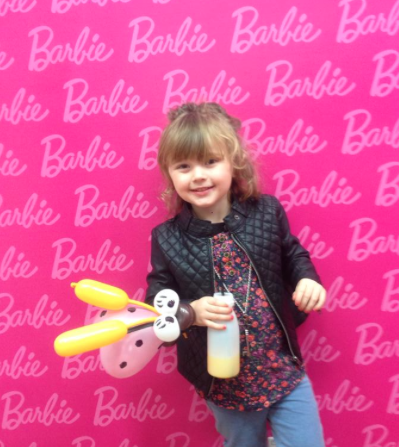 M-
Myer Link to find out more:
www.Myer.com.au